Follow these steps:
1. To create a new team member (resource), switch to the Resources tab.
2. Select the

button on the toolbar, or select the Resources \ New Resource menu item, alternatively use the Insert button on the keyboard.
3. Fill all the necessary fields in the dialog for creating a new resource. The only required information is the resource name and its e-mail.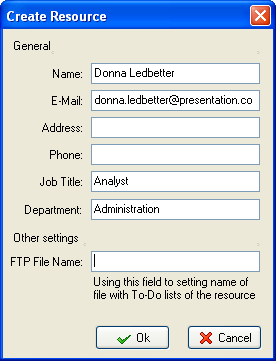 4. Click OK or press Enter on the keyboard.
Tips:
Using field Department you can group the tasks by departments.


Related topics: