When you company go up, it's reasonable that more and more new colleagues appear. You have to involve them in company workflow. As usual VIP Team To Do List will help you. It allows you to create a list of team members, store the information about them and assign them to accomplish required tasks.
How to create a new resource
To start working with resources select Resources tab

Select Resources tab
To create new resource click on 'New Resource' button on Resources toolbar. Enter new resource name, e-mail, address, phone, job-title, name of his or her department and ftp file name in corresponding fields in 'Create Resource' dialog.

Click on 'New Resource' button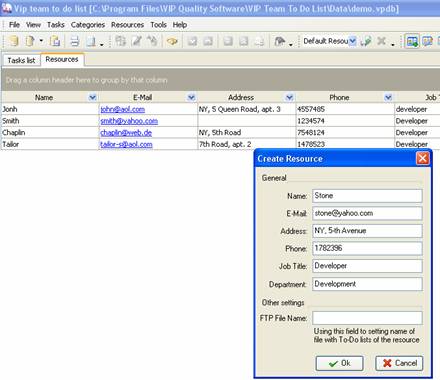 Enter Resource information
How to edit a resource
Resource information may be changed, for example resource John changed his address. To edit existing resource information click on 'Edit Resource' button on Resources toolbar, press 'F4' key or double click on required resource. Enter required changes and click 'Ok'.

Click on 'Edit Resource' button on Resources toolbar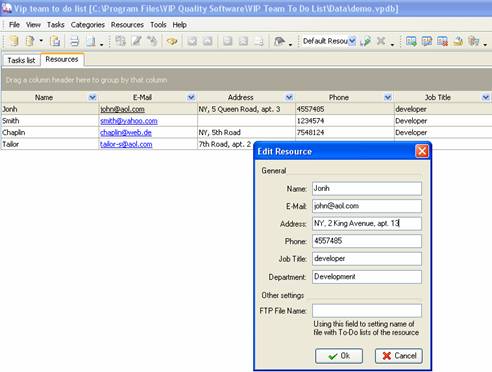 How to delete a resource
To delete existing resource you should select it and click on 'Delete Resource' button on resources toolbar or press ' Del ' key. Click 'Yes' to confirm or 'No' to cancel.

Select resource and click 'Delete Resource' button on Resources toolbar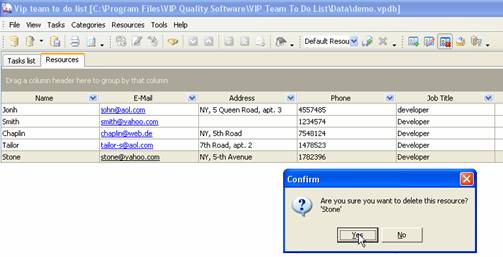 Click 'Yes'