Task Management Software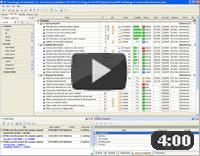 Authorization

TESTIMONIALS
"...This is an excellent program. I'm so glad that I stumbled on to this when researching for task management programs. Very low learning curv, quite flexible, and the price is right. Tried at least 20 other programs, either too complicated, too expensive, or poor documentation..."
Chad Lindsey -
Honolulu, HI
MORE FEEDBACKS

QA Manager's Solution – To Do List For QA Managers

Quality assurance manager (QA manager, also know as Quality assurance inspector) examines manufactured and developed products, their components, and services to ensure that they meet all requirements and standards of regulatory documents and quality. QA inspector daily to do list may include the following tasks:

Examine specifications for "VIP Task Manager Pro" software product
Analyse quality assurance data and make recommendations for enhancement
Conduct training for QA operators in March
Discuss product assembling in the meeting this Wednesday, at 11.00 a.m.
Sample product and determine whether it meet specifications and quality standards ISO 9000
Prepare QA report till 30th of March

Managing QA department workflow
Possibility to create typical workflow of QA department and easily add manage it is convenient way to monitor and control quality of products. QA manager will be able to standardize procedures and tasks however they can be adapted and configured anytime to suit specific requirements. In task management software QA manager can break the workflow down into several categories, such as "Developing QA Plan", "Quality Inspection", "Measuring quality" and "Developing solution for improvement". These categories show stages of the workflow and task management software allows to build it in treelike view. QA manager can specify each category and add step-by-step action list. For example, the category "Developing QA Plan" may have the following action list:

Identify customer's quality assurance requirements
Identify metrics to measure quality
Measure deliverables to identify whether quality standards are met
Review results to define compliance with quality standards
Bring Quality Assurance Plan into accordance with the Product Project Plan

Task management software allows to create templates for typical workflow in QA department. Each template category can be copied and pasted into another category.

Using category "Templates and Instructions"

The category "Templates and Instructions" can be helpful for instructing and training employees of QA department. The quality assurance manager should take care of appropriate skill and professional level of his subordinates to provide best quality control and assurance. In task management software QA manager can create the category "Templates and Instructions" and add subcategories. For example, it could be such subcategories as "QA Policy description", "QA procedure template", "Training program" and other. Each of the subcategories has tasks and attached documents that describe actions and instructions for QA specialists.

Attaching documentation to tasks
Inseparable part of the workflow within QA department is documentation. QA policy, specifications, test cases, QA data reports compose an incomplete list of documents used to organize the department workflow. QA manager should care of proper document turnover. In task management software he can put documents in order by enclosing each of them to appropriate task. For example, for the task "Examining product specification" QA inspector can attach the product specification, a list of quality requirement and report at the end of examination. Task management software allows to attach documents to the tasks as files or both local and hyperlinks.

Choosing the right software for the quality assurance manager
If you are a QA inspector, you can choose one of the following task management products depending on your specific needs:

VIP Organizer is the best solution for the QA relations managers who need to organize and manage only their own tasks.
If QA manager needs to share tasks and customer requests between employees of the QA department, VIP Team To Do List allows assigning tasks to the team members and send them their tasks by email or give them a printable to do list.
The best solution for a product development company or manufacturer that needs to control product quality, will be VIP Task Manager which features a centralized database each employee can enter and update his tasks in real time, and a supervisor will be immediately notified of any change with automatic notification system.

CentriQS Tasks Management Solution

Looking for multi-user task management software? Try CentriQS complete task management solution for planning, tracking and reporting tasks, projects, and schedules. Increase productivity of your small business or office by better organizing your employees' tasks and time.

FREE Download CentriQS
CentriQS -15% OFF
All-in-one business management software
for small and midsize enterprises

---

VIP Task Manager
Multi-user project management software
to plan, schedule and track project tasks.

---

VIP Checklists
More than 750 ready-to-use to-do lists
to plan your personal and business life

---

VIP Team To Do List
Professional task management software
to make and send team todo lists by email

---

VIP Organizer
Personal time management software
to organize time at home and at work

---

VIP Simple To Do List
Simple and effective to-do list software
to plan daily chores, trips, wedding, etc.