Task Management Software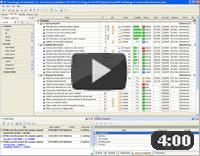 »

Authorization

TESTIMONIALS
"...This is an excellent program. I'm so glad that I stumbled on to this when researching for task management programs. Very low learning curv, quite flexible, and the price is right. Tried at least 20 other programs, either too complicated, too expensive, or poor documentation..."
Chad Lindsey -
Honolulu, HI
MORE FEEDBACKS

Student Solution - To Do List for Students

Student's life

Student's life could be wonderful but for studying. This is the only thing that casts a shadow on this carefree and joyful time students spend on meeting new friends at uncountable parties. When an examination is coming soon, the sense of euphoria is giving up the place to a nervous pressure and frustration, because students have to spend sleepless nights looking through hundreds of books and notes instead of chatting with friends, going to the movies, dancing at the disco, etc. The curriculum says that, besides classes, students should find a couple of hours for everyday studies on their own. But it is easier said than done, and when a test is round the corner student might get in trouble due to one particular reason – ignoring time-management.

Time Management & Tools

Start planning your life and managing your time and you'll be much more efficient and effective as a student. 'To do list' is one the most powerful time-management techniques used by many people for planning various tasks and activities. Modern technology provides students with a variety of tools for making to do lists including Digital Organizers, Palms and To Do List software. Students should intensively use these tools for planning their studies.

Organizing and planning studies

Planning takes a little time but saves a lot. If you decide to organize and plan your studies using To Do List software we would recommend you Simple To Do List or VIP Organizer. These programs help students organize their studies by subjects, ex.: "Math", "Physics", "History", etc. and then plan all the tasks and home work associated with these categories. You can also plan non-educational to-dos like a party or a trip. If a task should be done by a certain date and time (ex.: getting ready for an exam) you can set its due date and see how much time is left at any moment in the column Time Left. If wander what you should do at the moment you can set a "due date" filter to see what is planned for particular date or set 'completion' filter and look through undone tasks. Task priority will help you avoid procrastination and achieve better results using 80/20 Rule.

80/20 Rule

In 1906, Italian economist Vilfredo Pareto created a mathematical formula that gained a name of 80/20 rule, or Paretto Principle. Shortly, this rule says that in anything a few (20 percent) are vital and many (80 percent) are trivial. Setting priority in the context of the 80/20 Rule lets you focus 80 percent of your time and energy on the 20 percent of your study that is really important. Priorities from 'Low' to 'Urgent' serve as reminders that some tasks are extremely important, and other activities can be delayed for some time.

Reminders and alarms

Reminders help students become more punctual. If you want hand your assignment in time, if you don't want to forget to do the homework, you should set reminders and alarms. To Do List software can notify you about the things you should do by a pop-up message on the screen, by a sound or your favorite song. You can even set the reminder to send you an e-mail or a message to your cell-phone.

Student's Resources

Imagine: you have to write a diploma in half year. You looked through tons of books on the subject, made many notes, found hundreds of pages in Internet. You stored these files somewhere in various folders in your PC. Internet resources were automatically saved in recently opened pages in your Internet browser. In a week you will forget where the folders are, what these files are about. Internet browser will overwrite the resources you have found. You will not have to waste your time, if you link your tasks to these documents and resources.

CentriQS Tasks Management Solution

Looking for multi-user task management software? Try CentriQS complete task management solution for planning, tracking and reporting tasks, projects, and schedules. Increase productivity of your small business or office by better organizing your employees' tasks and time.

FREE Download CentriQS
CentriQS -15% OFF
All-in-one business management software
for small and midsize enterprises

---

VIP Task Manager
Multi-user project management software
to plan, schedule and track project tasks.

---

VIP Checklists
More than 750 ready-to-use to-do lists
to plan your personal and business life

---

VIP Team To Do List
Professional task management software
to make and send team todo lists by email

---

VIP Organizer
Personal time management software
to organize time at home and at work

---

VIP Simple To Do List
Simple and effective to-do list software
to plan daily chores, trips, wedding, etc.