Task Management Software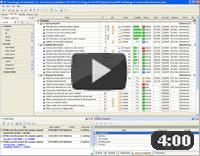 Authorization

TESTIMONIALS
"...This is an excellent program. I'm so glad that I stumbled on to this when researching for task management programs. Very low learning curv, quite flexible, and the price is right. Tried at least 20 other programs, either too complicated, too expensive, or poor documentation..."
Chad Lindsey -
Honolulu, HI
MORE FEEDBACKS

Transport Manager's Solution – To Do List for Transport Managers

Transport managers arrange and manage the operations of transportation business. The role of the transport manager is specialised and sophisticated in an organization as this person takes responsibilities of controlling shipments, creating transportation schedules, arranging deliveries of goods, providing hired vehicle services and other. Here is a sample of transport manager's to do list:

Organise the purchase of new transport vehicles – 10 lorries and 3 busses
Devise and put into action transportation schedules for March
Track shipment status – purchase order #215
Arrange collection and delivery of vehicles
Work out new tariffs for vehicles for hire service
Create repair schedule for vehicles

To manage tasks concerned with shipments efficiently and to a thorough understanding of the processes in Transportation Department, the transport manager needs to use task management software.

Creating categorized task list

Organizing tasks into categories with possibility to add subcategories is the way to efficiently arrange the workflow of the transport manager. Categorized task list allows the transport manager to control all outstanding tasks in the category "Current activities" and plan to-do lists for future putting them into the category "Future activities". Each of the categories can be divided into several subcategories. In such a way, the transport manager can create to-do list in treelike view.

Setting due dates and fighting delays

The transport manager takes responsibilities of arranging and controlling of timely collections and deliveries. Each task in to-do lists of Transportation Department staff members, especially such as shipping clerk, receiving clerk and traffic clerks, should have due date that is the deadline. For instance, the receiving clerk is responsible for the task "Check shipment for any discrepancies in quantity and price". The checking should be completed within 2 days. So upon receiving of the shipments, the receiving clerk has two-days deadline to check all incoming goods and then to report to the transport manager. In task management software the transport manager can set due dates (the column "Due Date&Time") for all tasks of the receiving clerk as well as for any staff member involved. To avoid task procrastinations and prevent delays, the transport manager can set up reminders for the tasks. Reminder can be sent to all assigned resource by email or they will see a pop-up message stating that an important event is not to be missed.

Keeping documents attached to tasks

Documentation in Transport Department should be well-arranged and accessible any time. The transport manager needs to keep all transport documentation under control and the employees need to easily enclose documents to their tasks. For example, it would be convenient for the shipping clerk if he could attach an invoice to the task "Prepare invoice for shipment". Task management software allows to attach documents directly to tasks as files or links. Then the transport manager can easily access and check documents such invoice, bill of lading, road bill, price list and other.

Choosing the right software for transport managers

If you are a transport manager, you can choose one of the following task management products depending on your specific needs:

VIP Organizer is the best solution for the transport managers who need to manage only personal tasks and organize daily activates.
VIP Team To Do List If activities of Transport Department require that tasks and jobs should be assigned to a group of operators, shipping clerks and traffic clerks, VIP Team To Do List allows to assign tasks to the employees and send them their tasks by email or give them a printable to do list.
VIP Task ManagerThe best solution for large transportation companies will be VIP Task Manager which features a centralized database each employee can enter and update his tasks in real time, and a supervisor will be immediately notified of any change with automatic notification system.

CentriQS Tasks Management Solution

Looking for multi-user task management software? Try CentriQS complete task management solution for planning, tracking and reporting tasks, projects, and schedules. Increase productivity of your small business or office by better organizing your employees' tasks and time.

FREE Download CentriQS
CentriQS -15% OFF
All-in-one business management software
for small and midsize enterprises

---

VIP Task Manager
Multi-user project management software
to plan, schedule and track project tasks.

---

VIP Checklists
More than 750 ready-to-use to-do lists
to plan your personal and business life

---

VIP Team To Do List
Professional task management software
to make and send team todo lists by email

---

VIP Organizer
Personal time management software
to organize time at home and at work

---

VIP Simple To Do List
Simple and effective to-do list software
to plan daily chores, trips, wedding, etc.