Task Management Software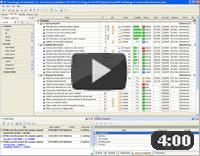 Authorization

TESTIMONIALS
"...This is an excellent program. I'm so glad that I stumbled on to this when researching for task management programs. Very low learning curv, quite flexible, and the price is right. Tried at least 20 other programs, either too complicated, too expensive, or poor documentation..."
Chad Lindsey -
Honolulu, HI
MORE FEEDBACKS

Human Resource Manager's Solution – To Do List for Human Resource Managers

In various organizations, human resource manager are responsible for planning, managing and reviewing activities concerned with selection, training and development of personnel as well as managing employment, dismissals and other staffing issues within an organisation. Daily tasks of the human resource manager may be as follows:

Discuss human resource management strategy for next year with CEO
Develop new training program for office workers to improve individual and team performance
Hold a meeting with HR department employees on Friday, 11
Organize conference with trade unions and employees on 30th of May
Build schedule of interviews for March
Prepare staff list for accounts department till 15th of February The human resource manager should use task management software which helps organize his workflow and put in order his tasks.

Organizing workflow The workflow of the human resource manager includes various tasks and works he should perform in time and in proper way. Convenient way to organize the workflow is to break the tasks into activities such as meetings, reports, phone calls, etc. For this purpose the human resource manager can use task management software which allows to organize the tasks into categories and subcategories. The tasks can be broken down into such categories as "January", "February", "March" etc. and subcategories like "Meetings", "Schedules", and other. Task management software allows to build the structure of the workflow and effectively manage task lists.

Filtering tasks The workflow of the human resource manager can be overloaded with a great number of tasks so it may be difficult to find the tasks he needs to perform right now. In task management software the human resource manager can use task filters to get convenient task list view. For example, in the Filter Bar he can set filter by task priority and status in order to get the most urgent and uncompleted tasks displayed in the task list. The filter settings can be saved to a profile and restored by the human resource manager any time it requires. For greater usability he can group the task list by columns such as "Status", "Due date", "Compete" or else.

Using task templates The human resource manager can use task templates or checklists which help optimize the workflow and improve productivity. In task management software he can create the category "Templates" which will include various subcategories with tasks. For example, the subcategory "Report building" includes the tasks which describe the steps the human resource manager has to do to build a monthly report for CEO. These tasks may be as follows:

Update staff list considering all dismissals and new employments
Collect data on monthly employment costs
Calculate retrenchment and remuneration
Summarize individual and team productivity levels
Review occupational safety programs and training practices
Build the report

Task management software allows to duplicate tasks and categories so the human resource manager can easily use templates or checklists any time.

Choosing the right software for the human resource manager If you are a human resource manager, you can choose one of the following task management products depending on your specific needs:

●VIP Organizer. VIP Organizer is the best solution for the human resource managers who need to organize personal workflow and manage only their own tasks.

●VIP Team To Do List. If activity of HR department supposes that tasks and jobs should be assigned to a group of employee within the department, VIP Team To Do List allows assigning tasks to the employees and send them their tasks by email or give them a printable to do list.

●VIP Task Manager.. The best solution for organizations which need to control activity of HR department as well as other departments, will be VIP Task Manager. The software allows to build a centralized database each employee can enter and update his/her tasks in real time, and a supervisor will be immediately notified of any change with automatic notification system.

CentriQS Tasks Management Solution

Looking for multi-user task management software? Try CentriQS complete task management solution for planning, tracking and reporting tasks, projects, and schedules. Increase productivity of your small business or office by better organizing your employees' tasks and time.

FREE Download CentriQS
CentriQS -15% OFF
All-in-one business management software
for small and midsize enterprises

---

VIP Task Manager
Multi-user project management software
to plan, schedule and track project tasks.

---

VIP Checklists
More than 750 ready-to-use to-do lists
to plan your personal and business life

---

VIP Team To Do List
Professional task management software
to make and send team todo lists by email

---

VIP Organizer
Personal time management software
to organize time at home and at work

---

VIP Simple To Do List
Simple and effective to-do list software
to plan daily chores, trips, wedding, etc.