The second phase of the business process reengineering (BPR) cycle is called "Initiation". It regards the need to start making some changes to your existing process environment (after reengineering opportunities and enabling technologies have been identified in the previous phase). The key challenge of the Initiation phase is the change process. This process entails formation of a team that will do your reengineering project, according to preset performance goals.
The Initiation phase carries out the following two activities:
Assemble Reengineering Team
Outline Performance Goals
Let's find out more about these core activities of the phase. Below we give descriptions of the activities and explain what tasks can be used to manage the activities with help of VIP Task Manager.
Assemble Reengineering Team
A good team can make or break a project. This saying means that you must be very careful and attentive when interviewing and selecting candidates to your reengineering team. You must have clear criteria of team selection and realize what the team should look like. Finally, you need to be sure that every selected candidate can jointly work with other team members towards achieving shared goals and jobs of your BPR project.
In this regard, you need to perform the team building process which includes several core tasks, such as:
Determine team composition
Set selection criteria
Define team size
Create roles
Let's focus on every task of the team building process. The first task means you need to determine what people with what skills and abilities will compose your team. Here're some tips to address the challenge:
Select some experts and technical wizards who understand current processes occurring in your organization.
Find specialists who're actively involved in the processes and work closely with customers.
Invite some external consultants who're completely objective towards the processes and their outcomes.
Involve customers and suppliers in your team because these people have an interest in or are affected by the processes.
So your reengineering workgroup will consist of experts, specialists, customers, consultants and suppliers.
The second task of the team building process means that you need to use some criteria for selecting the best candidates to the team. Skills and knowledge are two critical criteria. You must select candidates having the right set of skills and abilities. The best candidates should also:
Be creative and open minded.
Have good collaboration skills and communication abilities.
Be well-respected among managers, stakeholders, and business leaders.
Interviewing is a great way to communicate with all candidates and select the best ones. When interviewing a person, you can ask questions, talk about the person's vision of the team, evaluate skills, and so on. You can use your selection criteria during interviews to find out if a candidate matches your needs.
The third task requires you to define optimal size of your team. Here're some considerations on this point:
A team of 5-6 members is the recommended size for process reengineering teams.
A smaller team of 3-4 members will work faster and produce results more quickly but the overall amount of work will be smaller.
A larger team of 7 and more members will require additional facilitation and creation of sub-teams.
The size of your reengineering team will depend on the amount of work and scope of your project. A team of 5 mates is usually enough to do a typical reengineering project. If you think your project requires a larger team, consider engaging more resources in the project. Note that a larger team moves more slowly through the creative process, so be ready to make necessary adjustments to the project schedule.
The forth task of the team building process means that you need to define team roles and describe key duties and responsibilities for each of the roles. Here're suggested roles and responsibilities:
Team Leader – this person provides leadership, guidance and motivation to the team and is responsible for project planning, budgeting, team leading, and communications.
Facilitator – this individual facilitates team meetings and provides objective predictions of team development.
Team Members – these people design and implement the overall BPR solution. They're subordinated to the team leader and responsible for performing day-to-day operations.
By doing all the tasks of the team building process, you can assemble a reengineering team for your project. Once this process is accomplished, you need to establish performance goals and present them to your team.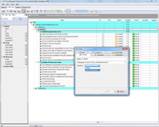 Outline Performance Goals
Using performance goals in a collaborative working environment leads to higher performance of each team member involved in the environment. The idea here is that performance goals ensure that performance of every single employee contributes to the overall team performance and removes any uncertainties about individual and shared jobs. Accomplishment of performance goals provides a sense of achievement.
In this regard, you can use performance goals as a mechanism to join your team around objectives of your reengineering project. This mechanism motives teammates to increase their individual performance because they contribute to the overall project performance. Use the following checklist of tasks to outline performance goals for the team:
Set challenging and attainable performance expectations for teammates based on project objectives.
Gain the team's commitment to project objectives.
Have a system of performance measurements for evaluating individual and group achievements.
Create success criteria to determine whether a particular performance goal is achieved successfully.
Use a rewarding system for motivating team members.
Performance goals should be SMART (Specific, Measurable, Achievable, Relevant and Time-based). Besides, the goals should be divided into the following groups:
Tactical goals. This group of performance goals directly relates to the strategic objectives of your reengineering project. It indicates the level of achievement necessary for supporting project objectives.
Operational goals. This group refers to specific and individual goals of teammates. Operational goals determine individual performance expectations and focus on individual responsibilities and duties of team members.
Super-ordinate goals. Such goals refer to collaborative efforts of the team and are used to resolve conflicts between operational goals of teammates. They serve as powerful motivators for employees to resolve their tension and animosity and cooperate with each other.
All the groups of performance goals should be outlined in a single document called "the goals statement". This document shows individual and collaborative goals of the team. When you have developed this document, you need to present it to the team during a meeting.
Using VIP Task Manager
All the tasks and activities of the Initiation phase can be planned and managed with help of VIP Task Manager. You can use this program to create to-do lists, templates, and project schedules. Below we present a checklist of tasks to accomplish the phase and its key activities.
Initiation
Build Reengineering Team

Select some experts and technical wizards
Find specialists actively involved in the process environment
Invite external consultants to the team
Involve customers and suppliers in the team
Decide on the size of the team
Set team roles
Describe duties and responsibilities for each of the roles
Create a list of skills and abilities for team selection
Organize interviews to select candidates
Choose the best candidates having the necessary skills and knowledge
Form the team
Allocate roles and responsibilities among team members

Outline Performance Goals

Set challenging and attainable performance expectations for teammates
Gain the team's commitment to project objectives
Develop a performance measurement system
Create success criteria
Develop an employee rewarding system
Use SMART method to establish performance goals.
Define tactical goals
List operational goals
Identify super-ordinate goals
Create the goals statement document.