1) Basics terms and principles of breaking the projects down:
Decomposing of projects is necessary for understanding the work included into their scopes. If you cannot break down a project into smaller tasks, then you just don't have a real idea on how to accomplish this project, or in other words you cannot compose a doable plan to perform the entire work. Project decomposition (or project breakdown process) results into WBS (work breakdown structure) that is one of the main documents required to start and complete any project.
WBS is a hierarchical tree-like structure of project elements that are arranged in an interconnected logical order to conceptualize and visualize a project's workflow. Each level of this structure breaks the project deliverables or objectives down to more specific and measurable parts, until obtaining the lowest level of terminal elements that cannot be decomposed further.
Two types of WBS: There are two recognized types of WBS: Activity-oriented and Deliverable-oriented. They are also called verb-based or noun-based ways. These both types generally employ the same principles, but there is a critical difference between them: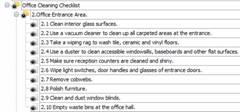 1) Activity-oriented: you divide your projects into smaller "doable" pieces – tasks are formulated as actions, so each element of WBS is recorded starting with a verb. This type is effective and convenient for smaller projects, as when you try to build an activity-based WBS for big projects you risk to delve deeply into minute details, having to record thousands of activities (resulting in extremely intricate, senseless and time-consuming effort), or you will miss a plenty of important details by taking too general level of activity planning.
2)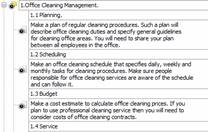 Deliverable-oriented: once some smaller projects can be broken down into series of particular activities, the greater ones are usually expected to be decomposed via a noun-based way, into deliverables (results or products), but not into sets of specific actions. This allows avoiding tons of excessive details and provides enough of space for micro-planning delegated to assigned professionals.
Other WBS principles:
Level of Detail: the required level of details to be represented is an aspect of primal importance. It is usually supposed that WBS and its level of detail should:
Provide space for more ingenuity and creative thinking contributed by the performers;
Be not overloaded with details, which may be senseless and cause confusion;
Give operational freedom for further micro-planning performed by performers;
The 100% Rule: WBS must include 100% of the work predefined by the project scope. It should demonstrate all essential deliverables from all project levels, including complete range of actual work and project management practice. This rule is also applied to evaluation of WBS, so once if a WBS includes 100% of work, without omissions or excessive details, then it is effective. The way to stay within these desired 100% when decomposing some big projects is to plan WBS in terms of outcomes or results, but not actions;
The work packages are the lowest level: components called the work packages always reside on the lowest level of the project decomposition, while a number of WBS levels is not limited. As it is the last possible level of breakdown, the work packages are complete and enclosed elements that are assignable, but no sub-dividable anymore in terms of current WBS (however, work packages still comprise sets of activities that are not demonstrated). In other words, a work package:
Produces a deliverable or result which is measurable;
Can be estimated realistically in terms of time and costs;
Can be planned in terms of sub-actions needed to accomplish it;
Can be assigned to a performer or a team of performers to be executed;
Is an all-sufficient portion of work which can be delegated and performed without reference to other deliverables;
2) Actions to break a Project down:
Define the high-level objectives to be reached with your project;
Determine the tasks or deliverables underlining these objectives;
Determine the level of details you will need to build up the WBS;
Select whether action-oriented or delivery-oriented baseline for breaking a project down;
Decompose the project's tasks and deliverables into subtasks until obtaining convenient work packages which are not further subdivided (the lowest level of WBS, terminal elements);
List the work packages (entitle them) and assign them to performers;
Make sure they can deliberate sub-actions enclosed into these work packages;
Create WBS coding scheme;
3) A simple way to represent a Project Breakdown Structure with VIP Task Manager:
VIP Task Manager is a product that stands for collaboration between people in terms of projects and tasks, so it enables its users to share their project breakdown plan including project deliverables and embedded work packages comprising subtasks. Let's consider simple step-by-step instructions to break a project structure down using this product:
Instruments to be used:
Task Tree mode actions (breaking down a project):
Create a set of task groups of the first level for the highest objectives and deliverables;
Create sub-folders to represent embedded functions or underlying deliverables;
Create the last line of sub-folders to represent work packages;
Use "Resources" tabs of these task groups to assign a person (or persons) to work packages;
Use "Watch List" tabs of these task groups to assign supervisors;
Fill the task groups representing the work packages with specific tasks and practical actions;
Estimate timing of activities enclosed into each of the work packages;
Input results of this estimation by setting up the Start and Finish dates of specific tasks;
Set up Permission to make sure everyone can access the assigned work packages;
Control performance of tasks and parental work packages by monitoring progress and statusing;