Task Management Software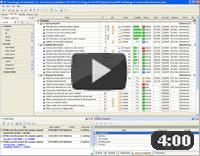 Authorization

TESTIMONIALS
"...This is an excellent program. I'm so glad that I stumbled on to this when researching for task management programs. Very low learning curv, quite flexible, and the price is right. Tried at least 20 other programs, either too complicated, too expensive, or poor documentation..."
Chad Lindsey -
Honolulu, HI
MORE FEEDBACKS

Weight Loss Checklist

| | |
| --- | --- |
| | Maintaining a healthy weight will give you many health benefits. If you suffer from overweight, losing as little as 5-10 pounds will help reduce your blood pressure, and then you will feel yourself better. Use the given Weight Loss Checklist to learn how to organize your day to follow your best diet. |

---

| | |
| --- | --- |
| Order 750 checklists in MS Word and PDF printable format at $49.99 USD only. | BUY NOW! |

Benefits.

Being overweight means you are at a greater risk of developing health problems. By doing exercises and following some effective plan, you benefit from getting much healthier.
By losing as few as 10 pounds, you are likely to experience a lot of health benefits.
Losing some weight may help you reduce your blood pressure.
Losing weight may significantly prevent hypertension.
Weight loss reduces the strain on your heart.
The number of stresses gets lowered and the level of your self-confidence gets higher when you lose weight.
By following an effective diet plan, you can maintain two essentials of a healthy weight:

Eating well
Moving often
By naturally losing weight, you become a more beautiful person who attracts more people.

Getting Prepared.

Visit your doctor. Before even thinking of a diet, you should check your health and make sure you can follow some recommended diet without any negative consequences. Ideally your doctor will tell you that three conditions of good heath are successfully maintained by your body. Here are these conditions:

Your insulin level is normal
Your blood pressure level is normal
Your cholesterol level is normal

Medicines. Although your doctor knows what medicines you might take, you should talk to the doctor and notice that you took (or did not take) some medication.
Note everything what the doctor says. It is recommended to jot down every piece of advice that your doctor gives you. Although the doctor will certainly give you some written guide, you will benefit from having your own notes and records.
Identify your BIM. BMI (Body Mass Index), or Quetelet index, is a numerical value of your weight in relation to your height. It is one of the greatest indictors of healthy weights for adult men and women. Use a BMI calculator to calculate your body mass index and compare it to the BMI chart. In Internet there are plenty of software tools for calculating and comparing BMI.
Get social support. Following any diet plan is a real challenge and it will be hard for you to meet the challenge alone. When deciding on one or another diet, you should get social support of your friends and relatives who will give you some help to let you avoid a diet collapse and manage your weight better.

Choosing and Following Your Nutrition Plan.

Choose a nutrition plan. Selecting a nutrition plan is a critical aspect of diet management. You should talk to your doctor to get advice and recommendations concerning the best-fitting nutrition plan. Meanwhile, you should know that the most important aspect of any nutrition plan includes a set of calorie management steps which you can follow to achieve a deficit of calories in the form of physical exercises and consumption of smaller food portions.
Planning purchases. It is highly recommended to use a task management software solution to create and follow diet management to-do lists. Such software as VIP Organizer will let develop weekly meal-purchasing todo lists, grocery shopping lists, and weekend recipes. Generally, following a diet todo list is one of the most useful tips.
Calculation. When following your nutrition plan, it is important to calculate how many calories you consume each day. You should use a calculator which can be a software solution. Use Internet to find an example of such software.

Diet Management Prohibitions.

Self-Deception – Do not cheat yourself. One of the most frequent cheats when following a diet is when you try to ensure yourself that one more piece of your favorite cake will do no harm to your weight. Don't let one cheat disorder your entire diet.
Restaurants – Do not eat at restaurants. Such places as restaurants usually do not give you the nutrition information. You should avoid eating at restaurants, or any other public catering enterprises.
Loneliness – Do not take a diet alone. You will benefit from experiencing your diet with a person who will motivate you to follow your workout plan.
Blind Trust – Do not trust everything and everybody. Your doctor is the only adviser who can tell you what diet will fit your needs in the best way. It's not recommended to invent your own diet program or follow some articles posted in a fashionable magazine or some website. Remember that your chosen diet should be scientifically-proven and adapted to the specific needs of your body.
Fanaticism – Do not be a diet "fanatic". When following a diet, some people become extremely enthusiastic and turn into fanatics who are beyond the normal limits of weight management. Remember that too much enthusiasm can be harmful to your body.

---

| | |
| --- | --- |
| Order 750 checklists in MS Word and PDF printable format at $49.99 USD only. | BUY NOW! |

CentriQS Tasks Management Solution

Looking for multi-user task management software? Try CentriQS complete task management solution for planning, tracking and reporting tasks, projects, and schedules. Increase productivity of your small business or office by better organizing your employees' tasks and time.

FREE Download CentriQS
CentriQS -15% OFF
All-in-one business management software
for small and midsize enterprises

---

VIP Task Manager
Multi-user project management software
to plan, schedule and track project tasks.

---

VIP Checklists
More than 750 ready-to-use to-do lists
to plan your personal and business life

---

VIP Team To Do List
Professional task management software
to make and send team todo lists by email

---

VIP Organizer
Personal time management software
to organize time at home and at work

---

VIP Simple To Do List
Simple and effective to-do list software
to plan daily chores, trips, wedding, etc.