Task Management Software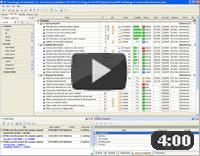 Authorization

TESTIMONIALS
"...This is an excellent program. I'm so glad that I stumbled on to this when researching for task management programs. Very low learning curv, quite flexible, and the price is right. Tried at least 20 other programs, either too complicated, too expensive, or poor documentation..."
Chad Lindsey -
Honolulu, HI
MORE FEEDBACKS

Vehicle Cleaning Checklist

| | |
| --- | --- |
| | In this Vehicle Cleaning Checklist you will learn key tasks for cleaning the interior and exterior of your car and washing the engine. The checklist is designed as a step-by-step to-do list so you can use your task management software to do and check off all the tasks. |

---

| | |
| --- | --- |
| Order 750 checklists in MS Word and PDF printable format at $49.99 USD only. | BUY NOW! |

1. Interior Cleaning.

Vacuuming.

Remove floor mats and vacuum them separately.
Vacuum seats and carpet by using a special hard attachment.
Vacuum under seats, around the pedals and the area between the front seats and central console.
Use a soft brush attachment to vacuum the dashboard, central console and door upholstery.

Washing Upholstery.

Spray an upholstery cleaning agent (or a regular laundry detergent) evenly on the upholstery.
Rub the upholstery until dirty spots are gone.
Use a soft rag and warm water for washing.
Wipe the upholstery with a clean, soft dry cloth.

Clean Leather-Covered Elements.

Apply only special leather care products to any leather-covered elements of the car's interior.
Clean the leather-wrapped steering wheel with a clean and wet cotton towel.
Use a soft brush attachment to vacuum leather seat crevices.
Wipe seats with a soft cotton towel and some leather cleaner agent.
Try to reach into crevices and around the edges of your leather seats.
Apply a conditioner later to protect the leather.

Windows.

Apply a window-cleaning spray to the windows inside the car.
Use a soft glass-cleaning towel to wash to windows.
Be careful when washing the rear window (there's a risk to damage the heating lines of the defogger grid).
Make only parallel motions to wash the defogger grid.

2. Exterior Cleaning.

Roof and Doors.

Spray your car's roof and doors with a hose.
Apply regular car washing soap to the roof and doors.
Use a soft rag for washing.
Flush the washing soap.
Wipe with a dry rag.
Wax the roof and doors.

Door Handles.

Use a smooth brush to clean the handles.
Use regular car wash soap for washing.
There's no need to apply wax to this area because the handles are touched often.

Gitter.

Wash your car's gitter with a damped rag and washing liquid.
Thoroughly wipe the gitter with a dry cloth.

Wheels.

Spray your car's wheels and tires with a hose.
Use a brush or sponge and regular car wash soap for washing.
Use an old toothbrush to clean small openings.
Rinse thoroughly.
There's no need to wipe the wheels and tires.

Windows.

Use a cloth rag, some water and a little vinegar (or a special glass cleaning liquid) to wash your car's windows from the outside.
Use an old newspaper sheet and brush to roll down the windows after the washing – this will help you wipe water drop stains off the glass.
Wipe crevices between panels with a dry rag. Wax accumulated in these areas should be wiped off. For this purpose use a smooth toothbrush only (to avoid scratches).
Wipe glass cleaners on the windscreen.

Headlights.

Use a soft cloth and glass cleaning liquid (or a toothpaste) to wash your car's headlights.
Rinse the headlights with some water and wipe them down with a wet cloth.
Remove any water spots with a dry rag after the wiping.

Mirrors.

Start cleaning your mirrors only after the car dries.
Use a homemade mirror polisher (a mix of borax and water) or a special washing solution to wash the mirrors.
Use a soft cloth to remove as much bug residue that accumulates behind the mirrors as possible.
Wipe the mirrors with a soft cloth and special anti-fog products.

Emblems and License Plates.

Wash chromed emblems and license plates with regular car washing liquid.
Use a cloth rag to clean shining elements.
Wipe chromed emblems and license plates with a dry rag.

Plastic and Rubber Trims.

Remove surface dirt from the car's plastic and rubber trims with a gentle detergent solution.
Remove wax residue and oxidation with a specifically designed product for washing vinyl and rubber trims.
Use special washing products that contain rubber conditioners.
Spray a special protecting solution to protect the trims.
Wipe the trims with a soft cloth.

3. Engine Cleaning.

Before Cleaning.

Move the car to an acceptable place for washing the engine (for example, your backyard).
Protect electrical elements with plastic heads and rubber.
Cover wipes. Keep them out of water.
Cover sensors with rubber.

During Cleaning.

Apply an engine degreaser to the sides of the engine compartment and the bottom. Wait for several minutes.
Carefully rinse off the engine with a hose.
Be careful! Don't flush water to the top of your engine.
Use the degreaser and a clean, soft ...




---

| | |
| --- | --- |
| Order 750 checklists in MS Word and PDF printable format at $49.99 USD only. | BUY NOW! |

.

CentriQS Tasks Management Solution

Looking for multi-user task management software? Try CentriQS complete task management solution for planning, tracking and reporting tasks, projects, and schedules. Increase productivity of your small business or office by better organizing your employees' tasks and time.

FREE Download CentriQS
CentriQS -15% OFF
All-in-one business management software
for small and midsize enterprises

---

VIP Task Manager
Multi-user project management software
to plan, schedule and track project tasks.

---

VIP Checklists
More than 750 ready-to-use to-do lists
to plan your personal and business life

---

VIP Team To Do List
Professional task management software
to make and send team todo lists by email

---

VIP Organizer
Personal time management software
to organize time at home and at work

---

VIP Simple To Do List
Simple and effective to-do list software
to plan daily chores, trips, wedding, etc.