Task Management Software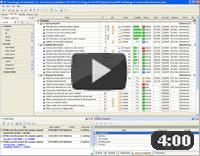 Authorization

TESTIMONIALS
"...This is an excellent program. I'm so glad that I stumbled on to this when researching for task management programs. Very low learning curv, quite flexible, and the price is right. Tried at least 20 other programs, either too complicated, too expensive, or poor documentation..."
Chad Lindsey -
Honolulu, HI
MORE FEEDBACKS

Tsunami checklist

| | |
| --- | --- |
| | While our science still cannot invent anything effective in order of tsunami prevention, all people who live in the coastal regions that experience earthquakes face the great danger from this horrible phenomenon; however, due to ongoing development of tracking systems it is possible to warn people beforehand, so many lives can be saved. This checklist can be helpful for those people who live in high-risk areas, because this checklist gives essential tips on reaching appropriate preparedness. |

---

| | |
| --- | --- |
| Order 750 checklists in MS Word and PDF printable format at $49.99 USD only. | BUY NOW! |

General precautions for you and your family:

Find out if your home or property is in high-risk zones. You may study special government-approved maps.
Clarify the height of your home location above the sea level and know the distance from the coast, this is important because evacuation orders can be given according to these numbers.
Plan the safe transportation routes for evacuation inland, away from the coastline as far as possible (3 kilometers or more), or to some peak areas, as high as possible (30 meters and more).
While planning evacuation routs, avoid using roads that are parallel to coastlines. Be ready to reach safe locations on foot, because after the alert roads may become blocked.
Study routes and shelter locations recommended by local emergency management officials. Plan evacuation from your home, school, workplace, or any other usual place you could be.
Define if your children's school is within a risk area. Find out if there is school evacuation plan, and if it requires you to pick your children up from school or from some another place.
Prepare and maintain the kits for you and your family members (emergency survival kits), including food, water, personal hygiene and medicines, flashlights, portable radio, rain clothes, change of clothing for each person, rubber boots and many other things. Just take care of acceptable weight.
Ensure the best familiarity of your family members, train and practice survival skills, explain action plan to them, so if the disaster strikes when your family members are allocated, you can be sure that they know what to do.
Remember the basics: for example, if the ocean recedes, that's a sign a large surge could be approaching. If there's even a possibility of a tsunami hitting your area, stay away from beaches and lowlands.
Attentively check out earthquake and news. Regularly check out the TV and radio for official reports and warnings.
Be ready that in a short time before a disaster, all traditional communications (like phones and cell phones) may become disabled due to overload or other technical emergencies.

Beforehand preparation, and after tsunami tips for your home and property:

Remember that there's not a lot you can do to prepare your property against tsunami due to the great power of this disaster. The best you can do in this situation is to turn off electricity and heaters in your house, and evacuate your family to safe place as fast as only possible (within 15 minutes).
Study your local government's policy on prediction and warning.
In order to decrease problems from flooding, when planning your home, take care of elevation the furnace, water heater and electric panels on higher possible level. Seal the walls in your basements with waterproofing compounds.
Consider all necessary flood preparations, like installing check valves to prevent water from backing up into the drains of your home. Take professional advice on special anti-flood landscaping for your property.
When there is a warning announced and you live far enough from coastal line, if possible you may get prepared to a flood by constructing barriers to stop water from entering your building.
Flood and damage are what should be particularly considered with your insurance provider as far as your insurance policy may need additional options on this.
If tsunami has happened, and your property was hit or flooded, do not return there until authorities announce that all is clear.
Do not enter a building until you check it for structural integrity from outside.
Check for fire hazards, such as gas leaks or spilled flammable liquids, do not turn on electricity until the house has totally dried out.
Wear rubber boots and gloves to reduce risk of cuts and infection.
Beware of hazards such as damaged power lines and broken water mains. Remember that heating system and electricity system need to be cleaned and dried before use; get a professional check on these things.
Check the water lines and sewage system for damage. Do not use your water source until you are sure it is pure.
Beware of snakes and scared or wild animals which could hide inside of your property.
Contact your insurance representative to make a claim, make photos of damages if possible, and begin the clean-up process.
Be conscious of cleanliness, because water from a tsunami has picked up all the trash and infections from all the territory around – wash your hands with soap often and use hand sanitizers.




---

| | |
| --- | --- |
| Order 750 checklists in MS Word and PDF printable format at $49.99 USD only. | BUY NOW! |

CentriQS Tasks Management Solution

Looking for multi-user task management software? Try CentriQS complete task management solution for planning, tracking and reporting tasks, projects, and schedules. Increase productivity of your small business or office by better organizing your employees' tasks and time.

FREE Download CentriQS
CentriQS -15% OFF
All-in-one business management software
for small and midsize enterprises

---

VIP Task Manager
Multi-user project management software
to plan, schedule and track project tasks.

---

VIP Checklists
More than 750 ready-to-use to-do lists
to plan your personal and business life

---

VIP Team To Do List
Professional task management software
to make and send team todo lists by email

---

VIP Organizer
Personal time management software
to organize time at home and at work

---

VIP Simple To Do List
Simple and effective to-do list software
to plan daily chores, trips, wedding, etc.