Task Management Software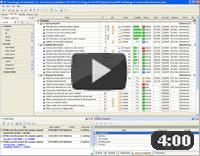 Authorization

TESTIMONIALS
"...This is an excellent program. I'm so glad that I stumbled on to this when researching for task management programs. Very low learning curv, quite flexible, and the price is right. Tried at least 20 other programs, either too complicated, too expensive, or poor documentation..."
Chad Lindsey -
Honolulu, HI
MORE FEEDBACKS

Task Planning Checklist

| | |
| --- | --- |
| | In this Task Planning Checklist we guide you through seven key steps of the planning process. Every step includes a range of sub-steps you can take to carry the process from task definition through task reporting. The checklist aims to help you organize your daily activities. |

---

| | |
| --- | --- |
| Order 750 checklists in MS Word and PDF printable format at $49.99 USD only. | BUY NOW! |

Define Tasks.

Purpose. Why do you need to complete tasks? What is the purpose of doing so?
Goals. What do you want to reach by completing tasks? What do you expect to receive upon successful completion?
Performance level. What is the best performance level you wish to attain? What number of tasks per day will you do to reach and maintain this level?
Success criteria. How will you determine whether your tasks are completed? How do you define success? What criteria will you use to measure success?
Milestones. How will you track progress of tasks? Do you use special check-points to define task status and measure task effectiveness?
Software. How are you going to define and manage your tasks? Do you consider using special software (e.g. VIP Organizer) for this purpose? If so, do you need a single-user or collaborative software solution (e.g. VIP Task Manager)?

Commit Resources.

HR. Who is supposed to be a manager or supervisor providing oversight, control and guideline? Is there a need to assemble a team to compete your tasks? If so, how will collaborative efforts be managed?
Funds. What amount of financial resources is required to do your tasks? Is there a budget sheet created? Where are you going to get the funds from?
Other resources. Is there a need to commit other resources such as technology, IT and software, knowledge, etc.? If so, how are you going to obtain and then commit those resources?

Schedule Tasks.

Time-frames. What are the start date and finish date for your tasks? Did you estimate duration per task? What is the total time period required for you to complete tasks?
Schedule. Have you put task time-frames on a single schedule? Is this schedule complete and comprehensive so you can use it to view all of your tasks and track their individual and overall durations?
Tracking. Do you have a tool to track your tasks by time? Can you put milestones on your schedule to track tasks?

Prioritize Tasks.

By value. Have you set dependencies for your tasks so that you know how a parent task affects a child task? If so, have you identified the value per dependent task? Do you regard task goals as the key parameter for determining task value? If so, can you prioritize your tasks by goals and thereby make a list of value-ranked tasks?
By time. Do you regard the time constraint as the major factor determining execution order? Can you use time-frames to prioritize your tasks (from tasks with the shortest durations to ones with the longest durations)?
By importance. Are there important or dominant tasks having the greatest impact and producing the most of the expected results as compared to other tasks? Can you use importance as the primary parameter for task prioritization?
Tools. Do you use such prioritization tools as Grid Analysis, Paired Comparison Analysis, Urgency/Importance Matrix, Pareto Analysis, or Action Priority Matrix? How do you think which of tools is best for prioritizing your tasks? Can you combine two or more tools to prioritize your tasks?

Categorize Tasks.

Categories. Is there a need to arrange your tasks by categories or groups? Can you create to-do lists? Are tasks categorized in line with their priorities?
Category dependency. Are there dependency rules set for your task categories? Do you know what group of tasks to do first?
Project. Is there a need to combine all of your tasks into a single project? If so, what methodology or implementation approach are you going to use in doing the project? Can you create templates for your project to simplify the implementation process?

Define Reporting Rules.

Form. What report form will you use to build your task reports? What means of communications (mail, email, virtual networks, web publishing, etc.) are you going to use for report submission?
Content. What information is supposed to be included in a task report? How should this information be structured and organized?
Format. Are you going to generate your report form in an electronic format? If so, what programs are required for report generation? Do...




---

| | |
| --- | --- |
| Order 750 checklists in MS Word and PDF printable format at $49.99 USD only. | BUY NOW! |

CentriQS Tasks Management Solution

Looking for multi-user task management software? Try CentriQS complete task management solution for planning, tracking and reporting tasks, projects, and schedules. Increase productivity of your small business or office by better organizing your employees' tasks and time.

FREE Download CentriQS
CentriQS -15% OFF
All-in-one business management software
for small and midsize enterprises

---

VIP Task Manager
Multi-user project management software
to plan, schedule and track project tasks.

---

VIP Checklists
More than 750 ready-to-use to-do lists
to plan your personal and business life

---

VIP Team To Do List
Professional task management software
to make and send team todo lists by email

---

VIP Organizer
Personal time management software
to organize time at home and at work

---

VIP Simple To Do List
Simple and effective to-do list software
to plan daily chores, trips, wedding, etc.