Task Management Software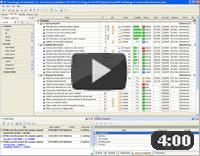 Authorization

TESTIMONIALS
"...This is an excellent program. I'm so glad that I stumbled on to this when researching for task management programs. Very low learning curv, quite flexible, and the price is right. Tried at least 20 other programs, either too complicated, too expensive, or poor documentation..."
Chad Lindsey -
Honolulu, HI
MORE FEEDBACKS

Sales Qualification Checklist

| | |
| --- | --- |
| | Sales qualification is a fundamental aspect of the overall sales management process. It is about identifying prospective customers and getting sales leads. In this Sales Qualification Checklist we've described three steps that help establish a qualified selling process in a business organization. |

---

| | |
| --- | --- |
| Order 750 checklists in MS Word and PDF printable format at $49.99 USD only. | BUY NOW! |

1. Prospecting.

Overview. Prospecting means the art of identifying prospective customers that are in the market and ready to purchase a certain product or service. There are many techniques and methods of prospecting. In this checklist we describe the most popular ones. Please view seven widely used methods of effective prospecting.
Trading Leads with other Salespeople. This is an excellent method of prospecting as it allows you to trade leads with other salespeople who sell their products in one and the same market as you do. For example, you sell computers and computing equipment. You can find other salespeople who sell similar products (like office appliances and consumer electronics) and try to trade leads with these people. In such a way you'll get a valuable source of prospects interested in your products.
Referrals. This method works when you have a certain amount of satisfied customers who believe your products are great. Such customers may refer a new prospect to your products so you get a person (or company) that is easier to sell to, because he/she knows more about your products. By using this method you create and maintain successful sales referral programs.
Prospecting through Socializing. Having great communication skills will help you socialize with other people and get valuable information on potential customers. For example, you can ask your family members, friends, co-workers, business partners and other people whether they know somebody who might be interested in buying your product. Although this method of prospecting does not guarantee great sales leads you can get contact info of potential buyers. Also you can try to join social organizations that will help you establish communication with potential buyers.
Prospecting through Phone Calls. Using your telephone helps you prospect not only in your city but across the whole country as well. Making phone calls allows you to seek and reach potential buyers without any brochures or other sales aids. Your voice will be the only tool to convince a prospect of your product's benefit.
Prospecting by Direct Email. This way of getting and qualifying prospects allows you to use email service to send advertizing material in an electronic formal (PDF, MS Excel, MS Word, image file) to potential buyers. It's simple and allows reaching a broad customer audience. At the same time most of the people who use email service never read direct email messages and often regard such messages as spam.
Using Business Lists. This method of prospecting assumes that you can request business lists from specialized governmental agencies, local chamber of commerce, newspapers, trade associations, export promotion bureau, social clubs and the like.
Using Business Directories. In Internet you can find directories that contain lists of businesses that can become buyers of your products. Such directories can help you prospect by certain industries, regions, locations, professions, etc. You can easily find potential customers and their contacts (email, phone number, Skype number etc.).

2. Qualifying Prospects.

Overview. If you want to be successful in qualifying prospects you need to learn to ask yourself a number of questions and give right answers. Qualifying prospects means determining customers who express their desire to buy a product or service. Below we give a list of questions. Answering these questions will help you qualify prospects.
Who are My Customers? To answer this question you need to carefully investigate you product's benefit and find out if there is a need in the product in your marketplace. Also consider answering the following questions:

Who has the most obvious need for your product?
Who are your ideal buyers? How do they look like?
Are there people who are ready to pay for your product immediately?
Who has the most urgent need to purchase your product?
Are there competitors who have influence on your prospects?
Where are My Customers? There might be people who cannot purchase your product because of the distance. You need to identify what denies potential customers to purchase your product. Consider answer the following questions:

Where do your ideal buyers live and work? Are they able to reach the place where they can view and buy your product?
Can you get addresses and mailing lists of people who fit your ideal prospect profile? This information will let you send advertizing material directly to your ideal buyers.
Where can you go to contact new prospects?

Why should My Customers Buy My Product? You need to clearly identify reasons that make your customers purchase your product. Consider answering these questions:

Why would your prospect be likely to pay for your product?
Why would the prospect resist purchasing the product?
How can you approach this person and convince him/her of the need to purchase the product?
Why would the prospect be likely to join an appointment with you?

How can My Customer Buy the Product? The final question regards all the options and methods of payment. Your goal is to let your prospect purchase quickly and painlessly. Consider asking the following questions:

Can you say your prospect has workable options to make payment?
How can you minimize the time the payment takes?
How can you simplify this procedure so your prospect will have no questions on how to make payment?
How can you best approach your prospects?

3. Getting Qualified Leads.

Overview. You need to find people who need or want to purchase your product. Such people are your qualified leads. Below we give the most popular techniques of getting qualified leads.
Self-Selling. You can follow this way of getting new leads in case your product is highly popular and customers are ready to purchase it, so the product virtually sells itself. Usually the technique is used when a company sells some unique or one-of-a-kind product, so for customers it's hard to find a substitute or alternative to this product. It significantly simplifies the process of acquiring new leads.
Advertising. This technique is popular as it gives a lot of opportunities for attracting new customers ...




---

| | |
| --- | --- |
| Order 750 checklists in MS Word and PDF printable format at $49.99 USD only. | BUY NOW! |

CentriQS Tasks Management Solution

Looking for multi-user task management software? Try CentriQS complete task management solution for planning, tracking and reporting tasks, projects, and schedules. Increase productivity of your small business or office by better organizing your employees' tasks and time.

FREE Download CentriQS
CentriQS -15% OFF
All-in-one business management software
for small and midsize enterprises

---

VIP Task Manager
Multi-user project management software
to plan, schedule and track project tasks.

---

VIP Checklists
More than 750 ready-to-use to-do lists
to plan your personal and business life

---

VIP Team To Do List
Professional task management software
to make and send team todo lists by email

---

VIP Organizer
Personal time management software
to organize time at home and at work

---

VIP Simple To Do List
Simple and effective to-do list software
to plan daily chores, trips, wedding, etc.