Task Management Software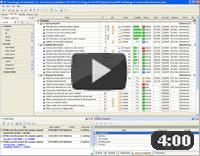 Authorization

TESTIMONIALS
"...This is an excellent program. I'm so glad that I stumbled on to this when researching for task management programs. Very low learning curv, quite flexible, and the price is right. Tried at least 20 other programs, either too complicated, too expensive, or poor documentation..."
Chad Lindsey -
Honolulu, HI
MORE FEEDBACKS

Sales forecasting checklist

| | |
| --- | --- |
| | This sales forecasting checklist explains the way of objective estimating company's future sales volumes and quality. Sales forecasting methodology embraces studying sales and financial records, company's and market statistics, making environmental researches, and then processing this information through different forecasting methods and formulas. With a help of this checklist you will learn general steps of this important process, will know what techniques are frequently used, as well as essential factors, sources, tools, etc. |

---

| | |
| --- | --- |
| Order 750 checklists in MS Word and PDF printable format at $49.99 USD only. | BUY NOW! |

Process and steps:

Determine the purposes of the sales forecast.
Establish time horizon the sales forecast is intended to cover.
Define the degree of accuracy required (acceptable tolerance of forecast errors).
Define product, group of products and business units you wish to create a forecast for.
Define the position of the products on their life cycle.
Define the trading area and location where you want to forecast.
Use available statistics to determine the general characteristics of this area.
Use local sources to determine unique characteristics about your trading area (factors affecting sales).
Develop a customer profile and determine the trends in your industry/area.
List and profile competitors selling in your subjected area.
Estimate market demand in this location (the total volume that would be purchased by defined customer group, in defined geographical area, in defined time period, in given state of marketing environment).
Estimate the company's share of market demand (market demand vs. company's market share).
Choose one or more forecasting methods reasoning from the kind of data available and the sophistication needed in the forecast.
Gather all necessary data. Analyze the data.
Developing the Sales Forecast with a help of selected method (the expected level of company sales reasoning from a marketing plan and available marketing environment).

Tools, sources and factors:

Sales forecasts can be based on the following sources:

Customers' planned market activity;
Customers' current market activity;
Customers' past market activity;

External factors that affect the sales:

Business seasonality;
Direct and indirect competition;
Consumer spending patterns;
State of local economy and political environment;
Cultural and national events (holidays);
Styles, fashions and market trends;
Consumer incomes;
Population changes;
Weather and disasters;

Internal factors that can affect the sales:

Sales staff motivation;
Credit policy changes;
HR problems;
Inventory shortages;
Pricing policy changes;
Change in distribution methods;
Production capability shortage;
Introducing new product lines;

Tools that can be used for forecasting:

Complex software solutions that assists on analyzing many layers of data that affect sales performance for making sophisticated predictions.
Data-intensive spreadsheet (using Excel) that can be quickly transformed into easy-to-understand charts, graphs and reports.
Custom multi-level systems that engage not only computer-based means, but also effective combination of methods and business-adapted practices, so that delivered results are perfectly aligned with specific company's reality and needs.

Reports can be composed for the following time ranges:

Short-range forecasts are made for periods less than three months. Such reports are used to make decisions on planning and scheduling company's inventory and personnel engaged into processes of production, distribution, procurement and logistics activities.
Intermediate forecasts have a span between three months and two years. This kind of reports is used to support budgeting, costs control, marketing products, planning sales force compensation and facilities, production and capacity planning.
Long-range forecasts cover periods over two years. Long-term forecasting reports are used when deciding on entering new markets, developing new products, improving and enlarging production and distribution facilities, making long-term contracts.

Several assumptions about all possible models:

Every forecast is just an attempt to predict and model future basing on certain objective conditions and factors; however, complete certainty in its results never can be reached.
There will always be some blind spots in forecasts as it is impossible to consider all the wealth of probable real-life factors and scenarios.
Using forecasts to formulate business policies and strategies will partially affect the future, thus changing the accuracy of the forecast.

Sales forecasting methods:

Quantitative forecasting methods that use statistical numeric information and formulas to project and predict future sales, they are based on different algorithms of varying complexity;
Qualitative forecasting methods are more subjective, allowing managers to use their expert judgment about current environmental and economic situations (they include educated guess, executive committee consensus, Delphi method, survey of sales forces, survey of customers, historical analogy, and market research).
Mixed methods using quantitative and qualitative information and methods for predicting future sales;

Sales forecasting techniques:

Moving average;
Rolling forecast;
Trend estimation;
Extrapolation;
Correlation analysis;
Regression analysis;
The market factor index method;
The chain ratio method;
Simulation methods;
Cross-impact matrix method;
Growth curve;
Expert judgement;
Derived demand;
Decomposition;
Time series analysis (projections);
Trend fitting;
Exponential smoothing;
PERT;
Decision Trees;
Probability assessment method (PAM);
Statistical demand analysis;
Marketing models:

Analyzing how consumers make purchasing decisions;
Studying buying intentions;
Investigating consumers' motivation;

Subjective methods of forecasting:

Subjective probability assessment;
Delphi technique;
Sales force composite forecasts

Backward-looking metrics (to measure the validity of sales forecasts):

Historical data;
Call (dial) conversion rates;
Lead conversion rates;
Effectiveness of marketing campaign;

Forward-looking metrics:

Leads and opportunities in the pipeline;
Sales cycle stages;
Timeframe to close;
Confidence level for viability of each opportunity;


---

| | |
| --- | --- |
| Order 750 checklists in MS Word and PDF printable format at $49.99 USD only. | BUY NOW! |

CentriQS Tasks Management Solution

Looking for multi-user task management software? Try CentriQS complete task management solution for planning, tracking and reporting tasks, projects, and schedules. Increase productivity of your small business or office by better organizing your employees' tasks and time.

FREE Download CentriQS
CentriQS -15% OFF
All-in-one business management software
for small and midsize enterprises

---

VIP Task Manager
Multi-user project management software
to plan, schedule and track project tasks.

---

VIP Checklists
More than 750 ready-to-use to-do lists
to plan your personal and business life

---

VIP Team To Do List
Professional task management software
to make and send team todo lists by email

---

VIP Organizer
Personal time management software
to organize time at home and at work

---

VIP Simple To Do List
Simple and effective to-do list software
to plan daily chores, trips, wedding, etc.