Task Management Software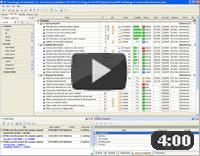 Authorization

TESTIMONIALS
"...This is an excellent program. I'm so glad that I stumbled on to this when researching for task management programs. Very low learning curv, quite flexible, and the price is right. Tried at least 20 other programs, either too complicated, too expensive, or poor documentation..."
Chad Lindsey -
Honolulu, HI
MORE FEEDBACKS

Property management checklist

| | |
| --- | --- |
| | This property management checklist can be helpful to property owners (landlords) to learn how their realty can be operated by professional property managers (what are the typical procedures and benefits), and to those who decided to become certified property managers to learn what duties they will be obliged to perform. This checklist gives an overview of property-related activities, tools, tasks and "how to" tips. |

---

| | |
| --- | --- |
| Order 750 checklists in MS Word and PDF printable format at $49.99 USD only. | BUY NOW! |

Property management activities:

Operation of commercial, industrial and residential real estate on the landlord's behalf.
Providing effective communicational buffer between landlords and tenants (for those landlords who wish to distance from direct liaison with renters).
Attracting (marketing and advertising) and background checking of tenants.
Collecting and accepting rent.
Answering and addressing ongoing maintenance issues.
Handling accounts and finances related to the real estate objects.
Handling liaison with contractors, banks and insurance agencies.
Initiating and handling litigations with tenants and others.

Tasks and skills of experts:

Generally, property manager is responsible for the functions that are connected with real estate property entrusted to him, such as selling, leasing, transferring, and operating the property.
In order to be successful, a property manager needs to be a highly self-organized, proactive, cooperative and sociable person. His direct tasks include the following points.
Advertising and demonstrating properties to prospective tenants.
Screening tenants via credit checks and verifying their contact referees.
Keeping contact with property owners to discuss business opportunities and marketing proposals for advertising.
Negotiating and securing leases and tenancy agreements with tenants.
Controlling costs to maximize revenue and stabilize cash flows as a return on investments.
Following and maintaining the guidelines delegated from landlords and communicating them with suggestions and ideas from tenants.
Conducting and documenting on-site property inspections to ensure that property is being kept in good conditions.
Dealing with tenants and contractors concerning the rent, repairs and any other ongoing problems.
Ensuring comfort of tenants – making sure the premises are properly heated, cooled and ventilated.
Ensuring quiet enjoyment of the premises and safety of property against emergencies.
Making sure the property meets requirements of the tenants and landlord's rules are maintained.
Making property improvements to increase its market value, and retain or enhance its socio-economic and cultural status.
Evicting unfair tenants, and inspecting property when tenancy agreements are over.
The essence of expert's role is to meet the demands and requirements of both the landlord and the tenant.
All the mentioned tasks, property objects, and other matters can be successfully organized with a help of software (for example task management software such as

VIP Task Manager

).

Tools to analyze effectiveness of this activity:

Measuring and analyzing financial results.
Tracking the number of prospects against success/defections.
Studying maintenance reports to know how often issues appear and how quickly and effectively they are resolved.
Analyzing advertising campaign performance including money spent, results received, and how many of prospects were converted into leases.
Measuring costs of materials, contractors, equipment, furnishings, etc.

Property management tips:

How to collaborate with a property manager: In order to establish collaboration between you (as a Property Owner) and an Agent you need to sign up an agreement which formally employs the Agent to manage, operate, control, rent and/or lease your property.
How to attract tenants: by a good advertising, providing good pricing and quality of services, as there is always a high demand for renting a property as renting has become a more flexible and attractive alternative to buying. Instability in economy creates fear of mortgage payments, so a lot of people prefer to rent property (usually on interpersonal partnership basis).
How to realize necessity in services: you as a property investor/owner don't have enough time to manage your property or you just don't know how to do it correctly. When getting subscribed to such services experts are obliged to help you in getting the best tenants and the highest possible returns.
How to understand that you can become a landlord: investing in a property can provide a secure and steady income along with your current job or instead of it, as this is a good form of savings and investment which always produces a valuable resource for welfare of your family. If you have any property that is not currently used by you, it can be rented by tenants.
How to select appropriate property manager: See your potential property manager during a face-to-face meeting to understand if you like him and if he looks credible. Check his reputation, references, how long he has been working in this business; check how the property manager is professionally certified and if he participates in any of professional organizations. Ask what the monthly cost will be and what services are included in the fee. Review the contract with the property manager and take notes. Check with your lawyer to see if the contract agreement is ok.
How to become a property manager: You may obtain a bachelor's or master's degree in business administration, real estate or finance from an accredited college or university in your location. Take courses and have some time practicing in showing and selling real estate. Pass a state licensing examination (if it is required in your location) to become a Certified Property Manager.




---

| | |
| --- | --- |
| Order 750 checklists in MS Word and PDF printable format at $49.99 USD only. | BUY NOW! |

CentriQS Tasks Management Solution

Looking for multi-user task management software? Try CentriQS complete task management solution for planning, tracking and reporting tasks, projects, and schedules. Increase productivity of your small business or office by better organizing your employees' tasks and time.

FREE Download CentriQS
CentriQS -15% OFF
All-in-one business management software
for small and midsize enterprises

---

VIP Task Manager
Multi-user project management software
to plan, schedule and track project tasks.

---

VIP Checklists
More than 750 ready-to-use to-do lists
to plan your personal and business life

---

VIP Team To Do List
Professional task management software
to make and send team todo lists by email

---

VIP Organizer
Personal time management software
to organize time at home and at work

---

VIP Simple To Do List
Simple and effective to-do list software
to plan daily chores, trips, wedding, etc.