Task Management Software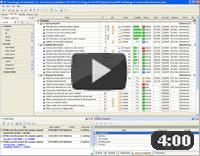 Authorization

TESTIMONIALS
"...This is an excellent program. I'm so glad that I stumbled on to this when researching for task management programs. Very low learning curv, quite flexible, and the price is right. Tried at least 20 other programs, either too complicated, too expensive, or poor documentation..."
Chad Lindsey -
Honolulu, HI
MORE FEEDBACKS

Project Schedule checklist

| | |
| --- | --- |
| | This Project Schedule checklist is created to help you in building effective project time-specified plan, as this is one of the critical success factors for any project. Every project needs properly constructed schedule and budget to support its completion as appropriate, so this checklist is a guide on how to design and prepare a schedule. |

---

| | |
| --- | --- |
| Order 750 checklists in MS Word and PDF printable format at $49.99 USD only. | BUY NOW! |

Requirements (inputs necessary to compose an effective schedule):

Project Scope Statement (including WBS) to determine project milestones, major tasks and events (see Project Scope Checklist for more information);
Project register of working activities and stages – listing of all the working activities that should be done to progress and complete the project. All these activities should be recorded into the schedule;
Attributes and workflow diagram of tasks – outline of working tasks consecution, assignees, dependencies, locations, purposes, etc. This info is required to group and categorize activities on the schedule (to represent relationships between elements of work);
Working resource requirements – amount and type of resources necessary to accomplish each of working activities. This is necessary for scheduling the release of the appropriate resources from the organization's inventory for supporting workflow processes;
Project Risk Register – this is necessary for analyzing and considering risks which can delay or put on hold the progress over the project activities (to mitigate probability of negative contingency on the most risky segments of the working plan);
Time estimation of project activities – estimate of tasks durations;
Project calendars of resources – calendars identifying time periods when HR and equipment units are available and unavailable due to engagement into other projects, or some any reasons;
Organizational and state policies – internal and external conditions affecting the development of project schedules, which may limit durations and dates of working activities (regulations affecting employees working hours, overtime, and holidays);

Assumptions (essentials to greenlight schedule development):

Project timeframes are defined and agreed with all stakeholders;
Project tasks are associated and connected with appropriate task owners;
Project tasks are assigned to appropriate work performers, their working hours defined, accepted by employees and verified by supervising managers;
Project tasks are supported by approved time and resource estimates from their owners;
Project tasks are identified as parallel or successive, and set out in a chronological order;
Project's critical path is determined;
All the non-project time periods, events and risks affecting the schedule are defined (standard and company holidays, employees days-off, etc);
Project tasks are sub-divided into certain portions if required, and approved through the labor regulating standards;
Risk analysis was properly performed (it explores the implications of the project's schedule risks, such as uncertainty in duration of tasks), and certain time lags were allocated for tasks review and re-doing (rework loops);
Risk assessment was performed to define how the uncertainty of activities along a critical project path may lead to more uncertainty in the entire project completion date;

Risks may include any loose time periods such as acceptance periods, customer decision points, and any other schedule areas where the customer can hamper the entire project by performing his part of work (due to his busy periods).

Performance:

Map out the project's sequence of tasks on a calendar;
Accurately record and represent task estimates on the project calendar;
Establish rough schedule using the Critical Path Method. Take an analytical look at the Critical Path to find things to put into parallel;
Mark out the holidays and employees days-off on the project calendar (build some contingency around vacation periods, include some allowance for sick leave in the winter);
Apply Schedule Compression methods (such as Crashing and Fast-tracking) to intensify the schedule (to shorten the total duration of the project by decreasing the time allocated for certain activities);
Check and coordinate schedules of the project resources to assign them to their tasks/workloads to avoid schedule conflicts, via using techniques such as Resource Leveling, Critical Chain, and What-if Analysis;
Create an accurate project calendar of work milestones;
Represent anti-risk variance (where certain risks are probable) by adjusting leads and lags (especially important for the tasks where duration is uncertain);
Determine how to represent risks about activities that are not in the schedule at all;
Ensure starting activities with certain level of risk early as possible;
Ensure mechanisms for capturing and calculating metrics (statusing, tracking progress against plan, calculating trends, etc) for regular schedule updating;
Simulate and model the schedule in different regimes to define and rectify weak points;
Make sure that no overtime and over-allocations are scheduled;




---

| | |
| --- | --- |
| Order 750 checklists in MS Word and PDF printable format at $49.99 USD only. | BUY NOW! |

CentriQS Tasks Management Solution

Looking for multi-user task management software? Try CentriQS complete task management solution for planning, tracking and reporting tasks, projects, and schedules. Increase productivity of your small business or office by better organizing your employees' tasks and time.

FREE Download CentriQS
CentriQS -15% OFF
All-in-one business management software
for small and midsize enterprises

---

VIP Task Manager
Multi-user project management software
to plan, schedule and track project tasks.

---

VIP Checklists
More than 750 ready-to-use to-do lists
to plan your personal and business life

---

VIP Team To Do List
Professional task management software
to make and send team todo lists by email

---

VIP Organizer
Personal time management software
to organize time at home and at work

---

VIP Simple To Do List
Simple and effective to-do list software
to plan daily chores, trips, wedding, etc.