Task Management Software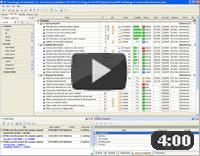 Authorization

TESTIMONIALS
"...This is an excellent program. I'm so glad that I stumbled on to this when researching for task management programs. Very low learning curv, quite flexible, and the price is right. Tried at least 20 other programs, either too complicated, too expensive, or poor documentation..."
Chad Lindsey -
Honolulu, HI
MORE FEEDBACKS

Project proposal checklist

| | |
| --- | --- |
| | This project proposal checklist explains elements which are usually included into this kind of document to make it completely legitimate and credible. This document is necessary to state a need for certain actions and to convince the reader(s) to agree, approve and support implementation of the recommended solution. With a help of this checklist you will understand what paragraphs and sections a traditional structure is comprised of. |

---

| | |
| --- | --- |
| Order 750 checklists in MS Word and PDF printable format at $49.99 USD only. | BUY NOW! |

Proposal Elements:

Executive Summary: a brief review summarizing the project. It describes what the project is all about, states its significance, purpose, reasons and stakeholders, and explains why it is worth taking time to consider the project.
Problem Statement and Solution Justification (Background Study): identifies and specifies the current situation along with its challenges, gives rationale to address these challenges, and explains how the project will impact the situation. In this section you need to represent possible solutions, explain selection criteria and compare these solutions to justify why you have selected yours one among others.
Project Objectives: here we describe results that should be reached by the project. They should be simple, measurable, accurate, realistic and time-related (SMART). Each of the objectives should be identified through its impact and contribution into finishing the project, and mapped out on timeline.
Description of Product and Audience: here we tell what type of return can be expected from the effort, what will happen as soon as all the project goals are achieved, we describe the overall project outcome and its impact in a short-term and a long-term prospect, assess product's value for the direct customers, secondary beneficiaries and all other types of concerned audience.
Project Implementation and Management Plan: this practice-focused part of plan describes project activities and timeline leading towards accomplishment of the all predefined objectives, along with expounding how the necessary working processes will be organized and carried out, as well as how the ultimate project's results, its further existence, and its heritage will be maintained, sustained and used.
Staff and Expertise: in this element we state the following: who will perform the job and who will implement its results, how the work will be organized in terms of responsibilities and roles, what kind of skills and expertise should be contributed into the project to reach the success.
Description of Materials, Technologies and Facilities: here we give an outline of required materials, equipments and technological processes which are necessary to engage and utilize in order to accomplish the work according to plan and deliver all the predefined results.
Project Controlling and Evaluation: here we explain the practical ways and tools to monitor work progressing through the project to evaluate evolution in terms of success criteria to ensure that performance and implementation are going well, according to plan.
Documenting and Sharing: here we explain tools and methods of how we are going to document the project performance, results and achievements, and how we are going to inform all the concerned audience.
Project Budget: in this vital section of the plan we describe total and detailed project costs of all the actions, arrangements and operations along with the budgeting plan to cover them.
Any Additional Information: here we can provide any additional information supporting the document. For example expert studies, conclusions and recommendations.

Proposal to do list:

You can use some checklist management tool as software to plan and track completeness of your project proposal (for example

VIP Organizer

).
Formulate and elaborate your idea clearly and concisely.
Support it properly by theoretical and methodological background.
Consider and prove the degree of its significance, innovativeness and originality.
Consider alternative approaches.
Elaborate justification to prove that yours approach is the best.
Determine the scope and scale of work to be done.
Project required investments and return on them.
Explain and specify your idea in terms of practical action plan that is feasible for realization and implementation.
Define potential sponsors and how they can be involved.
Adopt your idea to fit your potential sponsor's mission and goals.
Determine who will benefit from the idea if it is realized.
Contact sponsors and identify the essential components they want to see in your proposal.
Create an example for your sponsor/acceptor and clarify beforehand their procedures and schedule of project proposals consideration.
Input required steps and tasks into your electronic system, set deadlines and reminders for them.
Create a report to officially offer your solution for consideration.
Be ready and well-prepared to defend your proposal personally before the sponsor's/acceptor's committee.




---

| | |
| --- | --- |
| Order 750 checklists in MS Word and PDF printable format at $49.99 USD only. | BUY NOW! |

CentriQS Tasks Management Solution

Looking for multi-user task management software? Try CentriQS complete task management solution for planning, tracking and reporting tasks, projects, and schedules. Increase productivity of your small business or office by better organizing your employees' tasks and time.

FREE Download CentriQS
CentriQS -15% OFF
All-in-one business management software
for small and midsize enterprises

---

VIP Task Manager
Multi-user project management software
to plan, schedule and track project tasks.

---

VIP Checklists
More than 750 ready-to-use to-do lists
to plan your personal and business life

---

VIP Team To Do List
Professional task management software
to make and send team todo lists by email

---

VIP Organizer
Personal time management software
to organize time at home and at work

---

VIP Simple To Do List
Simple and effective to-do list software
to plan daily chores, trips, wedding, etc.