Task Management Software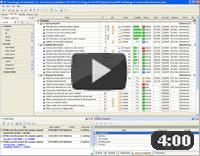 Authorization

TESTIMONIALS
"...This is an excellent program. I'm so glad that I stumbled on to this when researching for task management programs. Very low learning curv, quite flexible, and the price is right. Tried at least 20 other programs, either too complicated, too expensive, or poor documentation..."
Chad Lindsey -
Honolulu, HI
MORE FEEDBACKS

Project Metrics Checklist

| | |
| --- | --- |
| | Project metrics help you realize whether your project team tries to do what is supposed to be done by the project plan. In this Project Metrics Checklist you can learn key categories of metrics, such as Time, Scope, Cost, Quality, Risk, others. Each category includes several examples. |

---

| | |
| --- | --- |
| Order 750 checklists in MS Word and PDF printable format at $49.99 USD only. | BUY NOW! |

Time Metrics.

Milestones. Review current status of scheduled milestones and confirm whether they are completed in a timely manner.
Schedule Effectiveness. Identify whether your project is currently on schedule and identify whether the team is able to perform all planned activities within the scheduled time period.
Schedule Resource Loading. Be sure that every activity placed on the schedule is loaded with an adequate and sufficient number of project resources (incl. people, funds and inventories).
Delays. Identify and calculate number of delays and be sure that those delays are not critical to project performance and do not jeopardize project success.

Scope Metrics.

Scope Change. Identify number of changes (e.g. new requirements, extended boundaries) added to or removed from scope since the end of the planning phase.
Scope Forecast. Identify number of forecasts and their variations applied to scope.
Scope Baseline. Identify number of changes applied to the baseline parameters, including time, quality and cost.

Cost Metrics.

Budget Compliance. Estimate total amount of project expenses and be sure this amount does not exceed budgeted resources.
Cost Variance. Identify any changes applied to cost estimates and be sure those changes do not have a critical impact to the cost baseline.
Targeted Costs. Confirm that the project consumes financial resources within the period that has been defined and approved by the cost management plan, so all targeted costs are covered completely.
Actual vs. Estimated. Compare actual costs to estimated costs to calculate difference and identify whether this difference has a critical impact to the project.

Quality Metrics.

Defects. Calculate percentage of serious defects fixed or rejected throughout the project lifecycle.
Forecasted vs. Actual. Determine the difference between forecasted defects and actual defects revealed and fixed.
Standards Adherence. Identify whether the project team follows quality standards.
Rework. Explore current status of deliverables and identify number of deliverables rejected or requiring rework because of incompliance with customer expectations.

Risk Metrics.

Compliance with Risk Register. Find out how closely the project team deals with risks identified and defined by the risk register.
Risk Responsiveness. Review current status of identified risks and determine which risks are adequately responded.
New Risks. Calculate number of new unpredicted risks or threats that are not managed yet and require adequate responding.
Risk Planning. Find out how well and correctly the team understands risk profiles and realizes effective ways for risk mitigation.

Issue Metrics.

Impact to Baseline. Identify number of issues that cause a change to the project baseline.
Issues Unsolved. Count issues that the team cannot bring to a close in a timely manner.
Urgent Issue. Identify whether the number of issues that require immediate resolution is adequate to the size and complexity of your project.

Opportunity Metrics.

Cost-Saving. Find out whether the senior management has taken advantage of cost-saving opportunities during negotiations with contractors.
Labor-Saving. Confirm whether the team uses labor-saving techniques to reach optimized performance.
Teamwork. Confirm whether the project benefits from good teamwork.
Communications. Identify how well teammates are enabled to exchange information with each other through using established communication channels.

Success Metrics.

Deliverables Accepted. Review status of project deliverables and count the number of produced deliverables that the customer fully accepts.
Completion. Review status of the project and identify whether all planned activities ...




---

| | |
| --- | --- |
| Order 750 checklists in MS Word and PDF printable format at $49.99 USD only. | BUY NOW! |

CentriQS Tasks Management Solution

Looking for multi-user task management software? Try CentriQS complete task management solution for planning, tracking and reporting tasks, projects, and schedules. Increase productivity of your small business or office by better organizing your employees' tasks and time.

FREE Download CentriQS
CentriQS -15% OFF
All-in-one business management software
for small and midsize enterprises

---

VIP Task Manager
Multi-user project management software
to plan, schedule and track project tasks.

---

VIP Checklists
More than 750 ready-to-use to-do lists
to plan your personal and business life

---

VIP Team To Do List
Professional task management software
to make and send team todo lists by email

---

VIP Organizer
Personal time management software
to organize time at home and at work

---

VIP Simple To Do List
Simple and effective to-do list software
to plan daily chores, trips, wedding, etc.