Task Management Software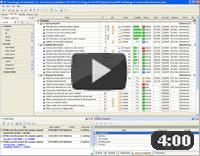 Authorization

TESTIMONIALS
"...This is an excellent program. I'm so glad that I stumbled on to this when researching for task management programs. Very low learning curv, quite flexible, and the price is right. Tried at least 20 other programs, either too complicated, too expensive, or poor documentation..."
Chad Lindsey -
Honolulu, HI
MORE FEEDBACKS

Project Management Plan Checklist

| | |
| --- | --- |
| | This project management plan checklist is about all-round preparation to execute a project. It outlines the main plan contents which should be delivered in order to establish and support different aspects of project management including resources, finances, quality, risks etc. This checklist is divided into sections where each one is dedicated to certain type of management you should consider. |

---

| | |
| --- | --- |
| Order 750 checklists in MS Word and PDF printable format at $49.99 USD only. | BUY NOW! |

Project organization and responsibilities:

State and document project concepts and principles.
Formulate and document the Project Scope Statement; determine the mechanism of its changing, assign people responsible for the Project Scope management.
Set the scope depending on the project's scope.
Prepare brief introduction containing description of the project's background, work scope, collaborative approach, goals and objectives etc.
Formulate and document the Project Team Mission Statement.
Design the Project Status Report Checklist – universal interface for complete reporting on the project state to all the project stakeholders.
Set up the Project Office as a physical facility and determine it as a project administrative board.
Determine the Project Office Mission Statement.
List the key people involved in the project (stakeholders) and managers.
Determine project HR management. Determine required professional staffing for the project and methods of recruiting.
Define who is formally accountable for success of the project.
Define who the formal customer is or who represents interests of the customer.
Draw up formal project organization structure with the titles and descriptions for each role.
Define the specific objectives for each particular role and make sure that provided authority conforms to given responsibilities.
Determine subcontractors and consultants – formulate their roles, objectives and liabilities.
Determine sub-teams, expert groups and working units, their objectives and responsibilities.
Define project planning strategy, break-down the project into smaller stages and work packages (create Work Breakdown Structure ).
Create the project timeline and schedule of deliverables to date major activities towards completion of the project.
Assign work packages to executing agent s.
Draw up diagrams to represent essential working and managerial processes in a visual and easy-to-understand manner, showing how steps in each process are inter related.
Design reporting/supervision schema – chart who reports to whom, who supervises whom, state how this data is collected and delivered. Determine channels of communication and methods of reporting.
Define how wide and deeply stakeholders need to be informed on the project and what level of details is appropriate for each one.
Define if you need to get your project exposed to wider public. Establish PR service, set its plan and objectives.
Define if any staff training is required and how you can get it.

Project Resources management:

Get the project input from the customer ( to know more study Customer requirements checklist ), systematize it and transfer into matters of working process.
Define if experience of similar projects done before is available to you r team, if yes then study mistakes to avoid and learn from successes.
Determine the resources necessary to complete a project. Determine the resources available and potentially accessible.
Draw up and approve the Project Resource Management plan to summarize the quality and quantity of resources required for completing the project in terms of labor, equipment, materials etc.
Assign specialists responsible for the Project Resource management, and build a hierarchy of responsibilities in this sphere.

Project Metrics management :

Determine which project metrics need to be captured and analyzed, define the basic progress and technical metrics for all operations and outputs, processes and individual success metrics for different roles.
Determine kinds of analysis, ways and tools to collect the data, how the data will be stored and systematized, what is the procedure of its interpretation.
Determine administrative unit and specialists who will do this job.
All these should be formulated and documented in the Project Plan.
Assign people responsible for managing, adaptation and observance of the Project Plan.

Project Quality:

Determine the customer's quality requirements and expectation.
Synthesize the project quality standards from existing corporate and industry approaches aligned with focusing on achievement the customer's requirements.
Identify formal quality control techniques and ways of measuring each quality criterion.
Create Quality Assurance Plan to set up quality planning, quality assurance, quality control and quality improvements, and align them with the general Project Plan.
Assign specialists responsible for the Project Quality management, and build a hierarchy of responsibilities in this sphere.

Project Risks:

Study project risks including risks related to every task on critical path of the project and also secondary tasks.
Characterize risks and rate risks by their probability and impact. Redesign (if required) the project work plan to avoid or mitigate unacceptable risks.
Create the Risk Management Plan to identify and formulate all risks along with defining preventive solutions to avoid, minimize probability and mitigate the negative impact of occurring risks.
Assign specialists responsible for handling Project Risks Management, and build a hierarchy of responsibilities in this sphere.

Project Finances:

Establish transparent, controllable, easily manageable financial channels for delivering financial supply from the available financial sources to the practical project performance, operations and needs.
Identify financial restrictions and scope; establish and regulate procedures of budgeting, accounting and financial reporting; assign responsible specialists.
Draw up t he Financial Plan to determine and describe expenses for different project elements and processes (work, equipment, materials and administrative costs ).
Engage the finance managers as a part of the project team to bring together planning, budgeting, accounting, financial reporting, procurement, disbursement and the actual performance.

Project Procurement:

Define project procurement requirements.
Make project Procurement Plan that contains detailed specification of all the items, financial justification for procuring products and services from external suppliers, explain s the process of engaging, selecting and authorizing these suppliers.
Assign specialists responsible for handling Project Procurement Management, and build a hierarchy of responsibilities in this sphere.


---

| | |
| --- | --- |
| Order 750 checklists in MS Word and PDF printable format at $49.99 USD only. | BUY NOW! |

CentriQS Tasks Management Solution

Looking for multi-user task management software? Try CentriQS complete task management solution for planning, tracking and reporting tasks, projects, and schedules. Increase productivity of your small business or office by better organizing your employees' tasks and time.

FREE Download CentriQS
CentriQS -15% OFF
All-in-one business management software
for small and midsize enterprises

---

VIP Task Manager
Multi-user project management software
to plan, schedule and track project tasks.

---

VIP Checklists
More than 750 ready-to-use to-do lists
to plan your personal and business life

---

VIP Team To Do List
Professional task management software
to make and send team todo lists by email

---

VIP Organizer
Personal time management software
to organize time at home and at work

---

VIP Simple To Do List
Simple and effective to-do list software
to plan daily chores, trips, wedding, etc.