Task Management Software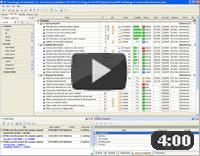 Authorization

TESTIMONIALS
"...This is an excellent program. I'm so glad that I stumbled on to this when researching for task management programs. Very low learning curv, quite flexible, and the price is right. Tried at least 20 other programs, either too complicated, too expensive, or poor documentation..."
Chad Lindsey -
Honolulu, HI
MORE FEEDBACKS

Project initiation checklist

| | |
| --- | --- |
| | This project initiation checklist is created to explain the initiation process. Initiation of a project should be performed in an accurate and correct manner, to make sure that nothing essential was missed during the project elaboration, so that the project has a proper background supported with precise calculations and credible justifications. This project initiation checklist is a brief guide through the project initiation requirements, workflow and deliverables that are required for project stakeholders to approve project's actual start. |

---

| | |
| --- | --- |
| Order 750 checklists in MS Word and PDF printable format at $49.99 USD only. | BUY NOW! |

Requirements:

The purpose of the phase is defining the project's backgrounds, explaining the project scope, justifying its business case, benefits and feasibility, outlining project roles and responsibilities, describing project organization, funding, supply and resources, etc (see details in the following sections).
As soon as you complete the initiation phase, you need to create its main deliverable called the kick-off report – this report will make sure that nothing critical is missed when starting a new project as this document summarizes all the analytical and planning essentials produced for your project (the information needed to get your project started) to be reviewed for approval by project's key stakeholders and management. After you get this approval, your project team can move on to stages of detailed planning and execution.
Objectives of this stage and its documentation can be accomplished through efforts of a workshop which has an objective to reach agreement on elements included into the report. This workshop finalizes its activities during several meetings, generally you need to arrange the following aspects:

Workshop objective – to analyze, prove, validate and finalize project's initial elements;
Workshop deliverable – documentation required for project initiation;
Participants – who attends, project management practitioners of different areas and levels;
Meeting agenda;
Date and location – proper time, location, equipment, materials, etc;

In some cases when an organization often deals with typical or recurring projects, the process of project initiation can be minimized with filling standardized request or sending special letter in an electronic or paper format (that can be prepared via repetition of special example).

Flowchart:

Developing a business case;
Undertaking a feasibility study;
Establishing the project charter;
Creating the project team;
Establishing the project office;
Performing a phase review;

Deliverables:

Developing a business case (background):

Researching the business problem or opportunity, along with identifying the alternative solutions available. In other words you need to convincingly and clearly explain why your sponsor should invest into this opportunity.
Researching and quantifying the benefits, costs and timescale of each available solution, and recommending the preferred solution (yours) to your sponsor (via presenting detailed tables outlining the benefits and costs of these solutions).
Methods used to select the preferred solution should be explained in transparent and rational manner.
Identifying and description of risks and issues that can be faced during implementation .
Presenting and justifying the recommended solution for funding approval.

Undertaking a feasibility study ( justification ):

Presenting the all-round project feasibility study which may include different essential sections comprising technologic, system, economic, legal, operational, schedule, resource, cultural and other kinds of feasibility.
Researching all of the alternative solutions available and review each solution in terms of their feasibility.
Selecting a preferred solution for implementation.
Documenting the results in the ultimate feasibility report.
Documenting the business requirements for the solution you recommend.
Explaining procedures which were used to assess feasibility of available solutions.
Providing diagrams and tables describing feasibility assessments.

Establishing the project charter:

Defining the project objectives.
Determining the project scope.
Listing the critical project deliverables.
Determining the customers and project stakeholders.
Listing the key roles and their responsibilities.
Creating an d explaining organizational structure for the project.
Documenting the overall project implementation plan.
Documenting constraints (maximum cost of the project, latest project completion date, inter project dependencies, etc).

Creating the project team:

Completely describing and documenting each role and position.
Determining hierarchical and managerial interrelations between roles.
Creating a detailed organizational chart .
Determining the skills and experience required to take each position.
Setting out the key performance criteria and measurements.
Identifying the wages and working conditions .
Assigning specific performers to project roles.

Establishing the project office:

Determining the right location for your project management team .
Listing and ensuring appropriate infrastructure, equipments, tools and materials.
Implementing the necessary business processes, assets and methods.
Setting up project management roles and responsibilities.
Tuning project office into actual contact with the project workflow.

Perfoming a phase review:

Checking if all the deliverables were produced and approved.
Meeting the phase's schedule and budget.
Issues were successfully resolved and risks taken under control.
Changes were properly considered and handled.
Project was successfully put into processing.

---

| | |
| --- | --- |
| Order 750 checklists in MS Word and PDF printable format at $49.99 USD only. | BUY NOW! |

CentriQS Tasks Management Solution

Looking for multi-user task management software? Try CentriQS complete task management solution for planning, tracking and reporting tasks, projects, and schedules. Increase productivity of your small business or office by better organizing your employees' tasks and time.

FREE Download CentriQS
CentriQS -15% OFF
All-in-one business management software
for small and midsize enterprises

---

VIP Task Manager
Multi-user project management software
to plan, schedule and track project tasks.

---

VIP Checklists
More than 750 ready-to-use to-do lists
to plan your personal and business life

---

VIP Team To Do List
Professional task management software
to make and send team todo lists by email

---

VIP Organizer
Personal time management software
to organize time at home and at work

---

VIP Simple To Do List
Simple and effective to-do list software
to plan daily chores, trips, wedding, etc.