Task Management Software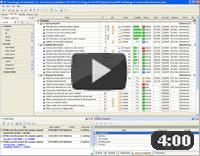 Authorization

TESTIMONIALS
"...This is an excellent program. I'm so glad that I stumbled on to this when researching for task management programs. Very low learning curv, quite flexible, and the price is right. Tried at least 20 other programs, either too complicated, too expensive, or poor documentation..."
Chad Lindsey -
Honolulu, HI
MORE FEEDBACKS

Project Development Checklist

| | |
| --- | --- |
| | The process of developing a project is usually carried out in several stages. In this Project Development Checklist you can read about such stages. It gives a common understanding of how to generate a concept for your new project, plan activities required for realizing the concept, implement your project and place the product in operation. |

---

| | |
| --- | --- |
| Order 750 checklists in MS Word and PDF printable format at $49.99 USD only. | BUY NOW! |

1. Concept Generation and Scoping.

Overview. The first stage of the project development process (PDP) is to define why you need to run a new project (the concept) and what boundaries and constraints (the scope) of the concept are. The purpose of this stage is to generate as many ideas as possible but all the ideas should be commercially viable and transformable into feasible business models. Here are necessary tasks of the stage.
Study and analyze your business needs in measurable goals.
List all the needs in your Business Case document.
Make a list of possible conceptual designs of a new product that addresses the needs.
Review current operations of your business.
Evaluate if the operations are sufficient for producing the product.
Conduct a feasibility study for every conceptual design to select only viable concepts.
Conduct the cost-benefit analysis for every conceptual design.
Select the most cost-efficient conceptual design.
Define constraints (time, cost, technology, resources, legal matters) of the selected concept.
Make a list of stakeholders (those people and organizations having an interest or concern in successful realization of your conceptual design).
Assign roles to every stakeholder. Examples of roles are Sponsor, Customer, User, Contributor, Project Manager, Coordinator, Team, etc.
Create the Project Charter including descriptions of the concept and its requirements, the stakeholder list, constraints definition.

2. Planning and Design.

Overview. The second stage of PDP is to assess the selected concept and plan for possible ways to transform it into a commercially viable and feasible business model. It means the project manager needs to create a plan for your project and define an implementation approach. Here're necessary tasks to complete the stage.
Evaluate an amount of effort required to realize your conceptual design and develop a feasible business model.
Make a list of assumptions referring to the business model.
Define an implementation approach that is sufficient to take the effort and complete the project work.
Decompose the work into small, manageable pieces; for example, use a work breakdown structure with work packages.
Acquire human resources and form a project team.
Use time estimates to define hours required per work item.
Develop a schedule for the project.
Use cost estimates to define an amount of financial resources required to do the project.
Design a budget sheet.
Establish communication and reporting rules for parties involved in the project.
Make a list of deliverables.
Define quality standards for the deliverables.
Identify possible risks and opportunities.
Create a plan to exploit identified opportunities and respond to identified risks.
Design the project management plan that covers all the aspects of the Planning and Design stage.

3. Implementation and Closure.

Overview. The third stage of PDP is to execute your project and produce its deliverables. When the project is completed it will be closed. Then you can start using the product within your business model. Below you can find tasks necessary for completing the stage.
Confirm availability of HR required for implementing your project.
Confirm appropriateness (skills, knowledge, experience) of HR to the implementation process.
Coordinate the project team during the implementation process.
Keep track of changes made to the process.
Make sure there are good communications channels between team members.
Update project documentation with all the changes.
Track status of issues and take immediate actions in case some issues are not solved by proposed solutions.
Conduct regular (daily, weekly) status meetings with the team to investigate current status of the project work.
Conduct testing of your product before it's presented to the customer.
Design a report stating the project is done/failed and its deliverables are produced/not produced.
Complete administrative activities including archiving project files.
Conduct a port-implementation review to define lessons learned.
Prepare the product for handover to the customer.

4. Operation and Maintenance.

Overview. The final stage of PDP is to terminate your project and place its product in operation. ...




---

| | |
| --- | --- |
| Order 750 checklists in MS Word and PDF printable format at $49.99 USD only. | BUY NOW! |

CentriQS Tasks Management Solution

Looking for multi-user task management software? Try CentriQS complete task management solution for planning, tracking and reporting tasks, projects, and schedules. Increase productivity of your small business or office by better organizing your employees' tasks and time.

FREE Download CentriQS
CentriQS -15% OFF
All-in-one business management software
for small and midsize enterprises

---

VIP Task Manager
Multi-user project management software
to plan, schedule and track project tasks.

---

VIP Checklists
More than 750 ready-to-use to-do lists
to plan your personal and business life

---

VIP Team To Do List
Professional task management software
to make and send team todo lists by email

---

VIP Organizer
Personal time management software
to organize time at home and at work

---

VIP Simple To Do List
Simple and effective to-do list software
to plan daily chores, trips, wedding, etc.