Task Management Software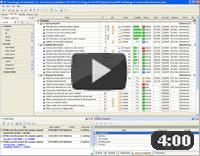 Authorization

TESTIMONIALS
"...This is an excellent program. I'm so glad that I stumbled on to this when researching for task management programs. Very low learning curv, quite flexible, and the price is right. Tried at least 20 other programs, either too complicated, too expensive, or poor documentation..."
Chad Lindsey -
Honolulu, HI
MORE FEEDBACKS

Process Integration Checklist

| | |
| --- | --- |
| | This Process Integration Checklist is composed to support organizational executives in terms of their need to integrate multiple business processes for more overall efficiency in business activity. With a help of this checklist you can learn more about levels of integration: reusability, transferring, and consolidation of reporting. |

---

| | |
| --- | --- |
| Order 750 checklists in MS Word and PDF printable format at $49.99 USD only. | BUY NOW! |

Features of Process Integration:

Reusability: more than one of business processes utilize the same tangible assets (equipment, tools, etc) and resources (personnel, data, etc), so the same technological nodes, workplaces, units of machinery, databases, etc are involved into production of results for a series of business processes owned by an organization (shared between processes). Process integration, on this level, means accurate planning of resources to reach their conflict-free, wise and thrifty utilization in regard to needs of every process;
Transferring: a business process, once it finishes its portion of work, transfers its results to the next process, so a long chain of cooperation between processes occurs, for example a production process transfers its outcomes to the process of warehousing. Transactions between processes should be seamless, safe, well-regulated and "automatic", so they all are integrated in one long, but effective yet business chain for profitable and errorless production of products and services;
Consolidation: it is advantageous for a company's management to obtain information from all steps and levels of their business chain, including processes of supply, production, warehousing, selling, etc. This can show them how their products or services evolve from a stage of acquiring raw materials to the stage of selling ready units to the customers. This can be done through getting multidimensional consolidated reports embracing different essential parameters that a company's management needs to analyze and consider before making some important decisions (including measure on quality, level of service, timing, etc). Integration means having universal controls at hands of management: this enables them to control all their business processes within the same informational environment;

Process Integration Activity:

Identify the business processes that you are going to examine or improve in terms of their level of integration (one of all these points):

They use the same resources and facilities;
They transfer results between each other;
They need their reporting to be consolidated;

Have the plans (specifications and flow-charts) of the processes you are going to integrate;
Identify workplaces, units of equipment and other resources these processes may compete for (if these business resources are demanded by more than one process);
Identify results and products they need to transfer between each other:

What process gives out and what process receives outputs (draw a chain);
If more than one process can receive outputs, then define conditions to select;

Identify what set of parameters you need to receive from a chain of business processes to obtain a consistent status of products or services being produced: for example to make sure that proper raw materials are supplied, they are properly processed during the manufacturing workflow, and then ready products are properly warehoused, sold, delivered to client, etc;
Determine establishing timetables, rules and special algorithms for processes to share business resources, to prevent overloading them with conflicting demands:

If processes address one resource concurrently, then which of them is more prioritized?
What rules they need to follow in order to concurrently utilize the shared resource safely?
Can the processes access the shared resources by turns or using a timetable?
What is restricted to one process if the shared resource is occupied by another process?
If a conflict occurs, then who is an arbiter and how to resolve an issue promptly?

Determine how processes should send their results to each other to make this fast and errorless:

What procedures and measures are used to qualify outputs as suitable for transferring?
What actions link up the processes with each other and who carries them out?
Is the technology of transfer well-elaborated, documented and effectively implemented?
What instructions and means are used by managers to control the transfer?
Is the amount of bureaucratic requirements and activities on the transfer is reduced?

Determine how reporting from the processes can be consolidated:

Weather a shared informational environment for all processes can be established?
What data you need to parameterize the status of products or services being processed?
What points within the processes should be controlled to derive the necessary data?
What controls are to be placed there for immediate data gathering?
What means, algorithms and channels are used for representing data to management?

Document the process integration in a specific manner, making it a particular artifact in your business arsenal:

Consolidate and unify process controls as much as possible to keep your toolbox..




---

| | |
| --- | --- |
| Order 750 checklists in MS Word and PDF printable format at $49.99 USD only. | BUY NOW! |

CentriQS Tasks Management Solution

Looking for multi-user task management software? Try CentriQS complete task management solution for planning, tracking and reporting tasks, projects, and schedules. Increase productivity of your small business or office by better organizing your employees' tasks and time.

FREE Download CentriQS
CentriQS -15% OFF
All-in-one business management software
for small and midsize enterprises

---

VIP Task Manager
Multi-user project management software
to plan, schedule and track project tasks.

---

VIP Checklists
More than 750 ready-to-use to-do lists
to plan your personal and business life

---

VIP Team To Do List
Professional task management software
to make and send team todo lists by email

---

VIP Organizer
Personal time management software
to organize time at home and at work

---

VIP Simple To Do List
Simple and effective to-do list software
to plan daily chores, trips, wedding, etc.