Task Management Software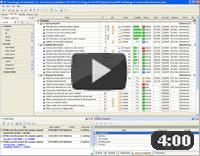 Authorization

TESTIMONIALS
"...This is an excellent program. I'm so glad that I stumbled on to this when researching for task management programs. Very low learning curv, quite flexible, and the price is right. Tried at least 20 other programs, either too complicated, too expensive, or poor documentation..."
Chad Lindsey -
Honolulu, HI
MORE FEEDBACKS

Process Costing Checklist

| | |
| --- | --- |
| | This Process Costing Checklist is created to be helpful to all those executives who wish to apply this costs accounting methodology in their production control efforts. With a help of this checklist you can follow the facts and algorithm of Process Costing – a technique which suits the needs of a large-scale manufacturing. |

---

| | |
| --- | --- |
| Order 750 checklists in MS Word and PDF printable format at $49.99 USD only. | BUY NOW! |

About Process Costing:

Process Costing is an accounting methodology used by organisations which perform large-scale manufacturing: batches which may number many thousands or millions of units produced per a period of time (comparably short period, let's say a month):

It tracks and accumulates direct and indirect costs of a manufacturing process;
It allocates manufacturing costs to products to determine an average costs per unit in large batches of them;
There are three main types of process costing:

Weighted average costs;
Standard costs;
First-in first-out costing (FIFO);

A production type that can be cost-controlled with a help of this method has the following traits:

Nearly identical product units are created in large numbers (mass produced);
Ready products then can be sold in small quantities;
Managers have to carefully control per unit costs on a daily basis;
A number of different production steps are involved, so the output from one step is the input to the next one (this incremental process continues until the final product is obtained);
Examples of industries where it can be used are: textiles, plastics and food processing;

This cost accounting method has its own traits:

Costs are accumulated by departments;
Production is accumulated and reported by departments;
Unit costs are calculated by departments;
Process costing is tracked using a work-in-process account for each department;
Production report is used to collect, summarize and calculate total and unit costs;
Production-in-process at the end of a period is reformulated in terms of completed units;

Process Costing Algorithm:

Determine Process Costs:

Direct Materials (DM) per unit: costs of raw materials directly supplied into the process divided by the number of units produced;
Conversion Costs (CC) per unit: labour and overhead costs associated with the process (such as costs of energy, rent of premises, administrative expenses, etc) divided by the number of units produced;

Determine DM and CC for every department lying on the way towards finished goods;
Add values of DM and CC once the production is transferred from one department to another:

Processing costs from every next department are to be added to the summarized costs inherited from all previously passed departments. This is an incremental process that means transferring costs from one department to the next one, up to the finished goods.

Determine: Total Cost per Unit = DM + CC;
Assign total costs to units completed and to work-in-process inventory;
Calculate:

COGS (Cost of goods sold) = Total Cost per Unit x Units Sold;
Ending Inventory = Total Cost ...




---

| | |
| --- | --- |
| Order 750 checklists in MS Word and PDF printable format at $49.99 USD only. | BUY NOW! |

CentriQS Tasks Management Solution

Looking for multi-user task management software? Try CentriQS complete task management solution for planning, tracking and reporting tasks, projects, and schedules. Increase productivity of your small business or office by better organizing your employees' tasks and time.

FREE Download CentriQS
CentriQS -15% OFF
All-in-one business management software
for small and midsize enterprises

---

VIP Task Manager
Multi-user project management software
to plan, schedule and track project tasks.

---

VIP Checklists
More than 750 ready-to-use to-do lists
to plan your personal and business life

---

VIP Team To Do List
Professional task management software
to make and send team todo lists by email

---

VIP Organizer
Personal time management software
to organize time at home and at work

---

VIP Simple To Do List
Simple and effective to-do list software
to plan daily chores, trips, wedding, etc.