Task Management Software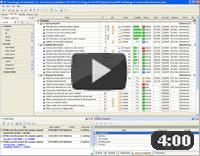 Authorization

TESTIMONIALS
"...This is an excellent program. I'm so glad that I stumbled on to this when researching for task management programs. Very low learning curv, quite flexible, and the price is right. Tried at least 20 other programs, either too complicated, too expensive, or poor documentation..."
Chad Lindsey -
Honolulu, HI
MORE FEEDBACKS

Process Change Checklist

| | |
| --- | --- |
| | This Process Change Checklist is designed for business executives who need to elaborate and implement business process alterations in their organizations. With a help of this all-round checklist you can learn why and how this complex organizational effort is carried out. |

---

| | |
| --- | --- |
| Order 750 checklists in MS Word and PDF printable format at $49.99 USD only. | BUY NOW! |

1. Overview:

Any business process, even the most successful one, needs to be reviewed and revised some day, as far as almost any business conception has a trait to become out-dated due to change of environmental conditions, so it needs to be renewed and revitalized;
Business Process Change is a completely normal thing, so any sustainable organization needs to accurately control effectiveness of their business processes, continually tracking fluctuation of their parameters over the time, and controlling all process inputs, in order of identifying a stable need for revision;
There are some driving powers that identify organization which is ready for improvement:

Leadership (the will, proper mindset and encouragement to improve);
Involvement (a wide scope of sources where to pick up the opinions from);
Communication (a stable channel to receive feedbacks and suggestions);
Learning (continuous search for innovations and improvements);
Measurement (a fair analysis of processes before and after changes);
Reinforcement (preventing improvement recession);

Why business needs implementing changes into processes? (some major reasons):

Process shows stable decline at critical success parameters;
Deep qualitative mutation of the process's traditional inputs;
Alteration of the process governing conditions and factors;
Lack of the habitual process resources appears crucial and irreparable;
An opportunity to reach better results through making an adjustment is identified;

2. Planning:

Define who is responsible for the Process Change Management;
Describe conception of upcoming process adjustment (a summary of the alteration and objective reasons for it);
Define who and why is interested in revising and changing the process;
Define the effect (results) supposed to be gained from changing the process;
Define the backgrounds to explain why making this improvement is important and useful;
Compose the plan of process altering (how the alteration will be made practically);
Define what kind of support will be required from the staff (skills, expertise, amount of work);
Define what general investments are required (costs and time);
Define when the work at the alteration implementation will be accomplished;
Define when and how the expected results will be obtained (define return on the change);
Define what areas of the organizational activity and how will be affected by changing this process (a summary of the business and technical functions that could be affected by reform, including risks);
Define what trial time is required to test and understand whether the adjustment was successful;
Prepare back-out procedures in case the process reform is not successful;
Define what kind of trainings and supportive/tutorial materials will be necessary for people who are affected by the corrective actions;
Prepare a formal request form for the upper management, if required;

3. Testing and Approving:

Consider the Need for Change and already created conception with a focus group assembled from competent technical and administrative experts;
Test or model the project of alteration and its consequences in a special test environment if available;
Arrange detailed discussion of the test results with all functional representatives and experts to get their commitment and comments;
Revise and redesign the plan according to inputs of experts;
Re-test and re-model the revised conception if required;
Assess process adjustment risks and outcomes with decision-makers (the Change Committee) to prove that this process reformation is worth of investment;
If some components of the Plan appear unacceptable, then alter or revise the plan and retry with approving it in committee, until the plan passes;
Get all the necessary paperwork accomplished to obtain a formal approval to move forward with the process changing;

4. Execution and Post-Implementation Actions:

Make sure that all necessary personnel are in place and completely ready to carry out their duties according to plan;
Inform all affected individuals about process changing implementation ...




---

| | |
| --- | --- |
| Order 750 checklists in MS Word and PDF printable format at $49.99 USD only. | BUY NOW! |

CentriQS Tasks Management Solution

Looking for multi-user task management software? Try CentriQS complete task management solution for planning, tracking and reporting tasks, projects, and schedules. Increase productivity of your small business or office by better organizing your employees' tasks and time.

FREE Download CentriQS
CentriQS -15% OFF
All-in-one business management software
for small and midsize enterprises

---

VIP Task Manager
Multi-user project management software
to plan, schedule and track project tasks.

---

VIP Checklists
More than 750 ready-to-use to-do lists
to plan your personal and business life

---

VIP Team To Do List
Professional task management software
to make and send team todo lists by email

---

VIP Organizer
Personal time management software
to organize time at home and at work

---

VIP Simple To Do List
Simple and effective to-do list software
to plan daily chores, trips, wedding, etc.