Task Management Software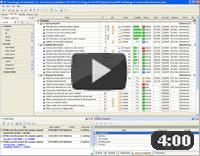 Authorization

TESTIMONIALS
"...This is an excellent program. I'm so glad that I stumbled on to this when researching for task management programs. Very low learning curv, quite flexible, and the price is right. Tried at least 20 other programs, either too complicated, too expensive, or poor documentation..."
Chad Lindsey -
Honolulu, HI
MORE FEEDBACKS

Office Manager Checklist

| | |
| --- | --- |
| | In order to be a successful office manager who really cares for establishing adequate office activities, you should adhere to some basic manuals and guidelines. Here is the office manager checklist that covers six areas you should keep in mind to achieve success in organizing your office work. |

---

| | |
| --- | --- |
| Order 750 checklists in MS Word and PDF printable format at $49.99 USD only. | BUY NOW! |

Managing employment and human resources.

Employment policy. It is of high importance to develop and implement an employment policy in your office. Such a policy is a blueprint for the way your company approaches the employment activity. As an office manager you should develop an employment policy and submit it to senior management for approval. You can cooperate with your assistants to work on the policy development. The policy should include rules and action plans (such as interviews and negotiations) that could help prevent later problems relative to employing or dismissing office staff.
Training and development program. If the question of employment concerns hiring new employees, a training and development program needs to be applied to resolving the issues of insufficient qualities, skills and abilities of existing office staff. You should take care of such issues and develop a training program that could contribute to improving employee competencies and qualifications. Your training program can be developed in cooperation with senior management of your company. In the program you can include your personal judgment concerning ways and methods of staff training. You can also request senior management for additional resources (experts and trainers) who will help you develop and implement the program.

Fitting equipment and furniture requirements. Paperless office.

Performance optimization. Both office equipment and furniture help employees do daily tasks. You should consider what office accessories contribute to higher employee performance most of all and then make sure these accessories are supplied and available. Shelves, desks, copying machines, computers, faxes, and telephones will be considered as your major objectives when fitting equipment and furniture requirements.
Office accessories supply. One of the most important office manager's skills is to be able to communicate excellently. In the context of supplying office accessories, your "number one objective" is to negotiate with suppliers and vendors to obtain the best sales offer, the lowest price and the best quality. So when starting your next day, pay attention to the line of communication with your vendors.
Paperless office. If you consider establishing a paperless office, you can forget about paper organizers, notebooks, office diaries and other paper-based accessories, and then start looking for office management software that could help you organize paperless-based activities in your office. VIP Task Manager can be used as an office management software solution. It will help you carry out your functions in the office environment.

Managing communications and interpersonal interactions.

Managing inter- and intra-office communications. In many small businesses, the responsibility for establishing and treating communications between office staff members is one of the necessary qualifications. Your company may also have the same vision on this point, so you need to know how to establish lines of inter- and intra-communications between employees of one or several offices. You can develop a formal communications plan that lets identify how and when to communicate with colleagues and management and what key pieces of information can be disseminated. The plan may include such organization actions as weekly staff meetings, conferences, corporate broadcasting, emailing, and paper-based notifications. Your communications plan that everyone in the company can adhere to will improve office performance and ensure that information is disseminated clearly and quickly and according to security requirements.
Conflict management. In any office including yours, conflicts are inevitable. Conflict resolution is an important duty among your other duties. You should know how to handle conflicts properly and how to make your office life easier. The best way to prevent and resolve conflicts between employees is to develop a formal conflict management policy and rely on it each time when a conflict appears. The policy will help you and office staff members to be prepared for a wide variety of disagreements (such as equitable work distribution, job descriptions, and pay rates). Your policy will allow you not to ignore any conflict. The conflict management policy will help everyone in your office to avoid and resolve disagreements in a professional manner.

---

| | |
| --- | --- |
| Order 750 checklists in MS Word and PDF printable format at $49.99 USD only. | BUY NOW! |

CentriQS Tasks Management Solution

Looking for multi-user task management software? Try CentriQS complete task management solution for planning, tracking and reporting tasks, projects, and schedules. Increase productivity of your small business or office by better organizing your employees' tasks and time.

FREE Download CentriQS
CentriQS -15% OFF
All-in-one business management software
for small and midsize enterprises

---

VIP Task Manager
Multi-user project management software
to plan, schedule and track project tasks.

---

VIP Checklists
More than 750 ready-to-use to-do lists
to plan your personal and business life

---

VIP Team To Do List
Professional task management software
to make and send team todo lists by email

---

VIP Organizer
Personal time management software
to organize time at home and at work

---

VIP Simple To Do List
Simple and effective to-do list software
to plan daily chores, trips, wedding, etc.