Task Management Software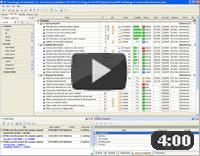 Authorization

TESTIMONIALS
"...This is an excellent program. I'm so glad that I stumbled on to this when researching for task management programs. Very low learning curv, quite flexible, and the price is right. Tried at least 20 other programs, either too complicated, too expensive, or poor documentation..."
Chad Lindsey -
Honolulu, HI
MORE FEEDBACKS

New Product Press Release Checklist

| | |
| --- | --- |
| | New Product Press Release Checklist is created to help you in composing effective official announcements of the new products being introduced to the market. |

---

| | |
| --- | --- |
| Order 750 checklists in MS Word and PDF printable format at $49.99 USD only. | BUY NOW! |

Press Release Recommendations:

Identify what kind of product you are going to announce with a help of your press release (whether it is a single new product, or it also includes a complex of options, or it is a variation of some already existing item);
Answer the five key questions to create material for the major content of your press release. They are "Who, What, When, Where, Why and How" referring to sense and form of what you want to announce;
Define your Unique Selling Point (USP). It refers to reasons for people to be interested in product or proposition you want to represent to them. Identify the product traits and your arguments which set it apart from the rest of products on the market;
If you are going to post your press release online, then complete careful keyword research to pick up some catchy formulations to match queries of your target audience in search engines;
Compose the whole press release around only one subject (don't confuse the audience with multiple subjects mixed together);
Verify your press release against these test points: it is brief, based upon facts, official, and well-written. No jargon or opinionated allegations are allowed;

1. Introduction:

Month, Day and Year of the press release;
City and State (or other essential geographical info);
The company name, phone number, and logo;
Name and contacts of person who can be contacted with questions;
Begin the press release with a headline, sounding something like: "(Your Company Name) Announces Release of (New Product's Name).";

2. Opening paragraph:

Write a convincing opening paragraph making a strong emphasis on why this press release is worth of attention of your target audience;
Keep in mind: the rest of your press release expounds on the information provided in opening paragraph, so be determined and clear;
Include your trademark/copyright info;
Summarize the most important message as few words as possible;
Grab your reader's attention in this paragraph;
Answer the key questions briefly, for example:
(Company) announces release of (New Product) today. It performs (certain functions) and produces (certain benefits) for the (consumers of the product).
Quote a reaction of some third-party sources to new product release, such as impressions of a customer who has already utilized the product, or an industry expert who praises the product for its benefits;

3. Body of Press Release:

Elaborate the answers for "Who, What, When, Where, Why and How", as they are mentioned in the opening paragraph;
Provide more details about the product and its featuring;
Whenever you view the product features you need to explain how they will be useful to the ultimate users (review and explain the chain "feature-function-benefit");
Ensure all features and benefits are explained in sufficient terminology;
Provide citations and comments from the competent executives at your company (such as CEO, President, Chief Developer, etc) to explain the reasons to develop this product and its expected mission on the market;
Provide some quotes from trustworthy experts to support your credibility;
Use your keywords in the text whenever appropriate;
Revise the text to be understandable from your audience's viewpoint;
Bring in your USP after the product is represented in general terms;
Place your call to action at the ending part.....




---

| | |
| --- | --- |
| Order 750 checklists in MS Word and PDF printable format at $49.99 USD only. | BUY NOW! |

CentriQS Tasks Management Solution

Looking for multi-user task management software? Try CentriQS complete task management solution for planning, tracking and reporting tasks, projects, and schedules. Increase productivity of your small business or office by better organizing your employees' tasks and time.

FREE Download CentriQS
CentriQS -15% OFF
All-in-one business management software
for small and midsize enterprises

---

VIP Task Manager
Multi-user project management software
to plan, schedule and track project tasks.

---

VIP Checklists
More than 750 ready-to-use to-do lists
to plan your personal and business life

---

VIP Team To Do List
Professional task management software
to make and send team todo lists by email

---

VIP Organizer
Personal time management software
to organize time at home and at work

---

VIP Simple To Do List
Simple and effective to-do list software
to plan daily chores, trips, wedding, etc.