Task Management Software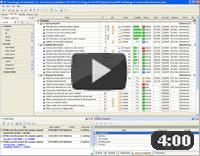 Authorization

TESTIMONIALS
"...This is an excellent program. I'm so glad that I stumbled on to this when researching for task management programs. Very low learning curv, quite flexible, and the price is right. Tried at least 20 other programs, either too complicated, too expensive, or poor documentation..."
Chad Lindsey -
Honolulu, HI
MORE FEEDBACKS

Marketing Letter Checklist

| | |
| --- | --- |
| | This Marketing Letter Checklist will be helpful for specialists involved in product advertizing, marketing and promotion. It explains the key component of a typical marketing letter, describes 8 methods for creating the letter content, and lists additional tips and suggestions. |

---

| | |
| --- | --- |
| Order 750 checklists in MS Word and PDF printable format at $49.99 USD only. | BUY NOW! |

Content Components.

Header. Put the name of your organization to the header of your marketing letter. The first words the client should see are from whom the letter is sent.
Sub-Header. Underneath the company's name there should be the contact information, including email address and telephone number. Underline the sub-header to separate the data from the rest content.
Date. At the top left side of your letter, just under the sub-header line, you need to write the date (when the letter has been written). Use the date format appropriate to your place.
Client Details. Under the date line, you must enter the details about your client, including Company Name, Client Name, Position, Address, Telephone.
Greetings. The first words of your message should start with greetings. It is conventional to use the word "Dear… " to start speaking with a customer, so you can also use it in your letter. For example, "Dear Mrs. Jane Smith".
First Paragraph. The first paragraphs of your letter should attract your client and make him/her read the rest of the content. Below in this checklist we give 8 methods that describe how to start a marketing letter. Please read about the methods and choose which of the methods to use to write the first paragraph.
Second Paragraph. The second paragraph describes why you've decided to write to the client. You should give the client reasons why he/she really needs your product by describing product features. You can use bulleted and itemized lists to show the reasons.
Third Paragraph. In the third paragraph you must talk about your readiness to assist the client in addressing any questions or issues regarding the product. By this paragraph you try to summarize all the said in the letter.
Thanks. Express your appreciation for the client's patience and interest in your product. Be polite and courteous. Say about your hope to hear from the client as soon as possible.
Signature. As the author of the marketing letter, you leave your own signature and name at the bottom.
Enclosure. If there are any additional documents and papers specifying the letter, you should mention about them by adding the line "Enclosed: …" with details of the documents' names and references.

Writing Methods.

Method 1: The client is special. If you know for sure that your client is involved in a field that is related to your product/service, then you can start your marketing letter with saying that the client bears a unique responsibility and that your primary mission is to help the client perform this responsibility.
Method 2: A success story. A good success story can persuade your client that the product/service you offer is really great because in your marketing letter you tell about a person(s) who tired the product/service and gained successful experience. The key challenge here is that you shouldn't lie but try to describe a real life situation.
Method 3: Talk about the client's problems. People like when somebody takes care of their problems. You can use this method to focus the client on his/her problems. The method gives a good chance to attract the client from the first paragraph of your letter.
Method 4: Frightening news. You can try to use the method to shock the client by saying some frightening news at the very beginning of your letter. This information should make your client read the rest of the content so try to be persuasive and consistent when using this method.
Method 5: Soothe with good news. The key idea is that first you constitute some trouble that the client is involved in and then tell about some solution that addresses the trouble. Such a solution will be your product/service. Note you shouldn't say anything about the product's features at the very beginning of the letter but just point that your product is a wonderful solution and may be of great importance to the client.
Method 6: Make the offer immediately. You can try to "attack" your customer by offering your product in the first paragraph of your letter. Use this method in cases you are completely sure that the client is likely to be interested in your product.
Method 7: Cite authorities. It is another great way to focus the client on something that has been already mentioned or investigated by favorite and respectable people (writers, scientists, politicians, actors, authors etc.). Using citations and popular expressions will help you keep the letter clear and understandable from the very beginning.
Method 8: Ask a question. This method is efficient in cases when you know for sure about current issues of your client. Your question should describe the issues as well as make hints about your product that helps address the issues.

Additional Tips & Suggestions.

Send your marketing letter to the targeted audience only.
Try to personalize the letter and its content by using your company's corporate colors and logo.
Write different versions of the letter for different ...




---

| | |
| --- | --- |
| Order 750 checklists in MS Word and PDF printable format at $49.99 USD only. | BUY NOW! |

CentriQS Tasks Management Solution

Looking for multi-user task management software? Try CentriQS complete task management solution for planning, tracking and reporting tasks, projects, and schedules. Increase productivity of your small business or office by better organizing your employees' tasks and time.

FREE Download CentriQS
CentriQS -15% OFF
All-in-one business management software
for small and midsize enterprises

---

VIP Task Manager
Multi-user project management software
to plan, schedule and track project tasks.

---

VIP Checklists
More than 750 ready-to-use to-do lists
to plan your personal and business life

---

VIP Team To Do List
Professional task management software
to make and send team todo lists by email

---

VIP Organizer
Personal time management software
to organize time at home and at work

---

VIP Simple To Do List
Simple and effective to-do list software
to plan daily chores, trips, wedding, etc.