Task Management Software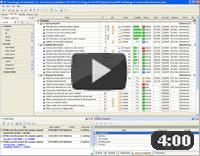 Authorization

TESTIMONIALS
"...This is an excellent program. I'm so glad that I stumbled on to this when researching for task management programs. Very low learning curv, quite flexible, and the price is right. Tried at least 20 other programs, either too complicated, too expensive, or poor documentation..."
Chad Lindsey -
Honolulu, HI
MORE FEEDBACKS

Marketing Campaign Checklist

| | |
| --- | --- |
| | This Marketing Campaign Checklist is created to help marketers and sales analysts to plan events for organizing product/service promotion and advertizing. The checklist focuses on describing basic components and also shows a series of key tips on planning a successful marketing campaign. |

---

| | |
| --- | --- |
| Order 750 checklists in MS Word and PDF printable format at $49.99 USD only. | BUY NOW! |

Set Campaign Objectives.

Set Goals. You need to define what you try to achieve (goals) through conducting your campaign and how you will know when your goals are achieved. Use task management software (e.g. VIP Organizer) to create a list of goals for your campaign and then set priorities for the most perspective goals.
Conduct Market Research. Considering the prioritized goals, you need to start conducting marketing research aimed at investigating your market, competitors and barriers. Market research will help you position your company and identify strengths and weaknesses of its products/services.
Define Benefits. You need to define which benefits customers will derive from using your products/services. Try to identify how your products/services will help customers. Then make a list of benefits and use it to determine the target audience (see the step below).

Develop Campaign Strategy.

Define Target Audience. Once the campaign goals are set, market research is conducted, and a list of benefits is drafted, the next basics step is to define the target audience (who will purchase your products/services).
Set Campaign Purpose. Now you need to determine why the campaign should be started. The campaign purpose is what you expected to get after the campaign is finished.
Determine Key Messages. This step of structure development refers to positioning your company and its products/services. It's about key messages that will be used in advertizing and promotion events to attract customers and create a positive image in their minds. You should be ready to use your creativity to design a message that really attracts the target audience and makes customers feel interested in your company and its products/services.
Set Campaign Duration. Your campaign can't be managed if there're no start date and finish date. Considering your goals and expectations regarding sales, you need to set duration for the campaign and develop a schedule that shows timing of key campaign activities.
Draft Campaign Budget. Budget is one of the key details. When you don't have enough money to run the camping you are likely to fail. Then be ready to allocate a sufficient amount of money to the campaign. You'll need to use cost estimates and spreadsheets to determine the budget required to make your campaign effective.

Make Campaign Summary.

Monitor Responses. Monitoring responses means receiving customer feedback and using metrics to see if the campaign is successful and delivers expected results.
Make Analysis. At this step you need to analyze the work done and see what results have been achieved and why. There's no special kind of analysis dedicated to marketing campaigns, but what you can do is to compare results of the campaign with your expectations. Answer the following questions:

Have the target audience received the key message of the campaign?
Has the campaign been conducted within the allocated budget?
Has the campaign been conducted within the scheduled duration?
Can you say that after the campaign is finished your company experiences increased sales?
Has the company gained a competitive advantage? If so, which advantage?
Summarize Campaign. Once the analysis is finished it's time to make a summary of the campaign and see whether your goals have been achieved. You can use results of the analysis to write a detailed summary and state either successful completion of the goals or failure of the campaign.
Define Lessons Learned. The final step of planning your marketing campaign refers to lessons learned. All information gained from the analysis of your current campaign can be used in planning further campaigns. Lessons learned will help you mitigate risks and avoid many mistakes in the future. You should define lessons learned from your current campaign and remember about them when planning your next campaign.

Tips.

Never run your campaign over budget. If you spend too much money on the campaign, you're likely to fail.
Diversify finances. Don't ...




---

| | |
| --- | --- |
| Order 750 checklists in MS Word and PDF printable format at $49.99 USD only. | BUY NOW! |

CentriQS Tasks Management Solution

Looking for multi-user task management software? Try CentriQS complete task management solution for planning, tracking and reporting tasks, projects, and schedules. Increase productivity of your small business or office by better organizing your employees' tasks and time.

FREE Download CentriQS
CentriQS -15% OFF
All-in-one business management software
for small and midsize enterprises

---

VIP Task Manager
Multi-user project management software
to plan, schedule and track project tasks.

---

VIP Checklists
More than 750 ready-to-use to-do lists
to plan your personal and business life

---

VIP Team To Do List
Professional task management software
to make and send team todo lists by email

---

VIP Organizer
Personal time management software
to organize time at home and at work

---

VIP Simple To Do List
Simple and effective to-do list software
to plan daily chores, trips, wedding, etc.