Task Management Software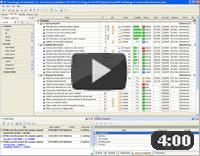 Authorization

TESTIMONIALS
"...This is an excellent program. I'm so glad that I stumbled on to this when researching for task management programs. Very low learning curv, quite flexible, and the price is right. Tried at least 20 other programs, either too complicated, too expensive, or poor documentation..."
Chad Lindsey -
Honolulu, HI
MORE FEEDBACKS

Knowledge management checklist

| | |
| --- | --- |
| | This knowledge management checklist explains steps on how to organize business information in your company in order to make it a really effective driver of business development (to reach state of knowledge). The examples are CRM systems that are used to manage corporate information on relationships with customers. With a help of this checklist you will understand the algorithm and means for preparing your corporate data for better systematization, operating, accessing and using. |

---

| | |
| --- | --- |
| Order 750 checklists in MS Word and PDF printable format at $49.99 USD only. | BUY NOW! |

Knowledge management metrics:

Determine if you already have the finely systematized information (knowledge), or you still have a loose array of information that requires proper systematization?
If the status of information is still unclear, then what is the scope of work necessary to reach a finely systematized state of your information (state of knowledge)?
What kinds (types) of data will be systematized into a body of knowledge?
How this data could be represented (textual articles, pictures, tables, diagrams, etc)?
How frequently the knowledge users are supposed to resort to the cross-informational and cross-documental references?
What is the current volume of the available knowledge?
How rapidly it supposed to grow?
How many people are supposed to use the knowledge?
How often the knowledge is expected to be modified and updated?
What is the maximal expected data volume that body of knowledge can grow up to?
How many functional areas the knowledge covers?
What value the knowledge will add to activities users do?
Determine what positive effect you plan to get.
Determine how you could measure this effect.

Knowledge management roles:

Who will use the knowledge?
If possible, divide users into groups according to frequency and intensity of the knowledge use.
How these users will judge helpfulness and usability of information?
Who will extend the body of knowledge with new information?
Who will update and modify information?
Who will control the knowledge's compliance in terms of its accuracy?
Who will control the knowledge's compliance in terms of its correctness?
Who will administer the entire body of knowledge to reach its best integrity, consistency and accuracy?
Who is responsible for knowledge availability and safety?
Determine competence and authority necessary for each of the roles to perform their functions.

Knowledge management techniques:

What is the best way to communicate required knowledge to its users?
What business processes the knowledge will service and support?
What is the best way to represent pieces of knowledge to its users?
How the body of knowledge will be systematized (determining the knowledge structure), so that users can easily orient and navigate there?
Build up a map of knowledge structure's sections and sub-sections.
Prepare and elaborate conception of the knowledge repository.
Determine the clear procedures for the main and secondary processes: data systematization, retrieving, adding, updating, deleting and modifying.
Determine the organizational skills and infrastructure needed to support knowledge interactions and processes.
What kind of data carriers can be used to hold the knowledge pieces? Design documents if required.
Determine how the knowledge will be technically stored, shared and communicated?
Consider implementing some computer-based technology to transfer knowledge repository into electronic format and to boost up its processes.
What kind of documentation will be used to drive its processes (retrieving, adding, updating, deleting and modifying)?
Determine processes and ways of data accessing and sharing. Determine ways to limit and control them.

Knowledge management requirements:

What are the security requirements for the information?
How many levels of authorization are necessary to screen users?
Does each section of knowledge require its own level of authorization?
Determine resources (computational, administrative, budget, time-related, etc.) necessary to implement the system and to maintain it.
What tools and skills are necessary to perform operations with the knowledge for those who are authorized?
What are the procedures of users' authorization and recognition to let them accessing the data in general and specific terms?

Knowledge management issues to protect against:

Unauthorized data accessing (data stealing and espionage) and malevolent modifying.
Collapsing of knowledge structure due to ruining its integrity and consistency (modifying and intruding its body disorderly).
Inability of legal and authorized access due to technical or administrative obstacles.
Physical damaging of knowledge data carriers, channels and storages.




---

| | |
| --- | --- |
| Order 750 checklists in MS Word and PDF printable format at $49.99 USD only. | BUY NOW! |

CentriQS Tasks Management Solution

Looking for multi-user task management software? Try CentriQS complete task management solution for planning, tracking and reporting tasks, projects, and schedules. Increase productivity of your small business or office by better organizing your employees' tasks and time.

FREE Download CentriQS
CentriQS -15% OFF
All-in-one business management software
for small and midsize enterprises

---

VIP Task Manager
Multi-user project management software
to plan, schedule and track project tasks.

---

VIP Checklists
More than 750 ready-to-use to-do lists
to plan your personal and business life

---

VIP Team To Do List
Professional task management software
to make and send team todo lists by email

---

VIP Organizer
Personal time management software
to organize time at home and at work

---

VIP Simple To Do List
Simple and effective to-do list software
to plan daily chores, trips, wedding, etc.