Task Management Software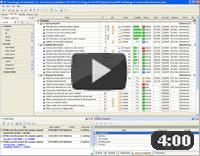 Authorization

TESTIMONIALS
"...This is an excellent program. I'm so glad that I stumbled on to this when researching for task management programs. Very low learning curv, quite flexible, and the price is right. Tried at least 20 other programs, either too complicated, too expensive, or poor documentation..."
Chad Lindsey -
Honolulu, HI
MORE FEEDBACKS

Job Analysis Checklist

| | |
| --- | --- |
| | Job analysis procedure is a procedure of collecting, examining and using information surrounding tasks of an employee for the purpose of making a step-by-step comparison between demands of these tasks and capabilities of the employee. The following checklist will help you run the procedure. |

---

| | |
| --- | --- |
| Order 750 checklists in MS Word and PDF printable format at $49.99 USD only. | BUY NOW! |

Summary

What is a job analysis? It is a necessary process for any company to identify a set of particular duties and requirements for a given job and to investigate whether this job is performed as expected and in accordance with assigned duties and determined requirements. It is an activity of indentifying whether an employee can do his tasks on time, within budget and as per specification.
How to conduct a job analysis? It includes two components: "Information Gathering" and " Information Examining and Using " . Job analyzing means that these two components are used and information about jobs of employees is gathered, examined and applied. The analysis includes descriptions of tasks, tools, and equipment used by employees
What are the benefits? The following benefits can be gained by conducting a job analysis:

Possible areas for ergonomic workplace modifications are identified, so the work environment in your company can be adapted to fit the needs of your employees as well as to the business requirements of the company.
Factors that limit an employee's return to work are identified, so your example will let this employee do more and waste less.
The work environment is modified to eliminate or reduce any barriers preventing an employee from following his job duties and responsibilities.
Potential accidents at workplaces are identified and the probability of their occurrence is reduced, so you can prevent future workplace injuries.
Work processes and workflows are investigated and necessary improvement steps are taken, so your employees are likely to increase their performance and your company is able to use a chosen model to prevent causes of poor employee productivity in the future.

Information Gathering.

Information Gathering is one of the components. It is a process of collecting and investigating information required for conducting job task analysis. The information gathering process can be carried out by means of the two methods outlined below.
The method of collecting information from employees. This method assumes that your employees perform their own analysis of work while you (as a manager) monitor their efforts and collect results. Because your employees are often most aware of how they perform their jobs and tasks, this approach can prove to be quite cost effective and beneficial to your company. When your employees have finished analyzing their work, they may suggest changes to existing working procedures and workflows. In addition, this method will assist you in identifying unnecessary and non-productive job assignments.
The method of collecting information centrally. This method suggests you to hire a professional agency that specializes in services. This agency will help you observe the work environment of your company, keep track of employee performance, collect information on employee productivity, review job progress, and make descriptions . Such an agency should provide you with criteria to be used for measuring employee performance. The method allows breaking down job duties into detailed components, identifying problem areas, and generating productivity solutions. The main idea of the method is that you use administrative tools to centrally investigate job information and review work documentation.

Information Examining And Using.

Time Management. The first step of job examining refers to managing working time by comparing the working hours required (planned) to perform a job versus the working hours actually spent on completing the job. Considering information you gathered at the previous step, you need to make this comparison in order to see whether your work planning effort fits the actual situation in the company. For better results, it is recommended applying time management techniques and building a matrix that consists of working hours actually spent, working hours initially planned, and names of employees.
Cost Management. The second step in examining jobs in your company refers to tracking the costs your employees have spent on doing jobs and tasks. Cost management techniques will allow you to examine job costs per employee per reporting period (e.g. daily, weekly) as well as to create a journal that includes names of employees, costs per work item, and the total cost amount. For greater convenience, you can use job cost management software (like VIP Task Manager) to track job costs and make notes.
Improvements and Modifications. Introducing improvements and modifications to existing work processes and workflows is the final step of job analyzing. It allows you to use information for increasing productivity and performance of your workers. Taking into account all the data that you have collected at the previous steps, you can use time management and cost management suggestions (i.e. matrix and journal ) to generate improvement ideas and make modifications to job processes and workflows of your company. Your sample will let you improve job performance and increase employee productivity considering all the factors (time and costs) that have an impact on the work environment of your company.




---

| | |
| --- | --- |
| Order 750 checklists in MS Word and PDF printable format at $49.99 USD only. | BUY NOW! |

CentriQS Tasks Management Solution

Looking for multi-user task management software? Try CentriQS complete task management solution for planning, tracking and reporting tasks, projects, and schedules. Increase productivity of your small business or office by better organizing your employees' tasks and time.

FREE Download CentriQS
CentriQS -15% OFF
All-in-one business management software
for small and midsize enterprises

---

VIP Task Manager
Multi-user project management software
to plan, schedule and track project tasks.

---

VIP Checklists
More than 750 ready-to-use to-do lists
to plan your personal and business life

---

VIP Team To Do List
Professional task management software
to make and send team todo lists by email

---

VIP Organizer
Personal time management software
to organize time at home and at work

---

VIP Simple To Do List
Simple and effective to-do list software
to plan daily chores, trips, wedding, etc.