Task Management Software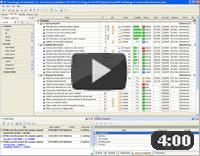 Authorization

TESTIMONIALS
"...This is an excellent program. I'm so glad that I stumbled on to this when researching for task management programs. Very low learning curv, quite flexible, and the price is right. Tried at least 20 other programs, either too complicated, too expensive, or poor documentation..."
Chad Lindsey -
Honolulu, HI
MORE FEEDBACKS

Interactive Process Checklist

| | |
| --- | --- |
| | This Interactive Process Checklist will be helpful both to employees and employers to know their duties and rights in terms of Interactive Process which is the term meaning a dialog between an employee who suffers from a health impairment and his or her employer who considers reasonable accommodations to facilitate further labour of this person. |

---

| | |
| --- | --- |
| Order 750 checklists in MS Word and PDF printable format at $49.99 USD only. | BUY NOW! |

About the Interactive Process:

It is an ongoing dialogue between an employee (which got injured, disabled or suffers from a health impairment) and his or her employer about doing necessary accommodations to make the workplace and other working conditions friendlier to this employee's current medial status (the term used for this process is "reasonable accommodation").
A reasonable accommodation can be explained as a workplace adjustment or other steps which effectively assist an employee in carrying out the essential functions of his or her job. During the dialog, the employer and employee should define and agree on reasonable accommodations.
The legal base of Interactive Process resides in a complex of laws which prohibit discrimination against people with physical or mental impairments. Laws demand that employers must provide a person that suffers from health decline with an acceptable working position in a limited time;

Interactive Process:

The supervisor (employer) becomes aware of an injury (or other impairment) which impacts the employee's ability to carry out his or her regular duties. Employee informs the supervisor (whether orally or in writing) about his or her need for a job accommodation.
Supervisor asks the employee to deliver special medical documentation that approves his or her work restrictions: everyone needs to keep in mind that a request for reasonable accommodations can be rejected in a case if the employee cannot provide all necessary medical documentation (cannot prove his or her work restrictions), unless limitations are obvious.
Since all medical documentation is delivered, a meeting between the employee, supervisor and a disability management specialist from Employee Rehabilitation Program is to be scheduled. Each attendant's responsibilities and goals of the meeting should be explained to the worker.
The supervisor reviews the documentation to learn work restrictions and then, using the job description, compares them against the essential tasks demanded by the job:

The major and marginal functions of the job should be listed in a checklist;
The supervisor marks out each function affected by the employee's physical restrictions;

The party defines and considers possible job accommodations that would enable the employee to do his or her job right. The supervisor attentively learns the employee's suggestions and ideas on the accommodations required.
The party concentrates at seeking solutions which can assist the employee in performing his or her job functions. Any discussions about diagnosis, treatment or other medical matters are to be strongly avoided.
All agreed accommodations are documented. The supervisor takes in account that the employee needs to be able to perform the major functions of his or her position, while marginal functions that need accommodations can be removed from the job description (in this case reducing of the job functions plays a role of accommodation).
The party identifies any undue hardships (cases when accommodations can create problems for normal functioning of department or fulfillment of usual business operations). The supervisor consults with disability management specialist on all concerned questions.
If the hardships are unavoidable and unsolvable, then alternative positions.....




---

| | |
| --- | --- |
| Order 750 checklists in MS Word and PDF printable format at $49.99 USD only. | BUY NOW! |

CentriQS Tasks Management Solution

Looking for multi-user task management software? Try CentriQS complete task management solution for planning, tracking and reporting tasks, projects, and schedules. Increase productivity of your small business or office by better organizing your employees' tasks and time.

FREE Download CentriQS
CentriQS -15% OFF
All-in-one business management software
for small and midsize enterprises

---

VIP Task Manager
Multi-user project management software
to plan, schedule and track project tasks.

---

VIP Checklists
More than 750 ready-to-use to-do lists
to plan your personal and business life

---

VIP Team To Do List
Professional task management software
to make and send team todo lists by email

---

VIP Organizer
Personal time management software
to organize time at home and at work

---

VIP Simple To Do List
Simple and effective to-do list software
to plan daily chores, trips, wedding, etc.