Task Management Software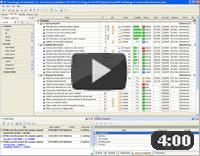 Authorization

TESTIMONIALS
"...This is an excellent program. I'm so glad that I stumbled on to this when researching for task management programs. Very low learning curv, quite flexible, and the price is right. Tried at least 20 other programs, either too complicated, too expensive, or poor documentation..."
Chad Lindsey -
Honolulu, HI
MORE FEEDBACKS

House Moving Checklist - To Do List for House Moving

Household moving template is a relocation 'to do list' for you to move out and move in at a time. Use this Moving Tips Checklist to relieve 'moving' stress.

---

| | |
| --- | --- |
| Order 750 checklists in MS Word and PDF printable format at $49.99 USD only. | BUY NOW! |

Eight Weeks Before Moving

Choose a mover or truck rental company.
Get a few estimates from moving companies.
Get costs from at least two truck rental companies.
Keep track of estimates, receipts and other important information.
Make an inventory of your household goods and begin to remove clutter.
Create a floor plan of your new home for furniture and appliance placement.
Start deciding which function each room with serve.
Start researching your new community.

Seven Weeks Before Moving

Arrange for school, veterinarian, medical and dental records to be transferred.
Get copies of any legal and financial records you need.
Call your insurance agent to see what changes to expect in your policies.
Contact organizations you have joined to ask how you can end or transfer your membership.

Six Weeks Before Moving

Have antiques, pieces of art, and other valuables appraised.
Make a list of things that are difficult to replace for shipping them.
Make a list of friends, relatives and businesses who need to be notified of your move.
Obtain and fill out post office change-of-address cards.
Take inventory and decide what to get rid of.
Start planning a yard sale or contact your local charities.
Subscribe to the newspaper in your new hometown.
Make arrangements for storage if necessary.
Start using foods and cleaning supplies that cannot be moved.
Clean all closets and drawers.

Five Weeks Before Moving

Advertise and host your garage sale.
Start collecting boxes and other packing supplies.
Start packing items you don't use often.
Plan ahead for parking.
Plan for short-term or long-term storage at destination if needed.

Four Weeks Before Moving

Call your newspaper courier and set a date to cancel your subscription.
Arrange for cleaning and repair of furniture, drapes, and carpeting.
Arrange for special transportation of your pets and plants if necessary.
Check to see if you need any moving permits.
Fill out an IRS change of address form.
Set up a checking account in your new city .
Check into the laws and requirements of your new city regarding home-based businesses, professional tests, business licenses and any special laws that might be applicable to you.
Take pictures or video tape your belongings.
Record serial numbers of electronic equipment.

Three Weeks Before Moving

Make sure all library books have been returned and all dry cleaning or items out for repair have been picked up.
Retrieve any items out on loan.
Contact your utility companies on both ends of the move to order dates for termination or turn-on.
Decide if you will keep your plants or give them away.
Dispose of flammables, corrosives and poisons.
Have your automobile(s) serviced.
If you're moving from a warm climate to a cold one, check your antifreeze.
If you are moving into or out of an apartment, arrange to use the elevator on your move day.
Prepare auto registration for transfer.
Make child-care arrangements for moving day.
Hold your moving sale.

Two Weeks Before Moving

Arrange for disposal of anything not sold at your moving sale.
Contact your bank and/or credit union to transfer or close accounts.
Clear out safety deposit boxes.
Pick up traveler's checks or cash for "on the road" expenses.
Confirm parking for your trailer.
Notify any creditors of your move.
Plan meals for the last week of the move to help empty the refrigerator and avoid using appliances that will already be packed.
Assemble a folder of important information about the house for the new owner of your home.
Pick up laundry.

One Week Before Moving

Arrange for help on moving day.
Close bank accounts and have your funds wired to your new bank.
Obtain cash or traveler's checks for the trip and to pay the movers.
Confirm travel reservations.
Drain all gas and oil from your mower and other motors.
Clean rugs and clothing and have them wrapped for moving.
Drain water hoses and waterbed.
Empty, defrost and clean your refrigerator.
Notify friends and family of your new address and phone number.
Inform electric, disposal, water, ...

---

| | |
| --- | --- |
| Order 750 checklists in MS Word and PDF printable format at $49.99 USD only. | BUY NOW! |

CentriQS Tasks Management Solution

Looking for multi-user task management software? Try CentriQS complete task management solution for planning, tracking and reporting tasks, projects, and schedules. Increase productivity of your small business or office by better organizing your employees' tasks and time.

FREE Download CentriQS
CentriQS -15% OFF
All-in-one business management software
for small and midsize enterprises

---

VIP Task Manager
Multi-user project management software
to plan, schedule and track project tasks.

---

VIP Checklists
More than 750 ready-to-use to-do lists
to plan your personal and business life

---

VIP Team To Do List
Professional task management software
to make and send team todo lists by email

---

VIP Organizer
Personal time management software
to organize time at home and at work

---

VIP Simple To Do List
Simple and effective to-do list software
to plan daily chores, trips, wedding, etc.