Task Management Software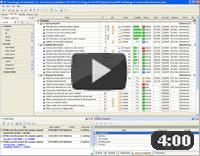 Authorization

TESTIMONIALS
"...This is an excellent program. I'm so glad that I stumbled on to this when researching for task management programs. Very low learning curv, quite flexible, and the price is right. Tried at least 20 other programs, either too complicated, too expensive, or poor documentation..."
Chad Lindsey -
Honolulu, HI
MORE FEEDBACKS

Home Office Checklist

| | |
| --- | --- |
| | Have you ever dreamed of running a business at home? Some people like having a home-based office and undertaking business activities sitting in comfortable chairs in their houses. If you want to try running a home-based business, you will need to know more about home office essentials. The given below home office checklist will guide you through the basics of effective organization. |

---

| | |
| --- | --- |
| Order 750 checklists in MS Word and PDF printable format at $49.99 USD only. | BUY NOW! |

Furniture.

Desk. Your work table should be large and convenient so it will allow you to keep all your paper documents in one place and to be not tired when spending many working hours each day sitting at the desk.
Comfortable chairs. The place you sit in from day to day will define your productivity and your ability to relax after a hard workday. Make sure you acquire a high-quality chair that makes your workspace more comfortable. Also do not forget to place several chairs near the walls of your home office in case if your partner (your wife/husband, brother/sister, friends etc.) wants to visit you.
Accessories for desktop. You will not be efficient if your desktop has no accessories that simplify and organize your workday. Make sure you have acquired the following necessary accessories for your desktop: Desk lamp(s), File organizer, Plastic trays for paper documents, Pens (ink pens and ballpoint pens), Pencils (various colors), Markers, Desktop clock, Desktop calendar, Staplers, Transparent tapes, Pushpins, Calculator, Scissors.
Storage. You will need to keep multiple documents and files in some secure and convenient place. Take care of acquiring the following items: File cabinets, Bookcase and/or Floating shelving, Storage cabinet for supplies, Table or Small cabinet for printer and fax.

Equipment.

Workstations. It's almost impossible to organize business at home without installing computer workstation. You will need to acquire a desktop computer or laptop for you. Note that the computer industry grows and develops swiftly, so when purchasing a computer, make sure it meets high system hardware requirements. Then you will have no need to spend additional money on upgrading your PC soon. You may consider acquiring a server computer if you have enough setup resources and you prefer storing private information and files locally on a secure server machine.
Internet connection and landline. Somehow you will need to communicate with the external world when making payments, receiving invoices, talking to clients and suppliers, placing orders, etc. That's why you will definitely need to install Internet connection (in order to carry out online transactions) as well as the landline (in order to talk by phone and send/receive faxes). However, the latter is not so necessary and required item in your layout because modern high-speed Internet connection allows making almost any transactions online and communicating with people in real time.
Equipment. You will need to acquire the following necessary equipment: Fax, Scanner, Answering Machine, Surge Protector, Webcam and Headset. Also there are some less important items that may be required for the best organization: Desktop Acoustic System, Bluetooth Device, Paper Shredder, iPod and iPod dock, Charging station for portable devices. In order to save and store information reliably, you need to acquire digital storage devices, such as flash drives, disks or/and portable HDDs (more preferred).
Software. In order to use your computer, you will need to acquire and install software packages. The latest and updated Windows OS edition (or Mac OS) is required. Also updated versions of Firewall and Anti-virus software are highly required. To create and edit text documents, you will need to install a word processor program (such as MS Word, Open Office). To organize your workday and daily tasks, task management software (such as VIP Organizer) is needed. To communicate and chat with your clients and suppliers, you need to install web conferencing software (such as Skype, Windows Messenger, Google Talk, or any other, more proffered solutions). If your job requires some specific software solutions (e.g. solutions for making online payments and managing tax deduction, VPN software, desktop applications for data sharing, collaboration tools like VIP Task Manager), take care of purchasing, installing and setting such solutions beforehand.

Environment.

Office Location. It is better to have a separate room in your house that is available only for you and can be locked. Make sure the rest people (your family members and your guests) do not have access to your office in order to avoid undesired consequences and potential misunderstandings.
Office Lighting. Your office should have good lighting. You can acquire and install energy-saving fluorescent lamps. Make sure windows in your office are secure and kept clear of any barriers that block natural day light.
Office Design. Your design should not be irritating or bright because bright colors and shapes may distract your attention and then it will be hardly for you to get focused on current business issues. You can use natural colors to design the best makeover.




---

| | |
| --- | --- |
| Order 750 checklists in MS Word and PDF printable format at $49.99 USD only. | BUY NOW! |

CentriQS Tasks Management Solution

Looking for multi-user task management software? Try CentriQS complete task management solution for planning, tracking and reporting tasks, projects, and schedules. Increase productivity of your small business or office by better organizing your employees' tasks and time.

FREE Download CentriQS
CentriQS -15% OFF
All-in-one business management software
for small and midsize enterprises

---

VIP Task Manager
Multi-user project management software
to plan, schedule and track project tasks.

---

VIP Checklists
More than 750 ready-to-use to-do lists
to plan your personal and business life

---

VIP Team To Do List
Professional task management software
to make and send team todo lists by email

---

VIP Organizer
Personal time management software
to organize time at home and at work

---

VIP Simple To Do List
Simple and effective to-do list software
to plan daily chores, trips, wedding, etc.