Task Management Software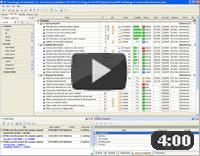 Authorization

TESTIMONIALS
"...This is an excellent program. I'm so glad that I stumbled on to this when researching for task management programs. Very low learning curv, quite flexible, and the price is right. Tried at least 20 other programs, either too complicated, too expensive, or poor documentation..."
Chad Lindsey -
Honolulu, HI
MORE FEEDBACKS

Heat stress safety checklist

| | |
| --- | --- |
| | This heat stress safety checklist will be helpful to people who are exposed to extreme heat or work in hot environments and want to be secure against risks of heat stress. This checklist contains tips and facts on effects, reasons, first aid and prevention, so you can learn it to heighten your level of caution about this dangerous phenomenon. |

---

| | |
| --- | --- |
| Order 750 checklists in MS Word and PDF printable format at $49.99 USD only. | BUY NOW! |

Awareness:

All kinds of heat stresses are very dangerous, up to lethal outcome. You need to be attentive to your physical condition making test, so if any serious disorder identified you should ask for applying qualified medical help immediately.
You should remember that you can get a heat stress at work that includes operations in hyperthermal environment, in high humidity (moisture in the air), with radiant heat sources (sun, furnaces, molten material, steam, etc), direct physical contact with hot objects, or just when doing strenuous physical activities in the heat.
The problems can been prevented if the employer provides a program which includes a number of essential steps for special anti management, for example appropriate employee shifting, using special devices to control the temperature and humidity etc, along with educating employees with trainings to recognize the symptoms and provide first aid.
Heat stress happens if the body is unable to dispose the excessive heat and reduce its core temperature through sweat; it will begin to store heat, so the core temperature and the heart rate will increase. As this continues, the person begins to lose concentration, may become irritable or sick and often loses the desire to drink; the next stage is usually fainting, and very possibly death.
The most vulnerable groups are young children, pregnant, chronically ill, overweight and elder people.

Symptoms:

Heat stroke is the most severe and dangerous heat-related disorder. It is life-threatening and requires urgent emergency intervention. Patient's body is unable to cool down because the sweating mechanism fails, so the body temperature rises rapidly. You should know the main symptoms of heat stroke:

Hot dry skin (lack of sweating)
Rapid pulse
Hallucinations
Chills
Throbbing headache
Very high body temperature
Confusion/dizziness
Slurred speech
Falling unconscious

Exhaustion is the reaction of your body to an excessive loss of the water and salt usually happening through excessive sweating. This may happen when your body loses more fluids than you take in. Symptoms are:

Heavy sweating
Weak pulse
Cool, clammy and moist skin
Weakness or fatigue
Dizziness, confusion
Nausea
Pale or flushed complexion
Muscle cramps
Slightly increased body temperature
Fast and shallow breathing

Heat rashes and heat cramps: Heat cramps are muscle spasms in the arms, legs, and abdomen caused by the loss of salt and fluids through heavy sweating. Heat rashes are skin irritations caused by excessive sweating during hot, humid weather.

Heat cramps are very painful muscle spasms appearing during strenuous activity or after.
Heat rashes are characterized by itchy skin with prickly feeling and small red bumps on skin (may look like a red cluster of pimples or small blisters).

Procedures and first aid:

If it seems that a person has Heat Stroke you can do the following:

Immediately call the emergency service, notify the supervisor, or ask for local professional medical attention immediately.
While waiting for ambulance, it is vital to lower a victim's body temperature as quickly as only possible – it is a question of seconds.
Cool the person by spraying, sponging, or showering with cold water, or by submerging him/her in cool water to provide relief.
Fan the victim, and if he or she is still conscious, give him/her small sips of water.
Move the sick person into a cool shaded area.

When a person looks suffering from Heat Exhaustion do the following:

Seek for medical advice to prevent following heat stroke.
Make him/her rest (lie down) in a cool, shaded or air-conditioned area.
Help the patient to free from excess clothing.
Fan and spray him/her with cool water.
Give them drink plenty of water or other cool nonalcoholic beverages.
Have them take a cool shower, bath or sponge bath.

When you think you have heat cramps you can do the following:

Stop your activity, get into cool shaded place and sit quietly.
Intake a plenty of cool fluid (clear juice or a sports beverage).
Rest a few hours before returning to work.
Ask for medical help if cramps persist (if the cramps do not subside within one hour).

Prevention:

Learn the signs and symptoms of heat-related illnesses – heat rash, heat cramps, heat exhaustion, and heat stroke. Regularly monitor yourself and coworkers.
Have frequent breaks while working or playing in the heat.
While scheduling some laborious activities or outdoor sport games, avoid periods of the peak heat. Perform your activities during the cooler periods of the day.
When working in the heat it is just necessary to wear a wide-brimmed hat to keep your head and face cool. Baseball caps don't protect so well.
Wear comfortable, light-colored, loose-fitting clothes (such as thin, soft cotton). Avoid wearing any synthetic materials, layered or dark clothes.
Avoid long-term stays in the heat, but frequently have a rest in shaded areas.
Drink lots of cool (but not cold) water. You should drink water before the physical activity and also during it (at least one quart of water available per person per hour of work).
Electrolyte drinks are good for replacing both water and minerals lost through sweating.
In premises where you work or live you should block out direct sun or other radiant heat sources. Use cooling fans/air-conditioning, or ensure proper ventilation.
Do not ever leave a child or a pet locked in your car, even for a minute, and even with the windows open.
Have a gradual adaptation to work in the heat. Make sure you acclimatize yourself to the prevailing weather conditions.
Avoid any alcohol, caffein, heavy meals, and everything causing dehydrating effects.
Take a break if you feel a headache or overheated, get a few minutes for cooling off.




---

| | |
| --- | --- |
| Order 750 checklists in MS Word and PDF printable format at $49.99 USD only. | BUY NOW! |

CentriQS Tasks Management Solution

Looking for multi-user task management software? Try CentriQS complete task management solution for planning, tracking and reporting tasks, projects, and schedules. Increase productivity of your small business or office by better organizing your employees' tasks and time.

FREE Download CentriQS
CentriQS -15% OFF
All-in-one business management software
for small and midsize enterprises

---

VIP Task Manager
Multi-user project management software
to plan, schedule and track project tasks.

---

VIP Checklists
More than 750 ready-to-use to-do lists
to plan your personal and business life

---

VIP Team To Do List
Professional task management software
to make and send team todo lists by email

---

VIP Organizer
Personal time management software
to organize time at home and at work

---

VIP Simple To Do List
Simple and effective to-do list software
to plan daily chores, trips, wedding, etc.