Task Management Software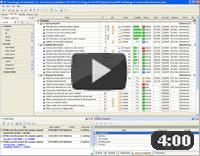 Authorization

TESTIMONIALS
"...This is an excellent program. I'm so glad that I stumbled on to this when researching for task management programs. Very low learning curv, quite flexible, and the price is right. Tried at least 20 other programs, either too complicated, too expensive, or poor documentation..."
Chad Lindsey -
Honolulu, HI
MORE FEEDBACKS

Financial Controls Checklist

| | |
| --- | --- |
| | This Financial Controls Checklist includes a range of tasks you can do to check if your business organization is financially stable. Its content covers such economic aspects as governance, revenue, expenditure, assets, workforce, and risks & insurance. |

---

| | |
| --- | --- |
| Order 750 checklists in MS Word and PDF printable format at $49.99 USD only. | BUY NOW! |

Governance.

Be sure roles and responsibilities of personnel involved in managing your company's financial resources are established and written.
Hold a meeting with your employees to discuss the roles and responsibilities and make sure they understand their job.
Review and approve a scheme of financial authority delegation.
Create a register of financial interests for people having rights for making strategic decisions regarding corporate finances.
Use that register as the primary decision making tool for maintaining financial control in the absence of the key personnel.
Be sure proper accounting and financial records are maintained and retained.
Create a schedule for regular reviews of those records.
Ensure that only authorized employees have access all accounting and financial information of your company.

Revenue.

Make sure there's a policy for managing various charges, discounts and concessions.
Assign a person who will keep the policy relevant and up-to-date.
Evaluate efficiency of procedures for identifying income due.
Check if invoices are issued within no later than 30 days.
Review records on all revenue generated.
Be sure that cash is counted by two people, so the probability of miscalculation is minimized.
Use only officially approved documents for recording your company's income.
Keep receipts and receipt books securely in a locked cabinet.
Keep all cash securely in a safe receptacle.
Check if your company's income is banked promptly.
Reconcile the income received and income banked on a monthly basis.

Expenditure.

Make sure there're written procedures for treating purchasing activities.
Use only official purchase orders to buy goods and services (except for rent and rates).
Always confirm a verbal order by a written order.
Use only formal invoices to order goods and services.
Authorize every invoice and order prior to submitting to the supplier.
Be sure there's a process for tracking goods delivered under original orders and invoices.
Make payments by invoiced prices and within appropriate time limits.
Keep an inventory of expenditures for all products/services ordered and paid.
Check if there's a separation of duty between an employee who makes orders and another employee who pays for those orders.
Satisfy claims for reimbursement on a regular basis and by authorized staff.
Make sure all expenditures are supported by a receipt, signed for by the recipient and countersigned by an authorized employee.

Assets.

Keep an inventory of your company's assets up-to-date.
Make sure the inventory is signed and dated.
Check the inventory annually to ensure that all physical items agree to the items presented in the inventory.
Investigate any asset discrepancies and send a report to senior management.
Count and record all property taken off the company's balance.
Undertake the disposal of surplus stocks in accordance with written financial regulations of the company.
Check if a special procedure for keeping premises secure is carried out adequately and regularly.
Be sure all keys to cash boxes, cabinets, safes, and other receptacles are secured and accessed by authorized personnel only.
Ensure that the number of keys to the receptacles is limited to the actual number of the receptacles.

Workforce.

Be sure there's a formal staff recruiting procedure to search for, select, hire, train and orientate new workers.
Check if appointments, vacations, termination of employment, variations to pay, and expenses are administered on a timely basis.
Investigate any issues regarding appointments, vacations, termination of employment, variations to pay, and expenses and then report to senior management.
Ensure that in your organization there's a written code of conduct for all personnel.
Check if the HR department has a full and up-to-date inventory of employees working for the company.
Process payroll transactions only through the company's payroll system.
Submit expense claims at the beginning of each month by payroll deadlines.
Be sure employee claims are countersigned, checked, responded and recorded in a timely manner.

Risks & Insurance.

Use a risk management policy to identify, evaluate and mitigate...




---

| | |
| --- | --- |
| Order 750 checklists in MS Word and PDF printable format at $49.99 USD only. | BUY NOW! |

CentriQS Tasks Management Solution

Looking for multi-user task management software? Try CentriQS complete task management solution for planning, tracking and reporting tasks, projects, and schedules. Increase productivity of your small business or office by better organizing your employees' tasks and time.

FREE Download CentriQS
CentriQS -15% OFF
All-in-one business management software
for small and midsize enterprises

---

VIP Task Manager
Multi-user project management software
to plan, schedule and track project tasks.

---

VIP Checklists
More than 750 ready-to-use to-do lists
to plan your personal and business life

---

VIP Team To Do List
Professional task management software
to make and send team todo lists by email

---

VIP Organizer
Personal time management software
to organize time at home and at work

---

VIP Simple To Do List
Simple and effective to-do list software
to plan daily chores, trips, wedding, etc.