Task Management Software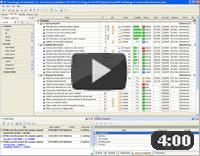 Authorization

TESTIMONIALS
"...This is an excellent program. I'm so glad that I stumbled on to this when researching for task management programs. Very low learning curv, quite flexible, and the price is right. Tried at least 20 other programs, either too complicated, too expensive, or poor documentation..."
Chad Lindsey -
Honolulu, HI
MORE FEEDBACKS

Employee selection checklist

| | |
| --- | --- |
| | This employee selection checklist will be helpful to business managers who need to select the most suitable one from a large pool of employable candidates and job seekers aspiring to take the vacant position in organization. With a help of this simple checklist you will study the basics of this important HR activity and know the main techniques enabling you to make effective choice from the first time. |

---

| | |
| --- | --- |
| Order 750 checklists in MS Word and PDF printable format at $49.99 USD only. | BUY NOW! |

Selection principles and facts:

Employee selection is a sub-process within employee recruitment process, which means choosing from available applicants the most suitable one who will be effective on the vacant position. With a help of process, employers can seriously reduce or completely avoid costly employee turnover, and select the right candidate from the first time.
This can be done through objective analyzing the job and its success factors, and analyzing personality traits in order to define how well this person matches requirements for the position. Employee who is well matched to his job is happier – he works more successful and stays for the long term because his talents are demanded by the needs of the job.
The core of any model is testing the available candidates to define if they match selection criteria which may include education, experience, skills, and essential physical and personal characteristics. Selection can be performed in rounds, so on the first round you screen several appropriate candidates, and on the second round you ultimately identify person who is the most suitable for the position.
Strategies are practical ways of how you are going to test the candidates to identify their traits and qualities, degree of skills possession and personal character.
The better your system, the better candidates can be selected for employment. As a result, your hiring process will produce much less defections and will ensure better stability of the staff, so you can be sure that right people are assigned to right duties.

Selection plan (practical steps):

Start process with the job analysis and making the clear job description (explaining the job's content in terms of practical duties, functions and responsibilities), and define the success factors.
Identify critical requirements (skills and knowledge) that are necessary to perform the vacant job. Formulate the required degree of possession of these skills. Rate these key requirements by their importance for the job.
Identify secondary requirements which are desirable, but not critical for performing the job. Formulate the required degree of possession of these skills. Rate these secondary requirements by their importance for the job.
Formulate ultimate criteria – state the organizational requirements which a successful candidate should meet, rules he should be ready to accept, and additional standards which he should correspond with in order of winning the vacant position.
Once the basic and secondary requirements are determined and formalized, it is necessary to select appropriate methods which will enable you to analyze if available candidates possess appropriate qualities, knowledge and skills, and finally compare them in an impartial manner.
One of the most common methods is composing and filling the matrix which is a table where columns are entitled as the required employee skills and traits, while lines represent names of candidates, so if certain candidate possesses certain qualities the interviewer records pluses in the appropriate columns.
The practical procedures are initiated with preliminary interviews which are used to create a big pool of candidates who match the minimal eligiblity criteria, and to reject those who don't match them anyhow.
Applicant's CV is the main source of information on this stage. Preliminary interviews are not very formalized, they can be performed by correspondence and telephone. The preliminary interview can be initiated both by an applicant and by employer.
When applicant passes through the preliminary interview, he can be offered to fill the forms (application blanks) that are necessary to register him as the official candidate along with getting a better sight of his background. Through these forms applicant can be asked for more information about his qualifications, reasons for leaving previous job, details of experience, etc.
Once the application forms are filled and checked, the applicants can be offered to complete some written tests which may include aptitude test, intelligence test, reasoning test, personality test and some others.
After this, the employment interview can be organized. It is a face-to-face meeting between the interviewer(s) and the potential candidate who should prove his suitability. This activity engages one or several supervisors (decision-makers) who conduct dialog with the candidate to test his communicational skills, check his appearance, clarify his vision, and to test some of his professional qualities.
If a type of the job requires, candidates can be subjected to medical examination to prove their physical fitness.
Additionally, you can perform the references check that is a method to clarify candidate's qualities and reputation by contacting his previous employers, checking recommendations or previous job results.
Software can be used to gather and systematize information on candidates, and to perform selection through automatic tools which can show the candidates who match eligibility criteria in the best manner.




---

| | |
| --- | --- |
| Order 750 checklists in MS Word and PDF printable format at $49.99 USD only. | BUY NOW! |

CentriQS Tasks Management Solution

Looking for multi-user task management software? Try CentriQS complete task management solution for planning, tracking and reporting tasks, projects, and schedules. Increase productivity of your small business or office by better organizing your employees' tasks and time.

FREE Download CentriQS
CentriQS -15% OFF
All-in-one business management software
for small and midsize enterprises

---

VIP Task Manager
Multi-user project management software
to plan, schedule and track project tasks.

---

VIP Checklists
More than 750 ready-to-use to-do lists
to plan your personal and business life

---

VIP Team To Do List
Professional task management software
to make and send team todo lists by email

---

VIP Organizer
Personal time management software
to organize time at home and at work

---

VIP Simple To Do List
Simple and effective to-do list software
to plan daily chores, trips, wedding, etc.