Task Management Software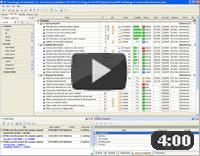 Authorization

TESTIMONIALS
"...This is an excellent program. I'm so glad that I stumbled on to this when researching for task management programs. Very low learning curv, quite flexible, and the price is right. Tried at least 20 other programs, either too complicated, too expensive, or poor documentation..."
Chad Lindsey -
Honolulu, HI
MORE FEEDBACKS

Employee Reference Checklist

| | |
| --- | --- |
| | This Employee Reference checklist is a guide through the organization of a procedure necessary to obtain a reference for a candidate before offering him/her a job and conducting check. This checklist will provide you with the basics of this process and represent you a schema of document. |

---

| | |
| --- | --- |
| Order 750 checklists in MS Word and PDF printable format at $49.99 USD only. | BUY NOW! |

Recommendations, guidelines and workflow:

It's a common practice for employers to demand references from incoming employees (comments about an employee's job performance provided by previous employer). Each company may have its own Procedure. There may be the following reasons for requesting Employee Reference:

Presence of some suspicious or uncertain points in the candidate's employment history or CV;
Necessity to clarify the backgrounds for leaving the previous employer;
Necessity to get more info about some essential skills of the candidate;
Wish to get a better insight on the candidate's past performance and previous experience;

Usually the prospective employer contacts a person's current or former employer (submits a Request) to seek out references as a part of the hiring process. References can be provided orally or in writing;
In other cases References can be enclosed with a candidate's CV (sometimes this may give the candidate an advantage over his/her peers), however, even through this, some points can be still demanded by the prospective employer to get additionally clarified;
Oral references can be given by telephone, and even through they may seem informal, in fact are just as important as written references, so they need to be captured (formalized) in a full file-note of the conversation, and attached to the employee's personnel file;
To formalize such an oral reference better, the caller (usually a secretary, office administrator or someone from HR) should draft a series of easy-to-answer questions which will be addressed to a responsible representative of the former employer during the conversation;
Employers should therefore have clear rules in place to ensure that only senior employees provide references (whether on the telephone or in writing). However, it is advisable to avoid asking for oral references as this leaves a space for giving more information than might be initially intended;
Another way is to enquire the previous employer for a written employee reference. Normally, for this purpose the previous employer is provided with a special form outlining some essential questions about the candidate;
Such an inquiry needs to be brief and contain just some common questions along with essentials which the prospective employer needs the former one to answer. Such a form can be delivered by usual mail (letter) or via modern communications (email). Once you get a feedback send a thank-you note immediately;
Every company may have its own release policy limiting the range of past employment information that can be provided outside to some third parties, so that sometimes not all of the things that a prospective employer requests for can be satisfied;
Questions and answers should be motivated by business ethics, clear, not too loose, focused on the purpose of the survey, and sometimes directly limited by your local laws (if they somehow regulate these questions in your area);
The example of a letter's content (scheme including some possible components):

Date;
Name and Address of recipient (if known);
Nominal or general salutation (Ex: "To whom it may concern", "Dear Sir / Madam", "Dear Head of HR"or "Dear [Name], [Position]");
Statement of your situation and what you would like to get (Ex: We are considering [Name] as a candidate for the position of [Position], could we politely ask You, as his previous employer, to provide us with Employee Reference on this person… etc);
Statement of Confidentiality if required (optional);
Request (questions) for verification of the past employment Dates and Position;
Request (question) for verification of the duties/responsibilities assumed by the past position;
Request (questions) for info on past promotions, achievements and positive contributions that are important for the position which the candidate currently pretends on;
Request (question) for verification if the employee's performance/attitude was satisfactory or exceptional;
Request (question) to know if employee possesses some skills, talents, or strengths which the previous employer could ...




---

| | |
| --- | --- |
| Order 750 checklists in MS Word and PDF printable format at $49.99 USD only. | BUY NOW! |

CentriQS Tasks Management Solution

Looking for multi-user task management software? Try CentriQS complete task management solution for planning, tracking and reporting tasks, projects, and schedules. Increase productivity of your small business or office by better organizing your employees' tasks and time.

FREE Download CentriQS
CentriQS -15% OFF
All-in-one business management software
for small and midsize enterprises

---

VIP Task Manager
Multi-user project management software
to plan, schedule and track project tasks.

---

VIP Checklists
More than 750 ready-to-use to-do lists
to plan your personal and business life

---

VIP Team To Do List
Professional task management software
to make and send team todo lists by email

---

VIP Organizer
Personal time management software
to organize time at home and at work

---

VIP Simple To Do List
Simple and effective to-do list software
to plan daily chores, trips, wedding, etc.