Task Management Software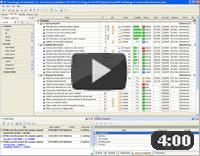 Authorization

TESTIMONIALS
"...This is an excellent program. I'm so glad that I stumbled on to this when researching for task management programs. Very low learning curv, quite flexible, and the price is right. Tried at least 20 other programs, either too complicated, too expensive, or poor documentation..."
Chad Lindsey -
Honolulu, HI
MORE FEEDBACKS

Dating Checklist

| | |
| --- | --- |
| | Relationships between two persons can be started from the first dating. The given below Dating Checklist can be equally useful to both males and females because it descries common ideas and tips to attract a person and prepare for a dating. |

---

| | |
| --- | --- |
| Order 750 checklists in MS Word and PDF printable format at $49.99 USD only. | BUY NOW! |

Being Noticed.

Dating is like a game. The first rule for winners in this game is to be noticed by a person who can potentially be your partner in the relationships. Prepare yourself to follow a few tips that will help you be the best actor in a scene.
Carry a smile. Carrying a sincere and charming smile increases your "face value". When you smile people are unconsciously attracted by you. A smile is a good icebreaker that lets forget about the tensions of everyday life and become open to people surrounding you. Use your smile as one of the effective methods to be noticed.
Look great. You need to spend enough time on yourself to look your best. Be ready to wear flattering clothes, colors and hairstyles.
Eye contact. The way how you look at a person and how this person looks at you is a very powerful unspoken communication tool that gives lots of nonverbal signals. You should use this tool to create a sense of mystery and allure.
Sense of humor. A well-developed sense of humor will let you stand out and be noticed everywhere. An appropriate and sincere laughter makes your partner forget about any problems and tensions. Try to be humorous to leave a positive lasting impression but do not take too much to be absurd.
Be self-confident. To succeed in your attempt to be noticed, you should be ready to be dressed neatly and appropriately as well as to keep the high level of self-confidence in your mind. Being not self-confident will make you look like a fool.
First conversation. Once you have been noticed by your partner, you can try to start a conversion. Do not talk about something that you do not know. You should choose a topic considering your knowledge and current situation. If the person asks you something about which you have no knowledge, do not bluff trying to keep up the conversion. Just tell the person that you are unfamiliar with the topic and then try to talk about something which makes you feel more confident.
Be yourself. Being yourself means that you do and say what both your heart and mind suggest. Don't try to impress your partner by aping anyone or trying to be someone who you are not. You should show your true self – then you are likely to build the strongest bonds based on honesty and truth.
Make a dating. Now it is time to make a dating. You can try to design a plan in which you will describe actions necessary to prepare yourself for the upcoming dating.

First Dating "Do Not" Rules.

Do not ask your partner about how you look, because you will never get the truth.
Do not be too nervous. Nervousness is one of the most frequent mistakes. When you get nervous, your partner is likely to feel himself/herself uncomfortable. Be self-confident and avoid any confusion and nervousness.
Do not ask about marriage and children on the first dating because such questions are premature. You may talk about your love for children or family in whole – but do not say anything about your family building plans.
Do not have sex with your partner on the first dating. No matter whether you are a male or female, you should respect your nascent relationships and do your best on the first dating to leave your mutual feeling pure and prospective.

First Dating "Do" Rules.

Be on time if you are a male, and get little late if you are a female. This is the golden rule.
Take enough cash with you; also take your credit card. Men should be ready to pay for anything (within reasonable limits!) that concerns your "program".
Use a guide. Following this advice means that you need to make a written action plan and a timeline for organizing the forthcoming dating if you want to plan the best event. Also you can read online tips on the Web to learn how other people organize such a great event.
Be patient and courteous. People like when they are treated politely and with great patience.

Dating Place Ideas.

Have a romantic dinner at a restaurant and then go for a movie.
Go on an outdoor clambake together.
Take a walk in the park or forest together holding hands.
Spend time together in a coffee shop talking about each other.
Go out dancing together.
Have a moonlight walk along the beach.
Take a candlelight dinner under the stars.
Listen to romantic music anywhere.
End your romantic evening with the perfect kiss.




---

| | |
| --- | --- |
| Order 750 checklists in MS Word and PDF printable format at $49.99 USD only. | BUY NOW! |

CentriQS Tasks Management Solution

Looking for multi-user task management software? Try CentriQS complete task management solution for planning, tracking and reporting tasks, projects, and schedules. Increase productivity of your small business or office by better organizing your employees' tasks and time.

FREE Download CentriQS
CentriQS -15% OFF
All-in-one business management software
for small and midsize enterprises

---

VIP Task Manager
Multi-user project management software
to plan, schedule and track project tasks.

---

VIP Checklists
More than 750 ready-to-use to-do lists
to plan your personal and business life

---

VIP Team To Do List
Professional task management software
to make and send team todo lists by email

---

VIP Organizer
Personal time management software
to organize time at home and at work

---

VIP Simple To Do List
Simple and effective to-do list software
to plan daily chores, trips, wedding, etc.