Task Management Software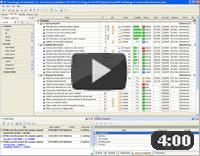 Authorization

TESTIMONIALS
"...This is an excellent program. I'm so glad that I stumbled on to this when researching for task management programs. Very low learning curv, quite flexible, and the price is right. Tried at least 20 other programs, either too complicated, too expensive, or poor documentation..."
Chad Lindsey -
Honolulu, HI
MORE FEEDBACKS

Corporate party checklist

The corporate party planning checklist will help you plan your next event. The checklist consists of four parts which show you how to run the process of organizing and managing entertainment. You can use the checklist as recommendations and change its content to meet your specific goals.

CorporatePartyChecklist.zip 6,5 Kb

---

| | |
| --- | --- |
| Order 750 checklists in MS Word and PDF printable format at $49.99 USD only. | BUY NOW! |

1. Considering main goals for conducting event

To unite employees: the first thing that you should remember about corporate events is that the aim of any party is not only relaxation but also joining employees with each other and building teams through interaction, group games, etc.
To engage employees: you need to convince all your employees that they are valued in the company and treated like personalities. Just plan some corporate organization tasks and give employees a chance to accomplish these tasks – in such a way they will feel inspiration and willingness to do daily jobs and duties.
To shock your employees: the forthcoming party should be exotic or shocking. You need to consider some themes (maybe in Japanese or Chinese style, James Bond 007 party). The point is that when your employees are shocked, they get more relaxation because they forget about daily tasks and can step over the line of everyday routine.
To emphasize an occasion: a corporate party is a great way to lay emphasis on any event that you consider as highly important for your company. For example, it may be the company's anniversary, birthday of its department, etc.

2. Preparing event

Assign a group of planners which will help and assist you with organizing the next party. These people should be well-experienced in event organization and have appropriate skills (so it's better to choose people from managerial staff and actual leaders). Also you may hire professional agencies which specialize in event organization.
Think over a style of your next party. The style should respond to your goals and expectations. You can arrange brainstorming sessions with your assistants to generate unique and interesting ideas. Also you may consider the following themes and styles:

Japanese party style: tea ceremony, samurais, fighting with kendo swards, etc.
Chinese party style: calligraphy, tea ceremony, Chinese lanterns, etc.
Cowboy party style: rodeo, guns, whiskey, cigars, country music and dance, etc.
Casino party style: cards, poker chips, James Bond's attributers, etc.
Time travelling party style : attributes from the movie 'Back to the future'
Knightly tournaments style: swords, horses, ladies, etc.
UFO party style: flying saucers, aliens, spacesuits, planets, etc.
Beer festival style: various sorts of beer, beer pavilion.

After the style is selected, consider choosing proper attributes that correspond to the selected party style. The attributes are:

Decorations and pictures.
Music and performance.
Games and amusements.
Gifts and awards.
Menu, including food and drinks.

Select location and time of the party. Make sure the party's location fully corresponds to emergency requirements (e.g. fire safety requirements).
Make sure the assigned group of organizers has taken care of designing and sending invitations to all participants.

3. Running event

Before your party begins, make sure all necessary items and attributes are prepared and available. Check the following:

The place (hall, night club, etc.) in which the party is going to be conducted is equipped with seats, tables, decorations elements.
Food and drinks have been delivered at full range.
All tables are laid in with dishes and beverages according to the chosen style. Bar is opened and kitchen works.
Performers and showmen have arrived at the party's location timely and they are ready to start performance.

During the party, as the senior party organizer you should always control the party's course and communicate with the assigned group of planners to make sure everything is going as expected. Here are some aspects on which you need to place high emphasis:

Security.
Availability of food and drinks on tables.
Details of performance.
Needs and wishes of the party's participants.

4. Closing event

At the end of the party, on behalf of the company you can express thanks to all participants.
Notify all participants of the forthcoming party's finish.
Go to musicians and performers and make sure they are going to finish performance.
Go to kitchen and make sure new orders are not received. Close bar at scheduled time.
Take care of cleaning the party's place.
When all necessary procedures to close the party are done, talk to your assistants to thank them for their work.
Before leaving the party's ...

---

| | |
| --- | --- |
| Order 750 checklists in MS Word and PDF printable format at $49.99 USD only. | BUY NOW! |

CentriQS Tasks Management Solution

Looking for multi-user task management software? Try CentriQS complete task management solution for planning, tracking and reporting tasks, projects, and schedules. Increase productivity of your small business or office by better organizing your employees' tasks and time.

FREE Download CentriQS
CentriQS -15% OFF
All-in-one business management software
for small and midsize enterprises

---

VIP Task Manager
Multi-user project management software
to plan, schedule and track project tasks.

---

VIP Checklists
More than 750 ready-to-use to-do lists
to plan your personal and business life

---

VIP Team To Do List
Professional task management software
to make and send team todo lists by email

---

VIP Organizer
Personal time management software
to organize time at home and at work

---

VIP Simple To Do List
Simple and effective to-do list software
to plan daily chores, trips, wedding, etc.