Task Management Software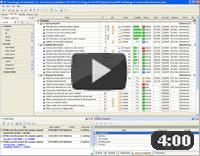 Authorization

TESTIMONIALS
"...This is an excellent program. I'm so glad that I stumbled on to this when researching for task management programs. Very low learning curv, quite flexible, and the price is right. Tried at least 20 other programs, either too complicated, too expensive, or poor documentation..."
Chad Lindsey -
Honolulu, HI
MORE FEEDBACKS

Classroom management checklist

| | |
| --- | --- |
| | This classroom management checklist explains what the teacher should do and know in order to prepare the lesson, classroom environment and students for learning. It will be helpful for any person who is not professional pedagogue but should conduct some educational practice, or who is just a beginner in this honorable profession. This checklist contains a lot of useful tips which will help you to succeed in teaching. |

---

| | |
| --- | --- |
| Order 750 checklists in MS Word and PDF printable format at $49.99 USD only. | BUY NOW! |

Preparative activities:

Set up expected classroom behaviors and agenda, define the lesson style and teaching manner.
Define what a disruptive behavior is. Define what kinds of warnings and sanctions you can apply to those who continuously misbehave.
If you work with elder students, you should post the rules in the classroom. For younger students you can depict these rules. Constantly monitor the compliance with the rules.
Define ways to recognize students who show appropriate behavior.
Remember that you, as a teacher, need to be able to observe positions of all your students from your desk to monitor their behavior.
Right before the lesson, if you will be working with students who possess appropriate reading skills, you should write your name on the board as well as lesson topic, welcome note, or brief outline of today's lesson chores.
Create some blank nametags for the students, let them fill these nametags out and wear, or prepare these nametags beforehand yourself.
Prepare and organize all learning materials and samples before students arrive; organize materials to be easily reached along the course of your lesson.
Plan your lesson in a way enabling you to keep students actively engaged into the process during the whole lesson; you should fill the lesson with different types of activities to hold students interested all the time.
When you create your plan, you should keep all your students in mind. Think of how they will respond to the topic and its difficulty. Decide on how to present this topic to them appropriately.
Take care of appropriate physical conditions within the classroom: arrange comfortable temperature, lighting and seat. Make sure that distractions are minimal.
To have your lesson smoothly running, make sure you can provide the adequate supplies to all students. Prepare and communicate instructions on supplies to prevent their misuse.
State different action plans for different teaching situations, be ready to communicate them to students.
Prepare what is necessary to give clear and specific instructions on today's tasks to avoid wasting time, confusion, or disruption.

Classroom management rules and techniques:

Remember that all techniques are based on mutually respectful approach and recognizing teacher's authority, but if you want to succeed, then you shouldn't dominate over the class like a dictator, but rather lead and guide your students fair and friendly.
Remember that all systems are about cultivating and promoting good manners, self-control, character, orderliness and efficiency in doing tasks, but not about intimidation, personal suppression and self-affirmation, so you should keep yourself being strict, but fair and attentive to needs of the students, without admission of any favoritism and fear.
Remember that one of the main tools is predictability. Students should feel themselves being in safe and predictable environment where everyone fairly gets just what he deserves, and everybody does what he should. Predictability is one of the most reliable resources supporting authority of the teacher.
At the beginning of lesson you should strongly state which kind of behaviour you need from the class.
Explain that you need the students to be mutually respectful which means not hindering teacher from the teaching process and other students from learning.
Encourage them to ask more questions and be as much as possible curious on learning.
Explain them how to act if they have a question, finished their work early, need assistance etc.
When your behavior expectations are announced, make sure if students understood them by asking them to repeat what the rules are and how they should behave.
Use humor or distraction to neutralize mild misbehaviors. Serious misbehaviors should be addressed immediately.
Always call the students by names.
Make sure you have the attention of everyone in your classroom before you start your lesson.
Don't try to keep lecturing over the chatter of students who are not listening. Nobody can talk simultaneously with the teacher.
Pause and wait silently for students' attention, if someone keeps talking, then rest your eyes on the student, wait for his/her attention, when you have it thank the student and move on with the lesson.
If eye contact fails and misbehavior continues, walk calmly toward the student, look him/her in the eyes, and quitely state what he/she is supposed to be doing.
Catch attention of the class by asking what they know or would like to know about current lesson topic. Present a short outline to explain what you will be doing today.
Each time you want to communicate important information make sure that all eyes are focused on you and all ears are listening before you begin speaking. When working with kids you may attract their attention with funny phrases like "1-2-3 eyes on me" etc.
Make sure that you can control your emotions when disciplining students.
Make sure you use only respectful terminology and never yell at students.
Make sure you use a calm, firm, respectful tone.
Praise students when they demonstrate good work and appropriate behavior.
Walk around the classroom during the lesson and control what students are doing; provide help if you something goes wrong.
Encourage discussions, teamwork, sharing and mutual helping among students.
Ask all the students to assist you with cleaning up the classroom after the lesson.




---

| | |
| --- | --- |
| Order 750 checklists in MS Word and PDF printable format at $49.99 USD only. | BUY NOW! |

CentriQS Tasks Management Solution

Looking for multi-user task management software? Try CentriQS complete task management solution for planning, tracking and reporting tasks, projects, and schedules. Increase productivity of your small business or office by better organizing your employees' tasks and time.

FREE Download CentriQS
CentriQS -15% OFF
All-in-one business management software
for small and midsize enterprises

---

VIP Task Manager
Multi-user project management software
to plan, schedule and track project tasks.

---

VIP Checklists
More than 750 ready-to-use to-do lists
to plan your personal and business life

---

VIP Team To Do List
Professional task management software
to make and send team todo lists by email

---

VIP Organizer
Personal time management software
to organize time at home and at work

---

VIP Simple To Do List
Simple and effective to-do list software
to plan daily chores, trips, wedding, etc.