Task Management Software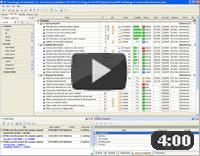 Authorization

TESTIMONIALS
"...This is an excellent program. I'm so glad that I stumbled on to this when researching for task management programs. Very low learning curv, quite flexible, and the price is right. Tried at least 20 other programs, either too complicated, too expensive, or poor documentation..."
Chad Lindsey -
Honolulu, HI
MORE FEEDBACKS

Business Turnaround Checklist

| | |
| --- | --- |
| | During the life cycle of your business there can be situations when the business enters into a state of decline so you need to take immediate actions to avoid profit losses and get the business back to growth. In this Business Turnaround Checklist you will find out what 4 steps you can take to carry out the turnaround process. |

---

| | |
| --- | --- |
| Order 750 checklists in MS Word and PDF printable format at $49.99 USD only. | BUY NOW! |

1. Investigate the Problem.

Overview. The first step in implementing the turnaround process is to define a problem that makes a business suffer from a negative impact. To take the step, you need to examine current market situation and investigate financial indicators of your company. Usually it takes 1 month to complete the step. Below you can read descriptions of the step.
Assess the market. If your business gets into a state of decline then most likely there are some problems with the market situation. You need to assess your market and identify what makes your company suffer. Try to answer the following questions. If there are negative answers to more than 2 questions then most likely your business faces a market-related problem.

Has your company increased the number of its customers for the last year?
Can you say the company successfully competes in the market?
Can you say the company's image and reputation are good?
Are your current vendors capable of providing you with needed products and services?
Can you confirm your employees are able to fulfill needs and meet expectations of your customers?
Do you sell online? Do you use opportunities of e-commerce?
Investigate financial indicators. There are financial indicators that prove success or failure of a business. You need to generate a big picture view of your company to find out what chances your business has to survive. Here're several financial indicators helpful for the analysis. When the indicators are low it usually proves a need for bridge capital.

Working capital against total assets
Sales against total assets
Earnings before interest and tax against total assets
Market equity value against total debt value

2. Make a Turnaround Plan.

Overview. When you have investigated the problem your next step is to create a plan to respond to the problem and generate a solution. Your turnaround plan will be a formal document specifying what actions can be taken to solve the problem and what turnaround options are available to improve strategic, tactical and financial condition of your business. Below you can read about three aspects necessary for consideration when creating such a plan. Usually the process of making a turnaround plan takes 2-3 months for completion.
Strategic turnaround. When you plan for business turnaround you can consider changing the strategic direction of your business. For example, your company can try to change target markets, redefine product lines and establish partnership relations with other companies.
Tactical turnaround. Your business's tactics can be changed in order to build stakeholder confidence and improve operations. For example, you can consider cutting operational costs, finding new sources of operational revenue, and reducing value of assets.
Financial turnaround. When your company faces some troubles its financial statement gets worse. In such a situation you can consider refining the financial operation. For example, you can try to use the financial power of your business as an asset to refine the financial operation so the business gets a chance to take advantage of being more stable and predictable.

3. Implement the Plan.

Overview. Usually the process of implementing a turnaround plan takes 6-12 months for completion. During this period your company needs to reorganize its finances, analyze customers, and refocus on other markets. Below you can read more information on this point.
Reorganize finances. Implementation of your plan starts with reorganizing the total budget of your business. It's a time-consuming process aimed to enforce financial accountability. Take these steps for reorganizing your business's finances:

Review your current budget and define any gaps between estimated costs and actual costs.
Use actual cost estimates as a foundation for calculating contribution margins.
Use quarterly-made cash flow sheets and financial projections as accountability tools to keep management within absolute financial boundaries.
Make a quality operating plan based on the cash flows to define an amount of cash inflow required for the business to survive.
Analyze customers. The next step of the implementation is to determine which customers are profitable to your company. You need to analyze your current customers. Such an analysis will provide information on customer profitability. There are two directions of the analysis.

Classify customers. All your customers should be classified into a range of groups. The purpose is to review all the groups and define those generating more revenue to the business.
Review accounts receivable. The purpose is to reveal less productive accounts and allow the business to focus on profitable customers.

Refocus on other markets. The final step is to refocus your business on other markets that generate more revenue because your products/services are in greater demand and there are a great number of distribution channels.

Find new markets that have a higher potential as compared to your current market.
Estimate profitability of your business in case you enter into the new markets.
Define possible channels of distribution.
Estimate business efficiency.
Choose target audience.
Estimate opportunities for business growth.

4. Grow the Business.

Overview. The final step of your turnaround process is to return your business to growth. Although success of your initiative can't be guaranteed you should monitor and maintain business operations of your company. Continuous audits will help you keep your business flourishing. Below you can read about key steps to growing your business.
Estimate probability of any changes occurring in both internal and external business environments.
Define which changes may lead your business into a state of decline.
Make a list of solutions and preventing actions that help your business eliminate or mitigate any negative impact of the changes.
Start responding to the changes as soon as warning signals are identified.
Analyze any problems occurred during your turnaround process.
Try to eliminate any assets unnecessary or obsolete to the turnaround process.
Audit status of the process.
In case your company shows a continuous growth, increase administrative, marketing, and research and development costs.




---

| | |
| --- | --- |
| Order 750 checklists in MS Word and PDF printable format at $49.99 USD only. | BUY NOW! |

CentriQS Tasks Management Solution

Looking for multi-user task management software? Try CentriQS complete task management solution for planning, tracking and reporting tasks, projects, and schedules. Increase productivity of your small business or office by better organizing your employees' tasks and time.

FREE Download CentriQS
CentriQS -15% OFF
All-in-one business management software
for small and midsize enterprises

---

VIP Task Manager
Multi-user project management software
to plan, schedule and track project tasks.

---

VIP Checklists
More than 750 ready-to-use to-do lists
to plan your personal and business life

---

VIP Team To Do List
Professional task management software
to make and send team todo lists by email

---

VIP Organizer
Personal time management software
to organize time at home and at work

---

VIP Simple To Do List
Simple and effective to-do list software
to plan daily chores, trips, wedding, etc.