Task Management Software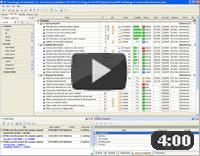 Authorization

TESTIMONIALS
"...This is an excellent program. I'm so glad that I stumbled on to this when researching for task management programs. Very low learning curv, quite flexible, and the price is right. Tried at least 20 other programs, either too complicated, too expensive, or poor documentation..."
Chad Lindsey -
Honolulu, HI
MORE FEEDBACKS

Business Acquisition Checklist

| | |
| --- | --- |
| | This Business Acquisition Checklist can be helpful to those entrepreneurs who consider buying (or selling) a business as a way to start or extend their own one. With an enterprise acquired you may get not only its existing assets and reputation, but also a bunch of problems to resolve. With a help of this checklist you can learn the process of acquiring, aspects to analyze on the pre-purchase due dilligence, and sections to be included into business acquisition agreement. |

---

| | |
| --- | --- |
| Order 750 checklists in MS Word and PDF printable format at $49.99 USD only. | BUY NOW! |

Business Acquisition Process:

Defining acquisition criteria and your initial plan;
Building credibility for business ownership;
Building the acquisition team;
Building the net for business leads;
Narrowing your search with incoming offers that match your broad criteria;
Conducting the evaluation process;
Preliminary due diligence;
Researching the business and its owners for any legal issues, liens or pending litigation;
Considering related risks;
Negotiating and completing a confidentiality agreement;
Letter of intent and formal due diligence on the following components:

Exact corporate name;
Date and state of incorporation;
Areas in which the company is validated to do business;
Business History;
Certifications;
Assets and property;
Liabilities;
Reputation;
Description of products and services;
Fiscal year results;
Capitalization;
Current market situation and challenges;
Stockholder's agreements;
Name of stockholders and holdings;
Bank references and Credit rating;
Location of company records;
Running partnerships;
Accountants;
Attorneys;
Personnel;

Assessing and pricing the company;
Making sure that you understand any existing contracts or obligations;
Making sure that all related risks and challenges are acceptable;
Negotiating the deal:

Reasons for sale;
Terms of Acquisition:
Price to be paid;
Terms of payment;
Financing;
Brokerage fees;
Tax considerations;

Business acquisition financing (ex: using special loans that are funds borrowed for the purpose of purchasing or merging with another business);
Creating your specific action plan (business acquisition steps);
Drawing business acquisition documents (such as definite business acquisition agreement);
Closing the acquisition deal;
Making a report for controlling or governing structures as required;

Business Acquisition Basics:

Strategy:

Purchase Existing;
Business Merger;
Leveraged Buyouts;
Hostile Takeover;

Costs, Tangible Assets, and Plant Facilities

Official title to realty, capital assets and equipment included into the deal;
Premises and buildings (location, purpose, age, condition and assessed value);
Fire insurance and other types of;
Equipment and vehicles (description, age, condition, efficiency, insurance coverage);
Real estate taxes;
Land (acreage, location, purpose, costs, assessed value, fair market value);
Equipment and Building depreciation (reserves, methods, rates, policies);
Current and future plant and equipment requirements (modernization, repair, service, etc);
Capital expenditures and repair costs for the past 5 years;
Shipping facilities and costs;
Facility contracts or leases;
Safety procedures established and appropriate certification;
Quality management processes established;
Relationship of cash to current liabilities;
Stocked materials;
Stocked products;
Work-in-process and raw materials by products;

Financing, Intangible Assets, and Liabilities

Current tax status and tax payments for the past 3 years;
Annual statements and audit reports for the past 5 years;
Chart of accounts and funds statement;
Inventory turnover for the past several years;
Commitments for new buildings, machinery and inventories;
Social commitments;
Patents, trademarks, copyrights;
Business development plans: marketing, advertising, promotions, etc;
Accounting methods and procedures;
Pricing methods and policies;
Long-term loans outstanding and terms;
Dividend and interest arrearages;
Bank depositaries & average bank balances;
Minute books, by-laws, and certificate of incorporation;
Intellectual property;
Debentures outstanding and terms;
Warranties and patent infringements;
Loss contracts and compensation for services;
Projected earnings forecast;
Projected cash requirements;
Projected financial statements;

Personnel

Executives and accountants;
Organization chart;
Number of employees;
Employee contracts;
Union contracts;
Hours per week;
Wage rates;
Insurance types and costs;
Profit sharing;
Pension;
Stock bonus;
Severance plans;
Deferred compensation;
Current corporate HR policies and culture;

Elements of Business Acquisition Agreement:

Representations and Warranties:

This section enables the buyer to research as much as possible about the seller's business prior to signing the definitive acquisition agreement. In other words it titles everything included into the deal. This section may include the following items:

Corporate organization, authority, and capitalization;
Assets;
Liabilities;
Financial statements;
Taxes;
Contracts, leases, and other commitments;
Employment matters;
Compliance with laws and litigation;
Product liability;
Environmental protection;

Pre-Closing Covenants:

Covenants protect the buyer from the seller taking doubtful actions prior to the closing to change the business that the buyer expects to obtain at the closing. Some of possible points to comprise:

Not amending or terminating currently running contracts;
Not changing accounting methods or practices;
Not paying out dividends or other distributions to stockholders;
Not making capital investments or transferring any assets;
(Not doing anything that would make the seller's Representations and Warranties false);

Conditions to Closing:

Representations and warranties are correct ....

Indemnification protects the parties from certain matters that may occur after the closing. It makes these risks and responsibilities allocated between the buyer and the seller.




---

| | |
| --- | --- |
| Order 750 checklists in MS Word and PDF printable format at $49.99 USD only. | BUY NOW! |

.

CentriQS Tasks Management Solution

Looking for multi-user task management software? Try CentriQS complete task management solution for planning, tracking and reporting tasks, projects, and schedules. Increase productivity of your small business or office by better organizing your employees' tasks and time.

FREE Download CentriQS
CentriQS -15% OFF
All-in-one business management software
for small and midsize enterprises

---

VIP Task Manager
Multi-user project management software
to plan, schedule and track project tasks.

---

VIP Checklists
More than 750 ready-to-use to-do lists
to plan your personal and business life

---

VIP Team To Do List
Professional task management software
to make and send team todo lists by email

---

VIP Organizer
Personal time management software
to organize time at home and at work

---

VIP Simple To Do List
Simple and effective to-do list software
to plan daily chores, trips, wedding, etc.