Task Management Software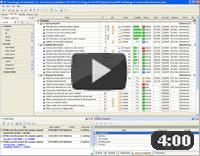 Authorization

TESTIMONIALS
"...This is an excellent program. I'm so glad that I stumbled on to this when researching for task management programs. Very low learning curv, quite flexible, and the price is right. Tried at least 20 other programs, either too complicated, too expensive, or poor documentation..."
Chad Lindsey -
Honolulu, HI
MORE FEEDBACKS

Brand Management Checklist

| | |
| --- | --- |
| | This Brand Management checklist will be helpful to anyone who aspires to reach more efficiency in profiling, positioning, differentiation, promotion and securing of their business brand (product, services, company's image, line of products, etc). This Brand Management checklist provides you with brief guidance through brand management benefits, system, basics, techniques, etc. |

---

| | |
| --- | --- |
| Order 750 checklists in MS Word and PDF printable format at $49.99 USD only. | BUY NOW! |

Brand Management Basics:

Brand management system:

Graphic design (color, logo, theme, etc) and your visual identity (mascot, uniform, signs, etc);
Audio identity (brand-associated music, sounds, etc);
The tone and the language you use in marketing/advertising materials;
The level and quality of your dialogue with the customers;
Ideas and values which are sold to the customers;
Level and quality of customer service (ongoing communications with customers);
Brand's community and its real engagement into the brand's life;
Industrial and market engagement to track current trends;

Defining the Brand:

Define core values of your products and services;
Define the core value and mission of your company;
Define your target market and audience that your products and services are addressed to;
Define messages that you would like to communicate to the prospects;
Define what makes your brand different from the competitors;
Define the major channels to introduce your brand;
Define emotional triggers and associations to promote your brand;
Define what will make your customers to love and recognize your brand;
Define the strategies to build relations between your brand and customers;

Profiling the Brand:

Make sure that your brand delivers the message clearly;
Make sure it confirms your credibility;
Make sure your brand connects your target prospects emotionally;
Make sure that your brand motivates the buyer;
Make sure that your brand really sells the values it stands for;
Make sure your brand promotes loyalty;
Make sure that your brand is supported and promoted by well-organized arrangements (marketing events, promotional events, periodic sales offers, etc);

Brand Management Techniques:

Naming – invent a name that speaks itself for your brand. It should introduce the core message of the brand, and it should be attractive and evocative;
Storytelling – try telling your corporate story through exposing and explaining your corporate identity and vision in packaging, stationery, advertising, marketing materials, etc (this embraces the tone, language and design you use to communicate with your customers);
Selling Credibility – ensure really credible appearance of your brand, make it associated with good quality and effectiveness, as well as with your company's mission and core values;
Staying Different – introducing your brand as a different one from your competitors (stressing the points of difference);
Reaching Consistency – reaching an all-embracing consistency across all areas of your brand's image, so there are no discrepant moments through the entire set of your business operations;
Drive your brand's evolution – reinvigorate topicality of your message, so it stays always fresh and up-to-date;
Serving the customers – attentively track and analyze opinions and visions of your customers to pick up some workable ideas from their suggestions or expectations;

Brand management Tools:

PR and Marketing:

Make sure that your company or product will be easily pronounced in any language (if the product or serivce is provided internationally);
Make sure that your brand seems to be really original, so it will not "conflict" or compete with some earlier established brands with similar attributes – similar or same names, identities, etc;
Make sure that different media means work coordinately to introduce your brand (they use materials of the same content, level and quality);
Make sure that your brand is adjusted to fit specificity of different countries (when operating internationally);

Law:

Make sure that your brand is well-protected by the trademark law: register your trademark at national level in your country and in all countries in which your brand will operate;
Make sure that all components of your brand are registered and protected by appropriate government organizations;
Make sure that your trademark is fully distinctive in locations where it operates, so any unfair competitors cannot duplicate or simulate its attributes anyhow;

Staff policies:

Make sure that your concerned staff members ...




---

| | |
| --- | --- |
| Order 750 checklists in MS Word and PDF printable format at $49.99 USD only. | BUY NOW! |

.

CentriQS Tasks Management Solution

Looking for multi-user task management software? Try CentriQS complete task management solution for planning, tracking and reporting tasks, projects, and schedules. Increase productivity of your small business or office by better organizing your employees' tasks and time.

FREE Download CentriQS
CentriQS -15% OFF
All-in-one business management software
for small and midsize enterprises

---

VIP Task Manager
Multi-user project management software
to plan, schedule and track project tasks.

---

VIP Checklists
More than 750 ready-to-use to-do lists
to plan your personal and business life

---

VIP Team To Do List
Professional task management software
to make and send team todo lists by email

---

VIP Organizer
Personal time management software
to organize time at home and at work

---

VIP Simple To Do List
Simple and effective to-do list software
to plan daily chores, trips, wedding, etc.