Task Management Software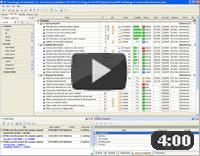 Authorization

TESTIMONIALS
"...This is an excellent program. I'm so glad that I stumbled on to this when researching for task management programs. Very low learning curv, quite flexible, and the price is right. Tried at least 20 other programs, either too complicated, too expensive, or poor documentation..."
Chad Lindsey -
Honolulu, HI
MORE FEEDBACKS

SWOT analysis checklist

| | |
| --- | --- |
| | This SWOT analysis checklist explains you how to use this well-known method to identify positives and negatives inside of your organization as well as in its external environment. With a help of this method you can elaborate chart that enables you to group Strengths, Weaknesses, Opportunities and Threats into four different tables to analyze each of the items particularly. This checklist will explain you essentials of this popular method which helps you to find right direction for strategic and operative planning. |

---

| | |
| --- | --- |
| Order 750 checklists in MS Word and PDF printable format at $49.99 USD only. | BUY NOW! |

Layout:

SWOT is an acronym for Strengths, Weaknesses, Opportunities, Threats.
Strengths: robust attributes of the object, which avail the attainment of appointed targets.
Weaknesses: poor attributes of the object, which appear detrimental to attainment of appointed targets.
Opportunities: external factors and situations that can be used to facilitate or boost up the attainment of appointed targets.
Threats: external factors and situations which potentially can damage or hamper the attainment of appointed targets.

Instructions and facts:

It is a planning and strategy development tool used to analyze the strengths, weaknesses, opportunities, and threats related with a project, business venture or just any analyzable object.
Model is used as one the most effective approaches to auditing the overall status of the business entity and its environment to define how it can be managed.
One of the targets is matching internal organizational strengths and weaknesses with external opportunities and threats, so the strengths can underlie business success through meeting appropriate external opportunities, and internal weaknesses can be corrected, minimized and properly protected against external threats.
SWOT analysis can be used in combination with other audit and analysis methods, such as PEST analysis.
To work at this method you need to create matrix which is just a square table sectored into four equal square fields entitled: Strengths, Weaknesses, Opportunities, Threats. Then, you will make appropriate records in each of the fields.
Worksheet (SWOT environmental scanning) can be explained in a following manner – it includes Internal Analysis for identifying Strengths and Weaknesses, and External Analysis for defining Opportunities and Threats. After they are identified, they can be recorded down into table that was described in previous point.
To make the conclusion more specific as well as the whole process easier, you should fully determine the object which is subjected to analysis. For example, it could be one of your company's products, or it could be the overall company's product management strategy.
Sometimes weaknesses or threats can be converted into strengths or opportunities, but when it is impossible they should be reduced or avoided.
When you perform internal analysis to define Strengths and Weaknesses of your organization, you need to look through the following examples of factors and areas to check:

Organization's corporate culture;
Company's organizational structure;
The main staff members and responsible professionals;
Access to business and financial resources;
Market share and position;
Technological and operational capacity;
Patented technologies and trade secrets;

When you scan the external environment to define Threats and Opportunities for your organization, you may consider the following examples of factors and areas:

Social and market tendencies and changes;
Governmental policy regulating your business;
Suppliers, customers and competitors;
New technologies and trends;

Form up a group of experts and organize workshop to conduct the analysis. Allocate among them tasks related to background preparation, information researching and gathering.
Report should be approved and discussed independently to avoid personal views. Take consultations and discussions from external and internal experts.
When performing SWOT analysis, be analytical and specific, keep focused on the purpose and object of your analysis.
It is important to give honest appraisal to how the things are really going on.
Don't ignore and disguise weaknesses, don't overestimate strengths.
Be afraid of underestimating Threats and missing Opportunities.
You can use special software to record data on the process and results.
In a result of SWOT analysis, generally, you will be able to answer the following questions:

What internal and external issues may prevent business from progressing?
Which business elements need strengthening or protection against issues?
Which business elements deliver benefits and success?
Which external opportunities can be used to take advantage of them and how long they might last?




---

| | |
| --- | --- |
| Order 750 checklists in MS Word and PDF printable format at $49.99 USD only. | BUY NOW! |

CentriQS Tasks Management Solution

Looking for multi-user task management software? Try CentriQS complete task management solution for planning, tracking and reporting tasks, projects, and schedules. Increase productivity of your small business or office by better organizing your employees' tasks and time.

FREE Download CentriQS
CentriQS -15% OFF
All-in-one business management software
for small and midsize enterprises

---

VIP Task Manager
Multi-user project management software
to plan, schedule and track project tasks.

---

VIP Checklists
More than 750 ready-to-use to-do lists
to plan your personal and business life

---

VIP Team To Do List
Professional task management software
to make and send team todo lists by email

---

VIP Organizer
Personal time management software
to organize time at home and at work

---

VIP Simple To Do List
Simple and effective to-do list software
to plan daily chores, trips, wedding, etc.